This Fall and Winter Fruit Salad makes a perfect easy dessert for Thanksgiving or Christmas dinner. It's also great as a simple healthy snack that you can add to just about anything. Made with juicy and sweet fruits available in late fall and winter, this recipe doesn't include any added sweeteners.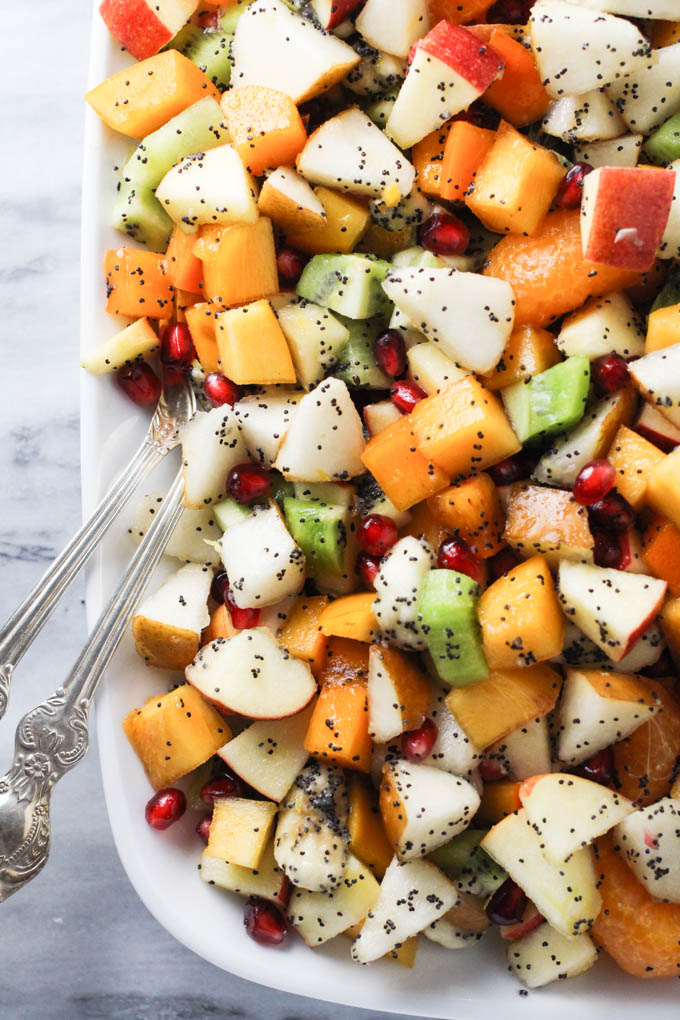 Ingredients for the Fall and Winter Fruit Salad
Here is a quick overview of the ingredients you will need to make this healthy fruit salad:
The Main Ingredients:
Kiwi: Choose slightly soft kiwis and avoid hard ones. Soft kiwis are ripe, sweet, and juicy. Hard kiwis are sour and hard to peel.
Persimmons: Only use non-astringent persimmons that are still firm when ripe such as Spanish or Fuyu persimmons.
Pomegranate: Don't be afraid to seed a pomegranate. It's easier than you think. Just make sure to protect your clothing because it can get messy, and pomegranate juice may stain fabrics.
Bananas: Choose bananas that are ripe but still firm. Soft bananas won't hold their shape in the salad and will start going bad fast.
Clementines: Clementines are usually seedless, which makes them perfect for a fruit salad. If your clementines do have some seeds, try to remove them before adding to the salad.
Apples: Choose crisp, sweet, and colorful apples. Apple varieties that are great for a fruit salad are, for example, Red Delicious, Gala, Honeycrisp, and Golden Delicious.
Pears: You can use any pears for a fruit salad. They should be ripe and sweet but still firm. Avoid over-ripe and bruised pears.
Ingredients for the Dressing: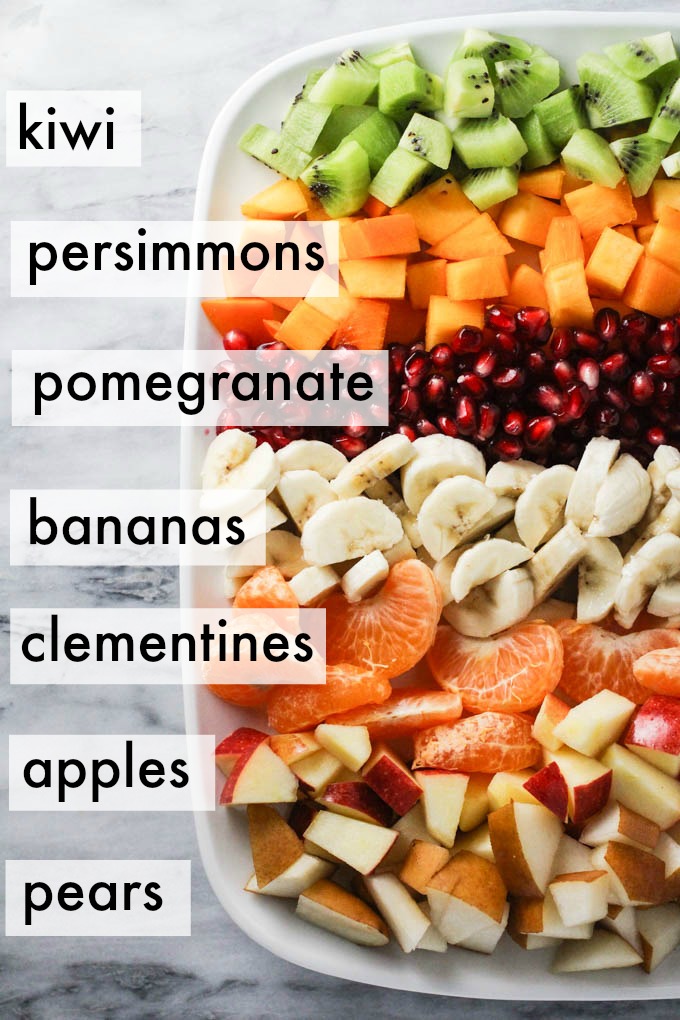 Tips for Making the Best Fall and Winter Fruit Salad
Fruit salads are very easy to make. All you have to do is wash and cut the fruits, mix the dressing, pour the dressing over the fruits and toss to combine.
But there are still a few things to keep in mind when making this fruit salad:
Use only fresh and crisp fruit. Skip the fruits with bruised skin, over-ripe fruits, and fruits that started to dry out.
Use only ripe sweet fruit. This salad is prepared without any added sweeteners, so ensure all fruits you are using are sweet.
Thoroughly wash and dry the fruit. You don't want to add extra liquid to the salad. The water will also dilute the dressing, so make sure to pat dry all the fruit.
Use fresh poppy seeds. Due to their high oil content, poppy seeds go bad quite fast. Bad poppy seeds taste bitter and will spoil the whole salad, so make sure to taste them before using them.
How Can I Make this Fruit Salad Sweeter?
This fruit salad is made without any added sweeteners. If you use only sweet ripe fruit to make it, no added sweeteners are needed. The fruit has enough flavor on its own.
But if you still want to make this fruit salad sweeter, add about 1.5 to 2 tablespoons of honey or maple syrup to the dressing.
How Do You Serve This Fall and Winter Fruit Salad?
This winter fruit salad is very versatile. Here are a few different ways you can serve it:
serve it as a healthy dessert at a dinner party;
add it to your yogurt parfait;
have it as a healthy snack;
serve it as a topping with ice cream.
How Do You Make this Salad Last Longer?
Unfortunately, fruit salads don't last long because they are made with raw fruits, which start going bad the moment you cut them.
But you can still make it last a bit longer if you follow these three rules:
Only use fresh crisp fruits to make a fruit salad. If the fruit is bruised, started to turn brown, or has dry wrinkly skin, it already started to go bad and will spoil even faster when you cut it. So make sure never to add such fruits to a fruit salad.
Add lemon and orange juice to the dressing to prevent the fruits from turning brown. Citrus juice contains ascorbic acid, which protects cut fruits, especially apples, from oxidizing.
Store the salad in the fridge in a glass container with a tight lid. This probably goes without saying, but I am going to say it anyway, sliced fruits should always be kept in the fridge.
This refreshing Fall and Winter Fruit Salad is an explosion of flavor and color. Whether you are looking for a healthy dessert for a dinner party or a new way to include fruits in your diet, this recipe won't disappoint.
Fall and Winter Fruit Salad
Additional Time:
20 minutes
This Fall and Winter Fruit Salad is refreshing and flavorful. It's perfect for parties and potlucks and also makes for a delicious healthy snack. Made without added sweeteners.
Ingredients
1 lemon
2 large Spanish persimmons or 4 Fuyu persimmons
3-4 clementines
5-6 kiwis
1 pomegranate
2 pears
2 bananas
2 apples
1 orange
2 Tbsp poppy seeds
Instructions
Wash and pat dry all the fruits.
Zest the lemon and press out the lemon juice. Set the lemon zest and juice aside.
Cut the persimmons into bite-size pieces and place them into a large bowl.
Segment the clementines and add them to the bowl.
Peel the kiwis. Slice them into bite-size pieces and add them to the bowl.
Seed the pomegranate and place the seeds into the bowl.
Slice the pears and bananas into bite-size pieces and add them to the bowl.
Cut the apples into bite-size pieces. Place the apple slices into a small bowl and pour the lemon juice over them. Toss the apple pieces making sure they are covered with the lemon juice. Transfer the apples together with the lemon juice into the main bowl.
Press out the orange. Add the lemon zest and the poppy seeds to the orange juice and mix.
Pour the dressing over the fruits and toss to combine.
Place the fruit salad into the refrigerator for about 20 to 30 minutes to allow the flavors to blend. Serve cold.
Notes
Only use ripe, fresh, and crisp fruits. Avoid fruits that are bruised, have started to brown or dry out. Also, make sure that the poppy seeds are fresh.
Store in the fridge in a glass container with a tight lid.
Consume within 24 hours.
Recommended Products
As an Amazon Associate, I earn from qualifying purchases.
Nutrition Information
Yield

8
Serving Size

1/8 of recipe
Amount Per Serving
Calories

200
Total Fat

2g
Saturated Fat

0.2g
Trans Fat

0g
Unsaturated Fat

1.8g
Cholesterol

0mg
Sodium

5mg
Carbohydrates

48g
Fiber

8.5g
Sugar

32.1g
Protein

3g
Nutrition facts provided on this website are an estimate and not guaranteed to be accurate. Please see a qualified health care provider for personalized diet advice and make sure that each of the ingredients is allowed in your diet.