I know you are going to love this homemade sugar free granola recipe because it's very easy to make. This healthy granola is delicious and keeps well for a long time. It's very handy to have in the pantry to serve for breakfast, eat as a snack, or add to baked goods.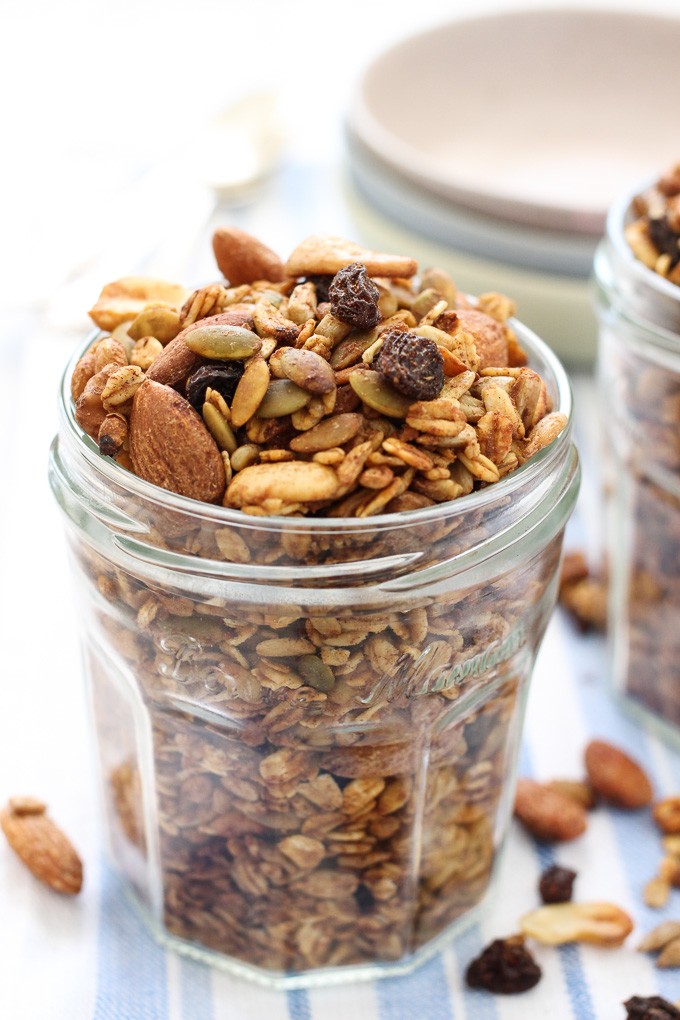 Store-bought granola is usually full of refined sugars and not-so-healthy processed fat.
This homemade sugar-free granola is made with nuts, seeds, rolled oats, coconut oil, and is naturally sweetened with applesauce and raisins. And if you wish to make it even less sweet, you can just skip the raisins.
Granola can also be quite expensive. So making it yourself is much more budget-friendly. If you think about it, there is really no reason to buy granola at a grocery store because it's so easy to make it at home.
All you have to do is mix all the nuts, seeds, raisins, and oats in a baking dish. Pour the applesauce and coconut oil mixture over the dry ingredients and toss everything to combine. It will take you literally 5 minutes to do it.
Then place the baking dish into the preheated oven and make sure to stir the granola every 15 minutes. Otherwise, it's going to burn on the outside and remain moist inside. So, set your timer.
Also, keep in mind that if you decide to make a smaller amount of granola than recommended in the recipe, cooking time will be shorter.
Other than stirring the granola a few times, there is nothing else you need to do. Just make sure to let it cool completely and then transfer to a glass jar or container. Homemade granola keeps well in a dark cool place or you can also store it in the fridge.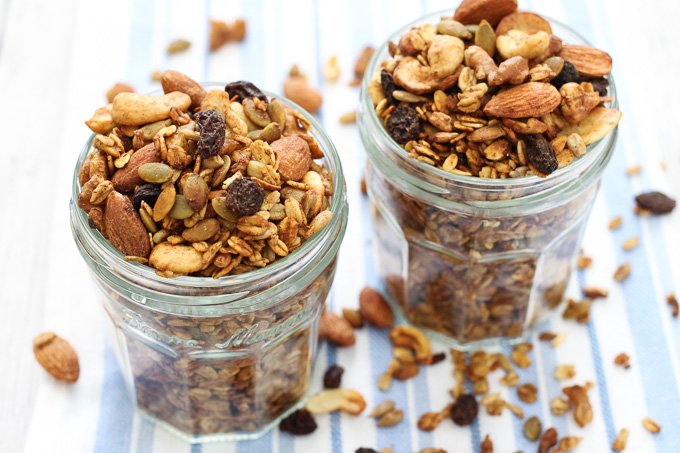 How to serve this homemade sugar free granola:
sprinkle homemade granola over a fruit salad to add some crunch and make it more filling;
make a yogurt parfait with granola and some berries or fruit slices;
eat healthy homemade granola for breakfast with some milk and a chopped banana;
put granola in small plastic bags and take it with you instead of a trail mix, also perfect as an addition to school lunches;
add homemade granola to a chia pudding for a delicious and healthy snack;
add sugar free granola to your oatmeal cookies or sprinkle it on top of banana bread;
healthy granola tastes delicious sprinkled over a fresh fruit sorbet.
My favorite snack these days is a sliced fruit or a cup of berries with some Greek yogurt and a few tablespoons of this homemade sugar free granola. So good!
Enjoy!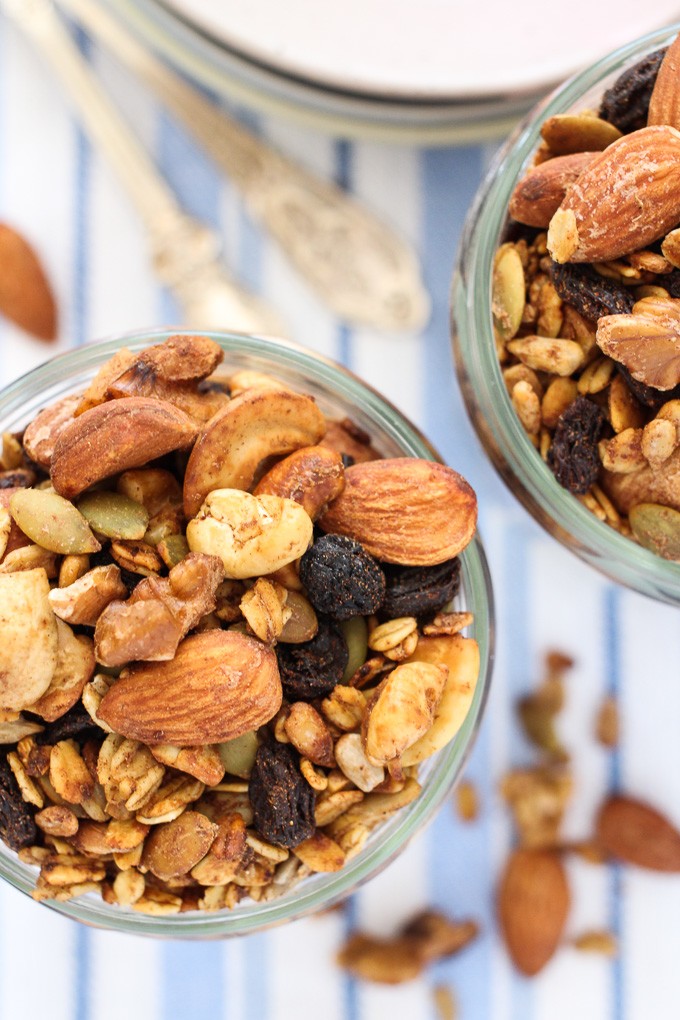 If you love rolled oats, check out these Healthy Oatmeal Pancakes, this Pumpkin Oatmeal with Chia, or learn How to Make Homemade Muesli.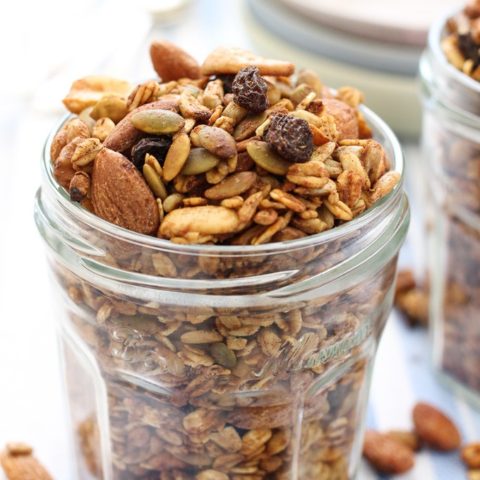 Homemade Sugar Free Granola
Yield:
about 12 cups of granola
Total Time:
1 hour
5 minutes
This healthy homemade granola is refined sugar free. It's made with rolled oats, nuts, seeds, spices, and coconut oil and is naturally sweetened with applesauce and raisins.
Ingredients
1 cup raw unsalted almonds
1 cup raw unsalted cashews
1 cup raw unsalted walnuts
1 cup raw unsalted sunflower seeds
1 cup raw unsalted pumpkin seeds
1 cup raisins
3 cups regular slow-cooking rolled oats
1 Tbsp ground cinnamon
1/2 tsp ground dried ginger
1 cup unsweetened applesauce
1/4 cup melted coconut oil
Instructions
Preheat the oven to 350F.
Place the almonds, cashews, walnuts, sunflower seeds, pumpkin seeds, raisins and oats in a large baking dish (mine is 14 by 10 inches, 2 inches deep). Add the cinnamon and ground ginger and mix to combine.
In a small bowl, combine the melted coconut oil with applesauce and pour the mixture over the nuts. Mix well to coat.
Place the baking dish into a preheated oven and bake for 45 minutes to one hour or until the liquid is evaporated and the nuts and oats are golden. Make sure to stir the granola every 15 minutes to ensure that it cooks evenly. Also, keep in mind that if you reduce the amount of ingredients, the granola will bake faster.
Take the baking dish out of the oven and let the granola cool completely.
Store in a glass container with a tight lid in a cool dark place.
Recommended Products
As an Amazon Associate, I earn from qualifying purchases.
Nutrition Information
Serving Size

1/2 cup
Amount Per Serving
Calories

226
Total Fat

15.6g
Saturated Fat

3.7g
Trans Fat

0g
Unsaturated Fat

11.9g
Cholesterol

0mg
Sodium

3.4mg
Carbohydrates

18.3g
Fiber

3.4g
Sugar

5.5g
Protein

6.6g
Nutrition facts provided on this website are an estimate and not guaranteed to be accurate. Please see a qualified health care provider for personalized diet advice and make sure that each of the ingredients is allowed in your diet.