Thank you for taking the time to learn a little bit about me and my blog!
My name is Maria. I am a holistic nutritionist, food blogger, recipe developer, aspiring food photographer, and dog lover. I created this blog to keep track of my recipes and share my passion for nutrition and wellness. Many people still think that healthy food is boring, but I believe that healthy food is delicious and beautiful.
About My Recipes
I don't count calories and just do my best to eat a variety of fresh whole foods. My goal is to develop clean eating balanced meals with good sources of protein, low-glycemic carbohydrates, healthy fats, lots of veggies, greens, and all other great tasting foods that are good for you.
Even though I am not a vegetarian, many of my recipes are meatless or vegan. I learned a lot about the advantages of the vegetarian diet when I was attending the nutrition school and believe that most of us can benefit from eating more plants.
I also talk a lot about low-glycemic eating because I have a family history of obesity and type 2 diabetes. A few years ago, I started paying more attention to keeping my blood sugar stable which helped me to lose weight and have more energy.
Since I am not diabetic and only follow low GI way of eating because it works well for me, this blog is not a blog for diabetics. It's simply a blog with clean eating recipes that are often naturally low GI.
I also love to  indulge in healthy desserts every now and then. My husband has a sweet tooth and often asks me to make something sweet for him. As a result, you will find a lot of dessert recipes on my blog.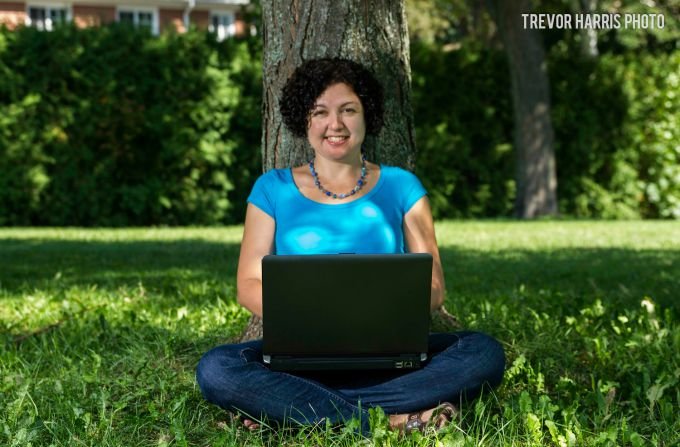 Why I Blog
For as long as I can remember, all women in my family were overweight and struggled with degenerative diseases. I grew up watching my aunts, cousins, and grandmothers suffer from diabetes, cancer and heart disease. My Mom was only 36 years old when she had a stroke.
Since my Mom was too sick to cook and my Dad was too busy working to provide for the family, I don't even remember us sitting down to have a meal together.
It's true that food is not the substitute for love . But I believe that we can show love by preparing delicious healthy food for people we care about the most.
It makes me so happy when I get messages from my readers telling me that they made my recipe and had a lovely meal with their family. I'd like to think that this blog is my small contribution to making this world a better place.
About My Team
My Blogging Team includes:
my husband who is the Chief Executive Taste Tester;
my neighbor Carole who is my English Language Adviser;
my dog Toby who is supposed to be my Executive Assistant but is constantly sleeping on the job;
our budgie Emma who is the Sound Engineer in charge of the pleasant work environment.
A Little Bit About Me
Here are a few facts I thought you might want to know about me:
In 2014, I completed the Applied Nutrition Diploma program at the Alive Academy of Natural Health and received my Holistic Nutritionist Certification;
I learned how to cook by following recipes and carefully measuring ingredients;
I recently published my first cookbook and it is now available on Amazon;
I am a Russian-born Canadian and now live in the most multicultural city in the world – Toronto (voted by me!);
My favorite foods are coconut, chocolate, and raspberries.
Where to Find Me
Join me on my social media sites:
Disclaimer
Even though I am a Certified Holistic Nutritionist, the nutrition information provided on my blog is not to be used as nutrition therapy of any kind. Consult your healthcare provider if you intend to change your diet. The information on this blog is for entertainment purposes only.
Images on this page are by Trevor Harris Photo.