Homemade muesli is probably the easiest healthy breakfast you can ever make. In this post, I will show you how to create your own healthy DIY muesli mix to eat for breakfast or as a snack.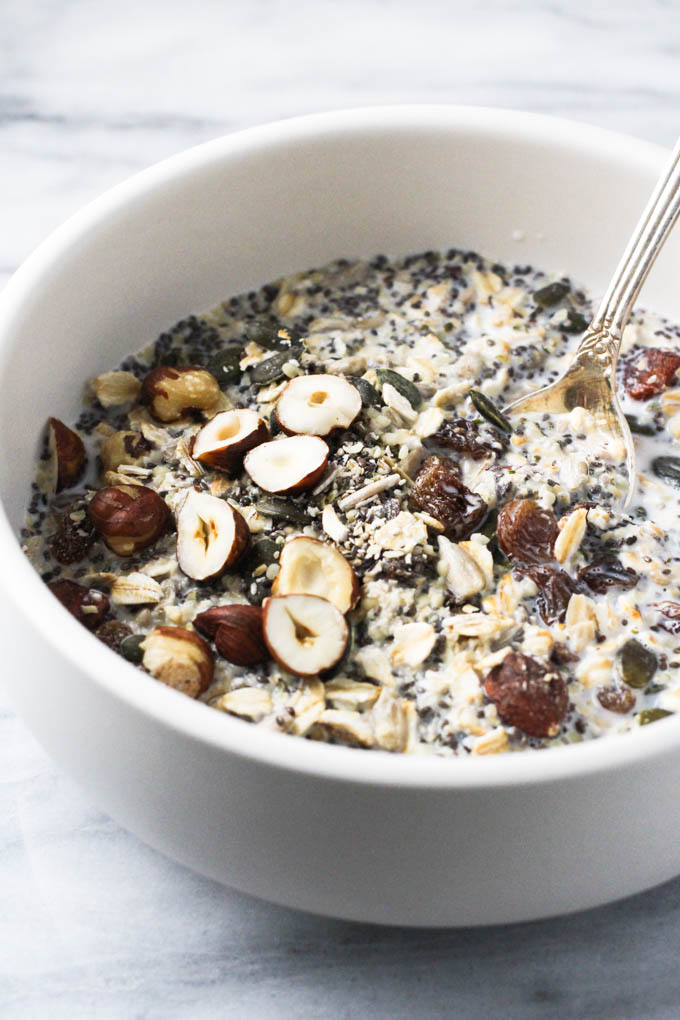 What is Muesli?
Muesli is a mix of rolled oats, nuts, seeds, dried fruits, and berries which is typically served for breakfast or as a snack soaked in milk, yogurt, and/or juice. Fresh fruits or berries are also often added to the dish.
The History of Muesli
The legend has it that muesli was first created around 1900 by the Swiss physician Maximilian Bircher-Benner for patients in his hospital. It was based on a similar dish that he and his wife were served on a hike in the Swiss Alps. This is why muesli is often called Bircher muesli or Swiss muesli.
The original Bircher muesli was a mixture of rolled oats, grated apple, condensed milk, and nuts. It was prepared by first soaking the oats in water overnight and then adding all the other ingredients just before serving.
Muesli, in its modern form, became popular in Europe starting in the 1960s. Nowadays, muesli is a mix of rolled oats, nuts, seeds, dried fruits, and berries which is served with milk, yogurt, or juice.
Is Muesli Healthy?
The answer to this question is: it depends on the ingredients.
If the muesli mix is made with healthy, high-quality oats, nuts, seeds, fruits, and berries, it can be a very healthy dish (provided there are no allergies to the ingredients). If it's combined with sugary foods and soaked in cream, it becomes more of a treat and not a healthy meal that you would want to eat every day.
How do You Make Muesli?
There is nothing easier than making homemade muesli. All you need to do is add all the ingredients to a large bowl and mix them until combined. Then transfer the muesli mix into a dry glass container with a lid and store it in a dark, cool place. That's it!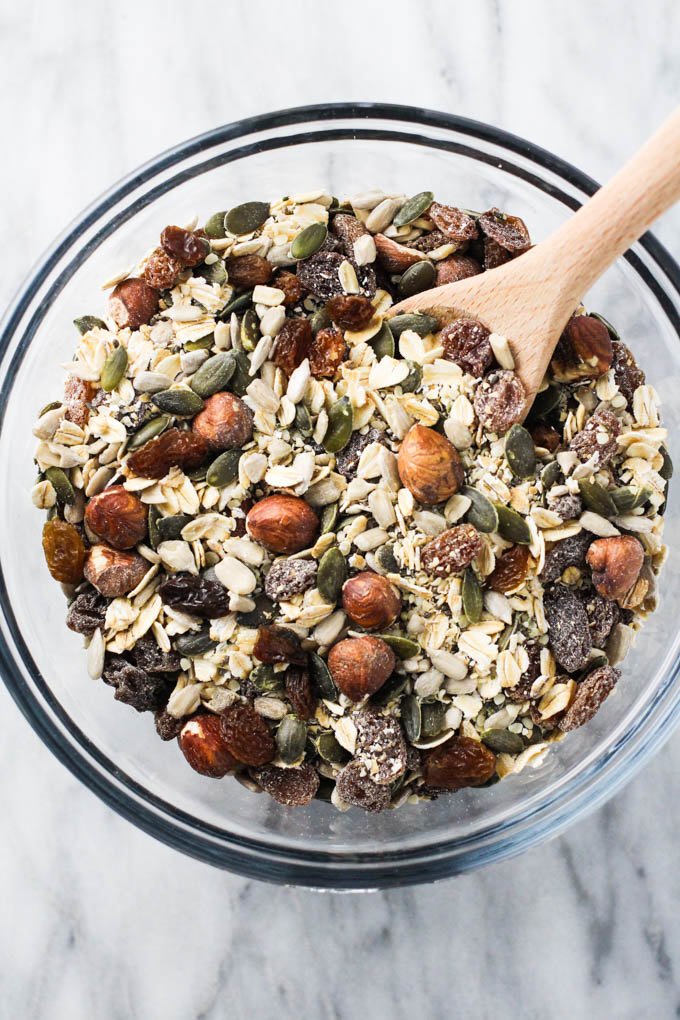 What's the Difference Between Muesli and Granola?
Even though muesli and granola are made with similar ingredients and served in similar ways, they are not the same.
Granola is prepared with the addition of sweeteners and oil and, as a result, is higher in sugar and calories than muesli. Granola is also baked in the oven until it's crisp and golden. If you are looking for a healthy granola recipe, check out this Homemade Sugar Free Granola.
Muesli, on the other hand, is a mix of raw ingredients. I recently saw one clever company marketing muesli as "unbaked granola".
Another difference is that muesli can be soaked overnight.
Do You Have to Soak Muesli?
Although the original Bircher muesli was served soaked, you don't have to soak muesli before eating it. In fact, when I was living in Austria, where I was first introduced to muesli, we never soaked it.
I only started soaking my muesli very recently, and I only do it when I add chia seeds to the mix.
Can You Eat Raw Muesli?
As I have already mentioned above, yes, muesli can be eaten raw.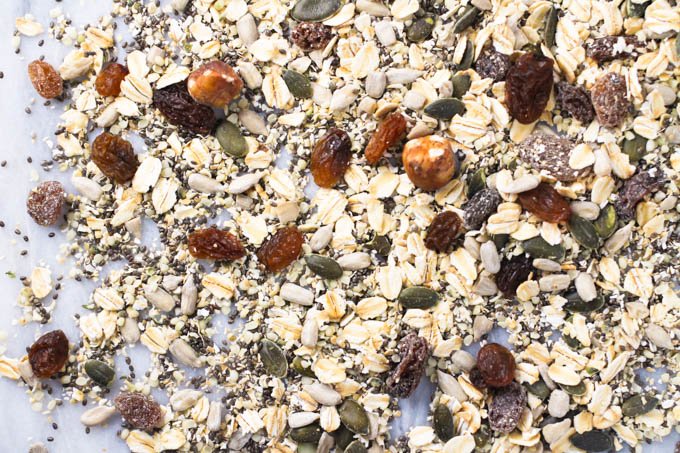 Ingredients Overview
Here is a short overview of the basic ingredients that are needed to make homemade muesli:
1. Oats
Rolled oats are the most popular base for muesli. Make sure to choose regular rolled oats and not instant rolled oats. When in doubt, check the recommended cooking time on the packaging. If it's less than 5 minutes, don't use it.
I also often add oat bran to my muesli. Oat bran has more fiber and higher nutrient content than rolled oats and makes a great addition to muesli.
If you don't like raw oats, you can also lightly toast them in the oven before mixing with the other ingredients.
2. Nuts
You can use any nuts to make your DIY muesli mix. I prefer hazelnuts but almonds, walnuts, cashews, pistachios, or Brazil nuts are all great. You can also add two or more different types of nuts to your muesli mix. Just make sure to chop large nuts into small pieces.
3. Seeds
I divide seeds into two categories – the basic seeds and nutrition boosting seeds.
The basic seeds are sunflower seeds and pumpkin seeds (also known as pepitas). These seeds are inexpensive and make a great muesli base. When shopping for these seeds, make sure to buy raw and unsalted seeds.
The second seed category is nutrition boosting seeds which include flax seeds, chia seeds, and hemp hearts.
These seeds are nutrition powerhouses that add high amounts of beneficial nutrients. You don't have to add all of them at once. You can just start with flax seeds. They are very inexpensive and readily available in grocery stores.
Since flax seeds and chia seeds both swell when soaked, I don't recommend using them both at the same time.
4. Dried Fruits and Berries
You can use any dried fruits or berries to make homemade muesli. The most popular are raisins, cranberries, chopped apricots, apples, or prunes. When choosing the fruits or berries, make sure they don't contain any added sugar.
Freeze-dried berries are also great for adding to the DIY muesli mix.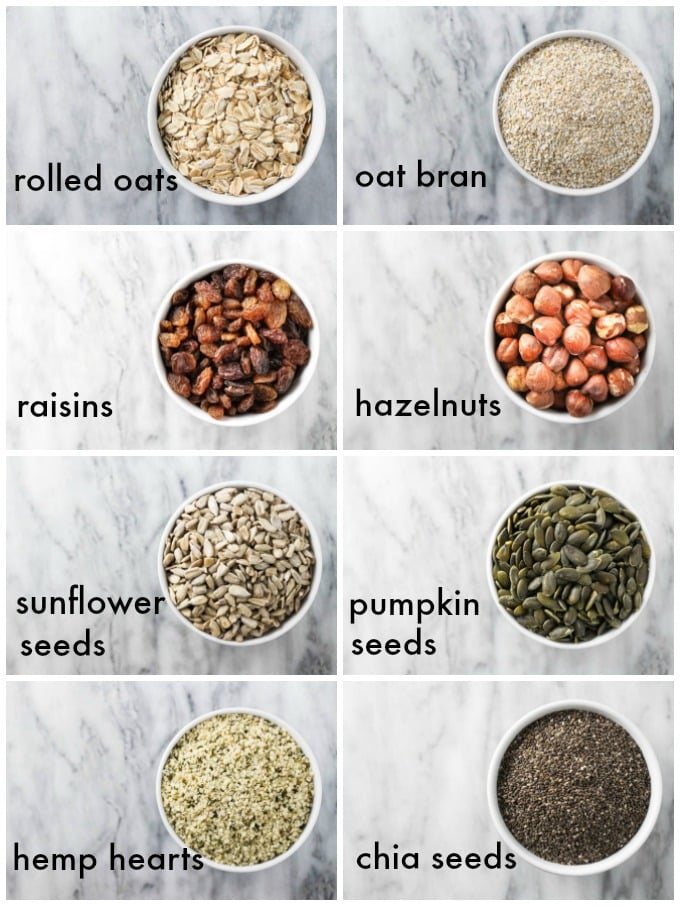 Basic Homemade Muesli Formula
The best part about muesli is that you can create your own muesli mix according to your taste and dietary preferences. Here is the basic muesli formula that will help you make homemade muesli:
3 parts rolled oats or rolled oats and oat bran mixed together
1.5 to 2 parts dried fruits and/or berries
1 part chopped nuts
2 parts basic seeds such as sunflower and/or pumpkin seeds
1 to 2 parts nutrition boosting seeds such as hemp hearts and flax or chia seeds
optional – 1 part flavor boosters such as cacao nibs or shredded coconut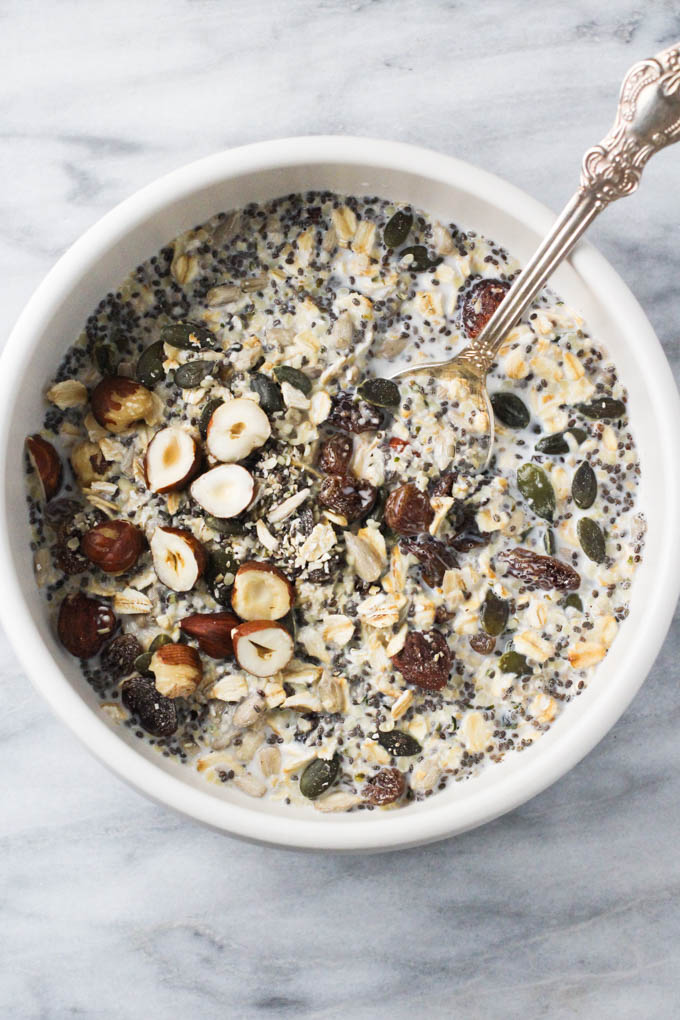 How to Serve Homemade Muesli
Muesli can be eaten for breakfast or as a snack. You can also add it as a topping to a yogurt parfait or sprinkle over cottage cheese.
Soaked Muesli
Soaked muesli is softer and easier to chew than raw muesli. Muesli that was soaked in portions in jars or glass containers makes a great portable breakfast that you can just grab and go in the morning.
To soak muesli, you will need:
1/2 cup muesli mix
3/4 cup milk of your choice
To make soaked muesli, place the ingredients into a jar and mix to combine. Close the lid and put the jar in the fridge. Once you are ready to eat it, mix the soaked muesli with a spoon and add some more milk if needed.
Non-Soaked Muesli
If you forgot to soak your muesli the night before, no worries! Non-soaked muesli takes a bit longer to eat, but it's still delicious.
To make non-soaked muesli, you will need:
1/2 cup muesli mix
1/2 cup milk of your choice
To make non-soaked muesli, just put the muesli mix into a bowl and add milk.
Flavor Variations
Muesli is delicious served with just some milk. But if you wish to experiment with different flavor combinations, here are some ideas that will help you spice up your muesli:
Apple Cinnamon – 1/2 cup muesli, 1/2 cup milk, 1/4 teaspoon cinnamon, 1/2 sliced apple;
Tropical– 1/2 cup muesli, 1/2 cup milk, 1 tablespoon shredded coconut, 1/2 sliced banana;
Very Berry– 1/2 cup muesli, 1/2 cup milk, 2 handfuls of blueberries, blackberries, and/or raspberries;
Strawberry & Yogurt– 1/2 cup muesli, 1/2 cup milk, 3 or 4 strawberries, 2 tablespoons yogurt.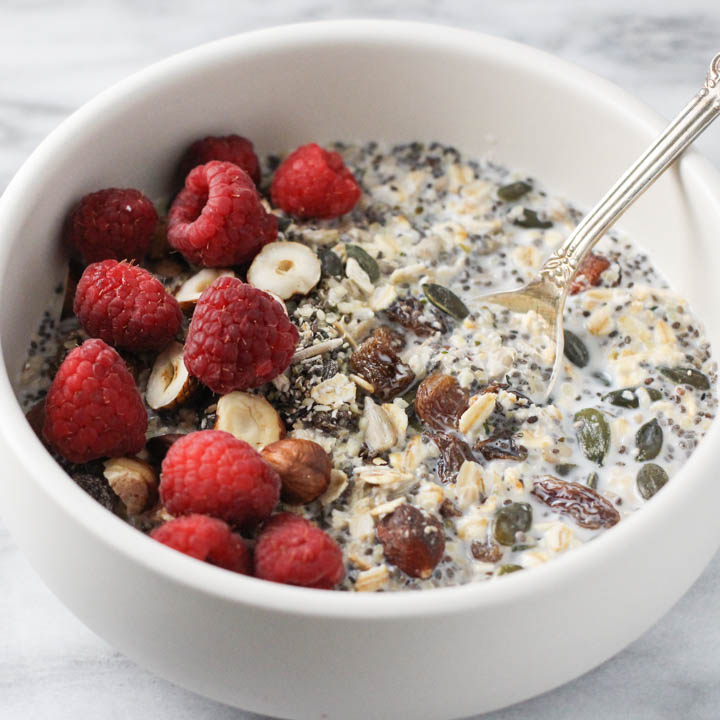 How to Make Homemade Muesli
Make your own homemade muesli – it's really easy and you will have a healthy breakfast every morning. Simple and delicious.
Ingredients
2 cups regular rolled oats
1 cup oat bran
2 cups raisins
1 cup hazelnut
1 cup raw sunflower seeds
1 cup raw pumpkin seeds
1 cup hemp hearts
1 cup chia seeds
Instructions
Add all the ingredients to a large bowl and mix well to combine.
Transfer the muesli into a dry glass container and cover with a tight lid. Store in a dark cool place.
Recommended Products
As an Amazon Associate, I earn from qualifying purchases.
Nutrition Information
Yield

20
Serving Size

1/2 cup
Amount Per Serving
Calories

268
Total Fat

17.4g
Saturated Fat

2g
Trans Fat

0g
Unsaturated Fat

15.4g
Cholesterol

0mg
Sodium

5.1mg
Carbohydrates

21.9g
Fiber

6.6g
Sugar

5.2g
Protein

9.9g
Nutrition facts provided on this website are an estimate and not guaranteed to be accurate. Please see a qualified health care provider for personalized diet advice and make sure that each of the ingredients is allowed in your diet.