This raw beet salad is crunchy and satisfying. It's also very filling, and you can even serve it as a side dish. It's great for a meal-prep, and you can also make it on a weeknight.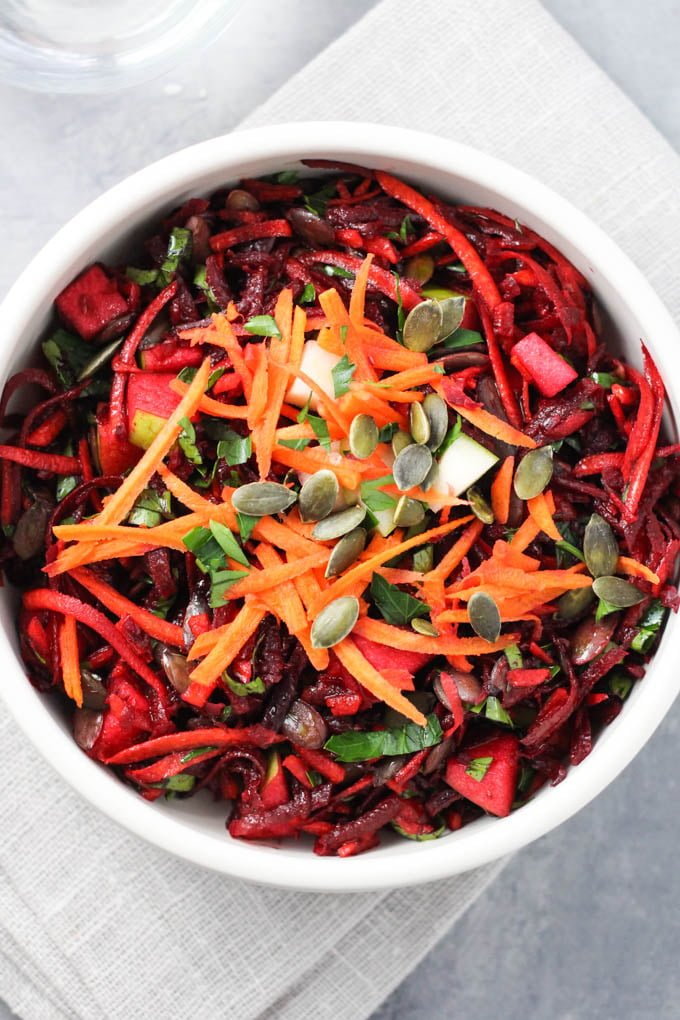 Can You Eat Raw Beets?
Dishes prepared with cooked beets are definitely more popular, but don't forget that you can also eat beets raw!
Fresh beets are crunchy, juicy, and sweet and make a great salad base. They are also very nutritious and packed with fiber.
How Do You Prepare Raw Beets to Use in a Salad?
When handling beets, always keep in mind that they stain anything and everything.
They will stain your hands and don't even think about using the expensive wooden cutting board because it will be stained forever.
Once you have removed everything out of the way and maybe even put on some cooking gloves, you can prep the beets just in three easy steps:
1. Wash the beets.
It's very important to thoroughly wash the beets before using them in a salad. Beets grow in sandy soil and still can have sand and dirt on the skin.
Brushing the beets with a vegetable brush under running water is the best way to clean the beetroots.
2. Peel the Beets.
Beet skin is edible, but it doesn't have a pleasant mouthfeel. If you have very fresh baby beets just out of the garden, it might be fine to leave the skin on. Otherwise, I always recommend peeling beets before serving them.
Beet skin is quite thin, so you can peel it just like you would peel potatoes with a small pairing knife or a vegetable peeler.
3. Shred or Spiralize the Beets.
Beets are a very dense vegetable, so when making a raw beet salad, it's better to shred or spiralize them.
Shredding beets by hand is possible but it does require some effort. It also can get quite messy because beet juice might spatter all over. If you have a food processor with a shredding blade I highly recommend using it to shred the beets.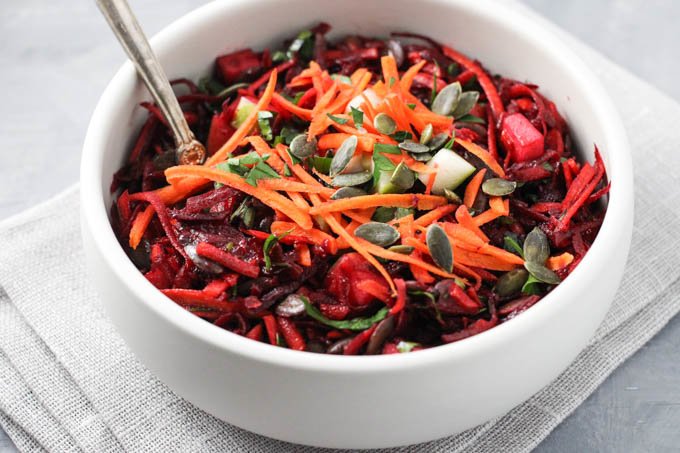 How Do You Serve This Raw Beet Salad?
This salad can be served as a side salad or side-dish with meat, fish, or any vegetarian protein sources. It's also an excellent addition to grain bowls, and you can even add it to wraps and sandwiches. So, it's safe to say that this salad goes with almost everything.
Can You Make This Salad in Advance?
Yes, this salad keeps well in the fridge for a couple of days, so it's a great salad to make for a meal-prep. Just keep in mind that when you store it, the vegetables release their juices, so make sure to toss it before serving.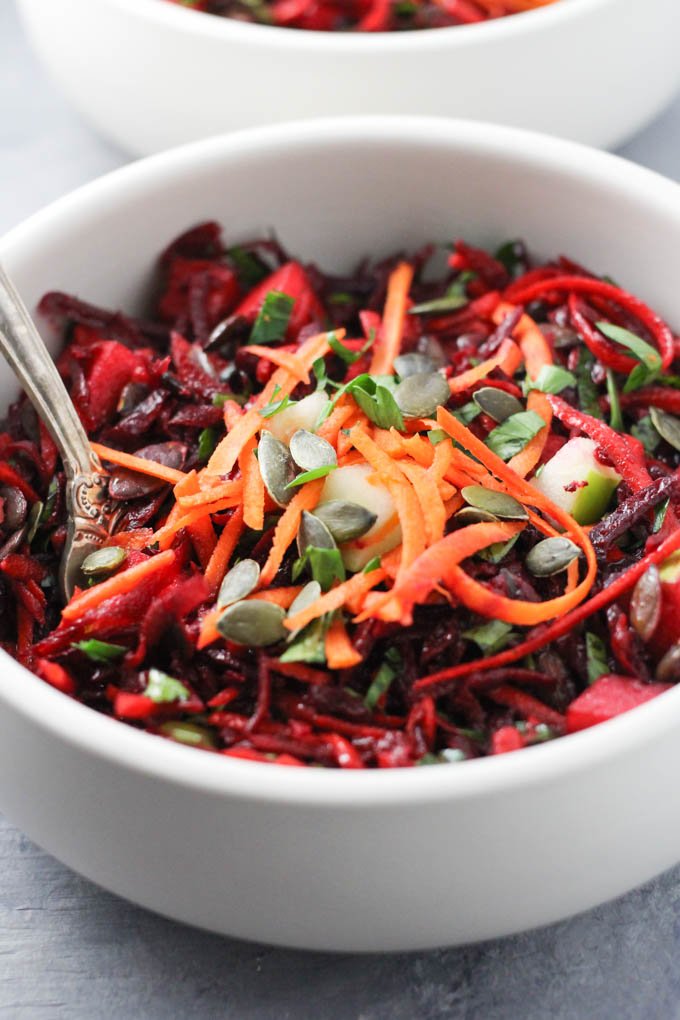 More Good Stuff for Beet Lovers
If you love beets but aren't quite sure how to cook them, I have written the Complete Guide to Cooking Beets where I am showing you in detail how you can prepare beetroots to use in salads, soups, and side dishes;
If your beets have the beet greens still attached to them, check out this Beet Greens Recipe;
If you already know how to cook them, check out my most popular Healthy Beet Recipes.
Raw Beet Salad (Shredded or Spiralized)
This raw beet salad is crunchy, refreshing, and very filling. It's made with shredded or spiralized fresh beets and a very simple dressing. It's perfect as a side salad or cold side dish.
Ingredients
1 medium beet, shredded or spiralized
3 medium carrots, shredded or spiralized
a handful of parsley
juice of 1/2 lemon
1 apple, diced
1/2 cup raw pumpkin seeds
3 Tbsp olive oil
2 Tbsp balsamic vinegar
salt to taste (optional)
Instructions
Place the shredded beets, carrots, and parsley into a salad bowl.
Slice the apple into small cubes. Place the diced apple into a small bowl and pour the lemon juice over it. Mix to make sure all the pieces are covered in lemon juice. Then add it to the beets.
Add the pumpkin seeds, olive oil, and balsamic vinegar. Toss to combine. Season with salt if needed.
Notes
Keep this salad in the fridge in a glass container with a tight lid.
Nutrition Information
Yield

5
Serving Size

1/5 of recipe
Amount Per Serving
Calories

190.6
Total Fat

14.1g
Saturated Fat

2.2g
Trans Fat

0g
Unsaturated Fat

11.9g
Cholesterol

0mg
Sodium

48.1mg
Carbohydrates

13.9g
Fiber

3.4g
Sugar

8.1g
Protein

4.5g
Nutrition facts provided on this website are an estimate and not guaranteed to be accurate. Please see a qualified health care provider for personalized diet advice and make sure that each of the ingredients is allowed in your diet.