These Peas and Carrots make a perfect side-dish for any occasion. This dish is so easy and quick to make that you can prepare it on a weeknight. And it's so delicious and colorful that you can serve it for the Thanksgiving dinner.
This recipe is prepared in one pan, so there will be no extra dishes to clean. In addition, carrots and peas are both quite budget-friendly and store very well in the fridge, so make sure to put them on your shopping list when planning to buy groceries for the week.
Peas and carrots can be served with meat, chicken, or fish or as a part of a grain and vegetable bowl.
A Few Notes About Frozen Peas
This recipe is prepared with frozen peas.
Frozen peas often taste better than fresh ones because they are picked and quickly flash-frozen at the exactly right moment.
You can usually find two types of frozen peas in the grocery stores: regular peas and small or petite peas (also sometimes called baby sweet peas).
The regular peas are bigger, starchier, and have tougher skin. The small peas are softer, creamier, and sweeter.
You can use both types of frozen peas for this recipe. I personally prefer the sweet peas for their sweeter flavor and creamier texture.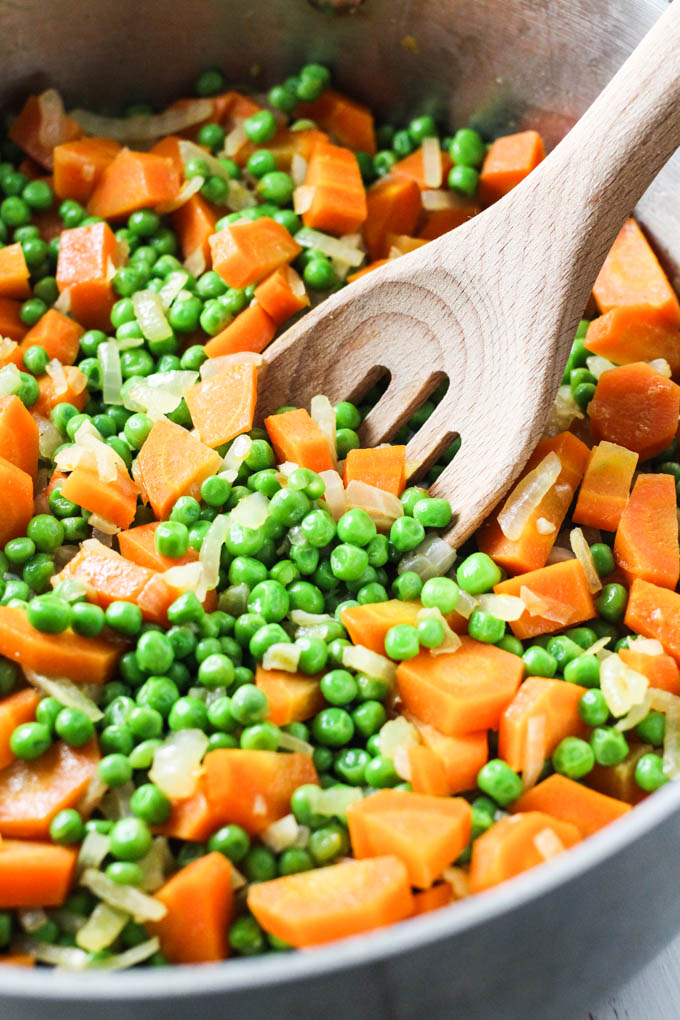 Tips for Making the Best Peas and Carrots
This one-pot vegetable side-dish is very easy to make. Even if you are a beginner cook, you will most likely end up with a delicious dish.
But there are still a few tips that will help you take it from good to great:
Cut the carrots into uniform pieces. It's important to cut the carrots into uniformly sized pieces so that they all cook through at the same time.
Don't overcook the carrots. The time needed to cook carrots depends on the size of the carrot slices, so check on the carrots every so often to make sure that they are as perfect as you want them to be.
Remove chunks of ice from the frozen peas. When bags of frozen peas sit in the freezer for a long time, they can accumulate ice. If this is what happened to your peas, make sure to remove the ice as much as possible to avoid cooling the skillet and adding extra liquid to the dish.
Don't overcook the peas. Peas are usually flash-steamed before being frozen, so you don't really need to cook them for too long. Just make sure they are heated through and then cook them for a minute or two.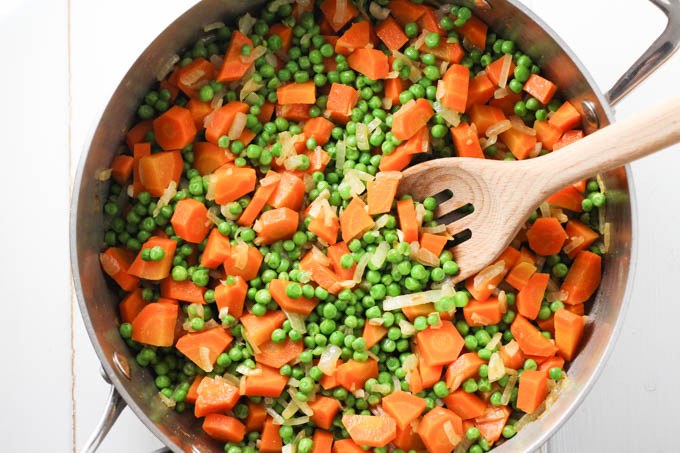 Nutritional Benefits of Peas and Carrots
Both carrots and peas are high in vitamins, minerals, and antioxidants.
Peas are a good source of vegetable protein and are high in fiber. Carrots are also high in fiber.
The combination of fiber and protein makes this simple side-dish quite filling.
How to Store and Reheat Peas and Carrots
This side-dish tastes best when freshly prepared. But you can also store it in the fridge in a glass container with a tight lid.
Reheat on the stovetop over medium heat or in the microwave.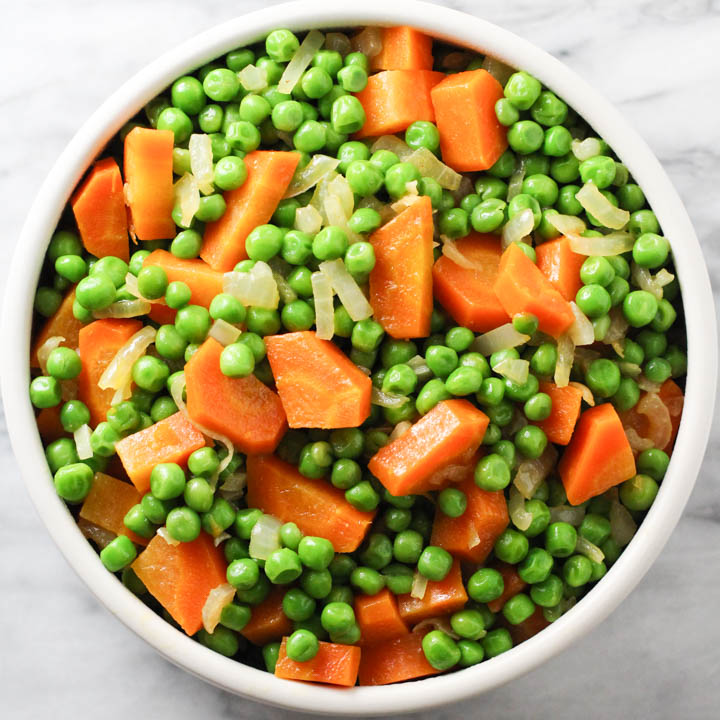 Peas and Carrots Recipe
Peas and Carrots is a simple vegetable side-dish that pairs well with almost anything. Perfect for weeknight dinners, this colorful dish can also be served for Thanksgiving and Easter.
Ingredients
4-5 medium carrots
2 Tbsp olive oil
1 medium onion, thinly sliced
3 garlic cloves, minced
1/2 cup vegetable broth
1/2 tsp coriander
3 cups frozen peas
salt to taste
Instructions
Wash and peel the carrots. Slice the carrots into bite-size pieces and set aside.
In a skillet, heat the olive oil over medium heat. Add the sliced onion and cook stirring occasionally until the onion starts to caramelize, for about 3 to 4 minutes.
Add the minced garlic and cook until fragrant for about 30 seconds. Make sure to constantly stir to prevent the garlic from burning.
Remove the onion from the skillet onto a plate and set aside.
Add the carrots, vegetable broth, and coriander to the skillet. Bring the vegetable broth to a simmer. Reduce heat and cover the skillet.
Cook the carrots until soft for about 10 minutes. Check on the carrots every so often to make sure there is still enough liquid in the skillet. The time needed to cook the carrots will depend on the size of the carrot slices.
When the carrots are cooked through, add the peas and the fried onions. Mix to combine. Set the heat to medium. Cover the skillet and cook until the peas are heated through, for about 2 to 3 minutes.
Season with salt to taste.
Recommended Products
As an Amazon Associate, I earn from qualifying purchases.
Nutrition Information
Yield

4
Serving Size

1/4 of recipe
Amount Per Serving
Calories

189
Total Fat

7g
Saturated Fat

1g
Trans Fat

0g
Unsaturated Fat

6g
Cholesterol

0mg
Sodium

180mg
Carbohydrates

25g
Fiber

8g
Sugar

9g
Protein

7g
Nutrition facts provided on this website are an estimate and not guaranteed to be accurate. Please see a qualified health care provider for personalized diet advice and make sure that each of the ingredients is allowed in your diet.