These baked apples with ricotta cheese make a delicious flavorful dessert. They are also very easy to make so you don't have to wait for a special occasion to bake a few apples.
Desserts that call for buckets of heavy cream and gazillion cups of sugar are so last century.
And don't even get me started on corn syrup. Recently, I was checking out the baking section in my grocery store and, to my horror, saw a bottle of this stuff on the shelf. Do people use it in their home baking? I thought we were trying to get the big corporations to stop putting this thing into everything they produce?
Don't get me wrong, it is totally ok to have a slice of cake every once in a while without worrying about what's in it.
However, if you are at home and have total control over what's going into your dessert, why not start exploring some healthy alternatives?
Check out today's Baked Apples with Ricotta Cheese recipe – it's so easy to make, uses only super healthy ingredients and is unbelievably delicious. In addition, your house will smell absolutely amazing!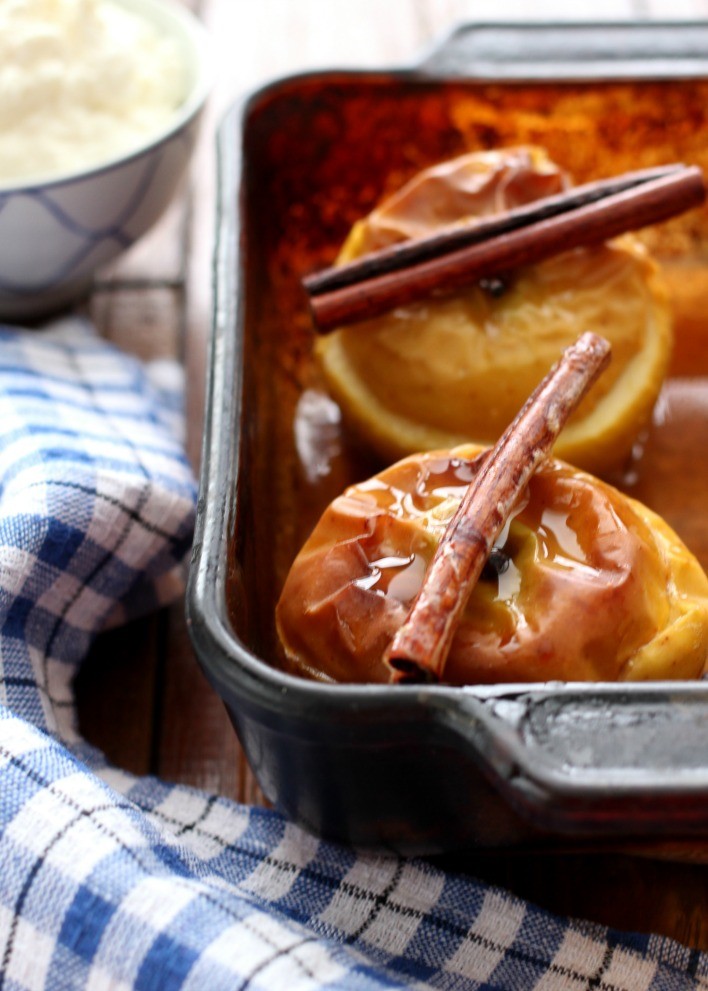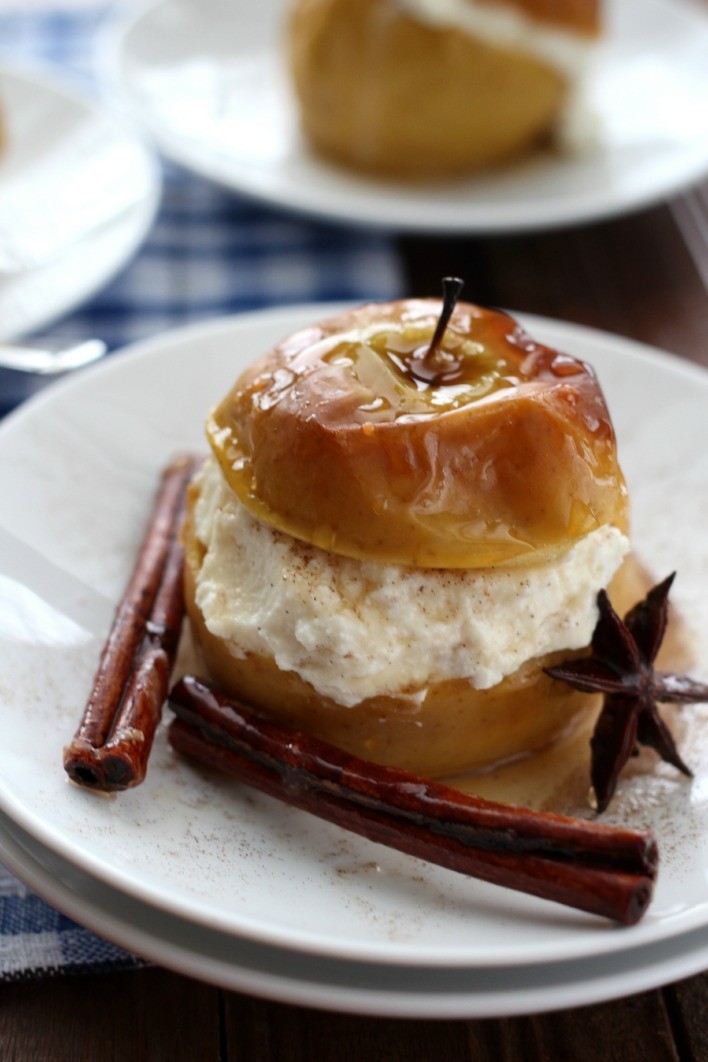 And if you love roasted fruit, check out this Fall and Winter Fruit recipe and these Easy Baked Persimmons.
Baked Apples with Ricotta Cheese
These Baked Apples with Ricotta Cheese are very easy to make, healthy and unbelievably delicious.
Ingredients
4 medium organic apples (I used Golden Delicious)
¼ cup + 1 Tbsp honey
juice of ½ lemon
¼ cup water
1 anise star
4 whole cloves
2 cinnamon sticks
1 cup ricotta cheese
allspice for decorating
Instructions
Preheat the oven to 400F.
Carefully, cut off the top of each apple. With a small knife or a potato peeler, cut out the core scooping out all the seeds. If needed, cut small pieces from the bottom of the apples to level them out. Pierce the apples with a fork in a few places to prevent them from bursting during baking.

In a mixing bowl, add ¼ cup of honey, lemon juice, and water. Mix to combine.
Place the apples in a square baking dish. Pour the honey mixture over the apples. Place the apple tops on the apples. Place the anise star, whole cloves and cinnamon sticks on the bottom of the dish.
Bake the apples until a paring knife easily slips into the centers for about 40 to 45 minutes. Baking time will depend on the apple variety so check the apples every once in a while to make sure they don't over-bake.
In the meantime, place the ricotta cheese and 1 tablespoon of honey into a small bowl and mix.
Once the apples are done, remove them from the oven and let them cool for a few minutes. When cool enough to handle, transfer the apples onto plates. Open the lids and fill the center of each apple with ricotta cheese, about ¼ cup of ricotta cheese per apple. Sprinkle the apples with allspice and drizzle with pan juices, about 1 tablespoon per apple.
Place the apple tops back on the apples and serve.
Recommended Products
As an Amazon Associate, I earn from qualifying purchases.
Nutrition Information
Yield

4
Serving Size

1/4 of recipe
Amount Per Serving
Calories

236
Total Fat

5g
Saturated Fat

3g
Trans Fat

0g
Unsaturated Fat

2g
Cholesterol

19mg
Sodium

101mg
Carbohydrates

43g
Fiber

5g
Sugar

31g
Protein

8g
Nutrition facts provided on this website are an estimate and not guaranteed to be accurate. Please see a qualified health care provider for personalized diet advice and make sure that each of the ingredients is allowed in your diet.