This pear cranberry crisp is a perfect healthy dessert that you can whip up in just a few minutes. It's also a great way to use up overripe pears. In fact, ripe or overripe pears work best in this recipe because it only calls for 1/4 cup of maple syrup as a sweetener so you really need the sweetness of ripe pears to sweeten it.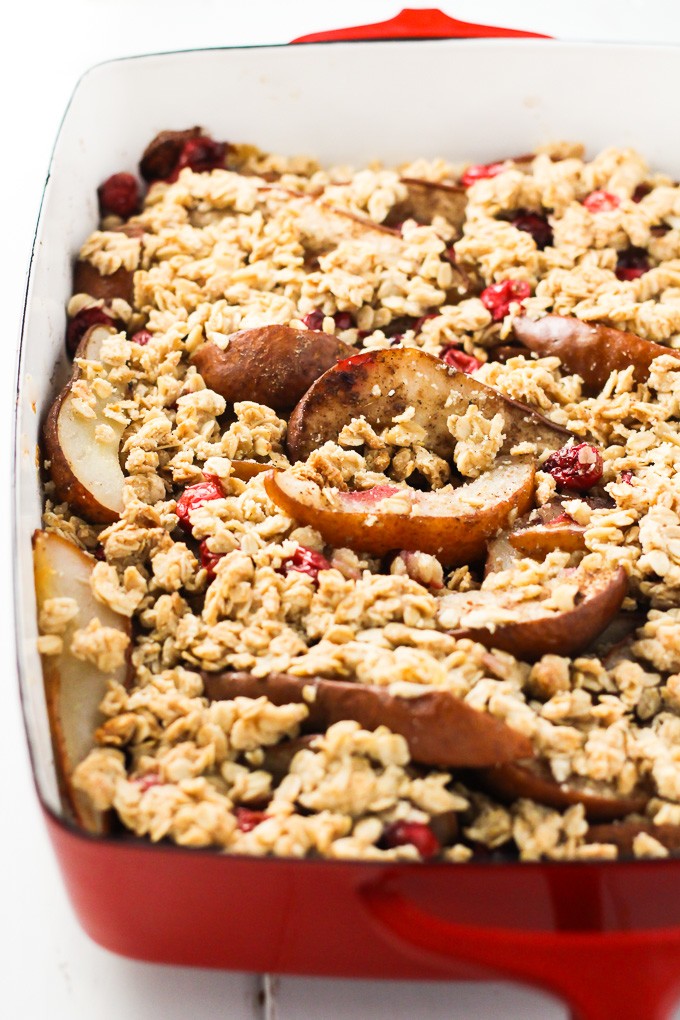 Just like cinnamon goes well with apples and allspice is a must in all pumpkin-based desserts, cardamom is a perfect spice for pears.
Cardamom is mostly known as a spice used in Indian cuisine, but it's also very popular in Scandinavian countries where it's often used in holiday baking. Cardamom is a member of the ginger family and works really well together with other winter spices such as ginger, cloves, nutmeg, and allspice.
This pear cranberry crisp is filling and comforting. It's also flourless as it doesn't contain any flour. This dessert is made with only real whole food ingredients, is low in sugar and refined sugar free.
If you like simple fruit-based desserts, check out this Delicious Apple Crisp or these Baked Apples with Ricotta Cheese. And if you would like to start baking with cardamom, check out this Clean Eating Mango Bread recipe.
Enjoy!
Yield: 5 servings
Pear Cranberry Crisp
This healthy pear cranberry crisp is made with old-fashioned rolled oats, almond meal, maple syrup, coconut oil, and cardamom. This fruit based dessert is filling and comforting and will satisfy the craving for something sweet in a healthy way. Low in sugar and refined sugar free.
Ingredients
For the crumble topping:
1 1/4 cup rolled oats (5-minute or slow cooking rolled oats, choose gluten-free rolled oats if needed)
1/2 cup almond meal
pinch of salt
1/4 cup melted coconut oil
1/4 cup maple syrup
For the pears:
2 pounds of ripe or overripe pears
1 cup fresh or frozen cranberries
1/2 tsp ground cardamom
1/4 tsp ground cloves
1/4 tsp ground nutmeg
Instructions
In a bowl, combine the rolled oats, almond meal, and salt. Set aside.
Preheat the oven to 350F. Lightly oil a baking dish with coconut oil (I used a 9X12 inch baking dish).
Slice each pear in half lengthwise. Remove the core and cut each half into three to four pieces. Spread the pear slices and cranberries over the baking dish.
In a small bowl, mix the cardamom, nutmeg, and cloves. Sprinkle the spice mixture over the pears.
Add the melted coconut oil and maple syrup to the oats and mix well to combine.
Spread the crumble topping over pears and place the baking dish into the oven.
Bake for about 45 to 50 minutes until the pears are cooked through and the crumble topping is golden brown.
Recommended Products
As an Amazon Associate, I earn from qualifying purchases.
Nutrition Information
Yield
5 portions
Serving Size
1/5 of recipe
Amount Per Serving
Calories

359.9
Total Fat

15.2g
Saturated Fat

9.5g
Trans Fat

0g
Unsaturated Fat

2.09g
Cholesterol

0mg
Sodium

38.7mg
Carbohydrates

55.5g
Fiber

9.2g
Sugar

28.3g
Protein

4.6g
Nutrition facts provided on this website are an estimate and not guaranteed to be accurate. Please see a qualified health care provider for personalized diet advice and make sure that each of the ingredients is allowed in your diet.