On this page, you will find some basic information about low glycemic cooking, my personal experience with low glycemic eating, and a list of links to helpful articles and resources.
Although I don't write about low glycemic eating anymore, I update this page from time to time if I find anything interesting and relevant on this subject. This page was originally published on April 2, 2013, and last updated on February 24, 2019.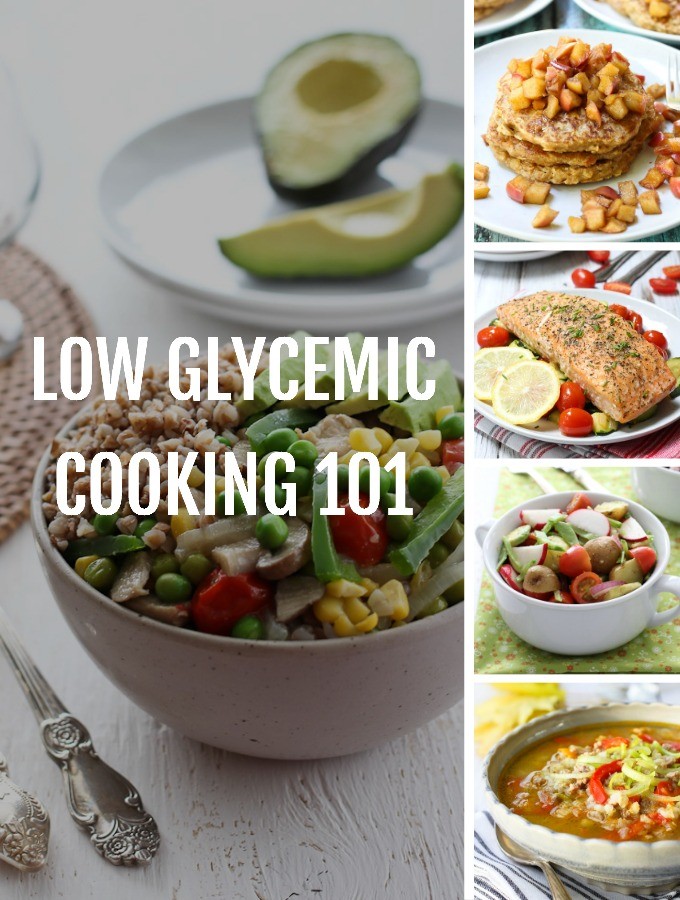 I started researching low glycemic cooking in 2008. At that time, there was hardly any information about it available on the internet. I read books written by medical doctors and attended seminars held by scientists. Needless to say, they were very hard to understand.
So, whenever I found anything interesting about this subject, I shared it here on the blog so that others could also benefit from it.
Nowadays, there is plenty of information about low glycemic cooking and eating available on many reputable websites. So, I don't see any need for me to write about this subject anymore.
Instead, I put together a list of links that I think provide the best information about low glycemic eating. I am also keeping the articles about low glycemic cooking I wrote and published here on the blog. All the links can be found below.
My Personal Experience with Low Glycemic Eating
Personally, I've been eating a mostly low glycemic diet since 2008. I started it because a lot of my family members are overweight and some have been diagnosed with type 2 diabetes. In other words, I have bad genes when it comes to gaining weight.
As a teenager and young adult, I was very skinny and could eat anything without gaining any weight. However, in my late twenties, I started gaining weight without any apparent reason. I hadn't changed the way I ate and I also was very active and exercised regularly but it didn't help.
I was very worried because when I was a kid, I promised myself that I would not become overweight. So, if I really wanted to avoid my destiny I had to do something.
When I learned about the low glycemic approach to eating, suddenly everything made so much sense. As soon as I started eating mostly low glycemic foods, I started losing weight. I really liked this approach because I didn't have to starve myself or count calories.
So, this is how I've been eating for over 10 years and I am happy to share that I've kept my healthy weight.
I also have to stress that everyone is different and what works for one person might not work for the other. If you have been diagnosed with diabetes or any other disease or condition, or take any prescription medication, make sure to consult your health care provider before trying any new foods or recipes.
Why Choose Low Glycemic Eating?
There are three main reasons to choose a low glycemic way of eating:
1. To Manage Symptoms
Low glycemic diet may be recommended to help manage symptoms of diseases or conditions related to blood sugar, for example, type 2 diabetes or polycystic ovarian syndrome.
In these cases, it's important to work with a qualified health care provider to create a personalized meal plan. Those who manage symptoms of a disease might have to follow a very strict low glycemic diet and eat only low GI foods.
2. To Help with Weight Loss
The low glycemic way of eating is often used to help with weight loss. If the weight gain was caused by a medical issue it's also very important to consult a qualified nutrition consultant.
Those who follow a low glycemic diet in order to lose weight might be able to incorporate into their diet medium glycemic foods or foods that have a high GI but low GL such as fruits, starchy vegetables, and root vegetables, as well as beans, pasta, and whole grains. It's also important to take into consideration personal tolerance of these foods.
3. To Help Maintain a Healthy Lifestyle
Understanding low glycemic eating principals may also be helpful for those who just want to eat a healthy diet.
Low glycemic foods are mostly whole foods that we generally don't eat enough of so keeping in mind low glycemic eating approach when planning family meals is a great way to stay on track with healthy eating.
Medium glycemic whole foods, as well as foods that have a high GI and low GL such as fruits, starchy vegetables, and root vegetables, as well as beans, pasta, and whole grains also make great healthy choices.
My Articles on Low Glycemic Cooking
This is a list of articles about low glycemic cooking I published a while ago here on the blog.
Low Glycemic Eating - Helpful Links and Resources
This is a list of links to helpful resources about low glycemic eating. Here you will find answers to almost any question about this subject. There are also links to the glycemic index database and a printable PDF document of glycemic index values of most common foods.