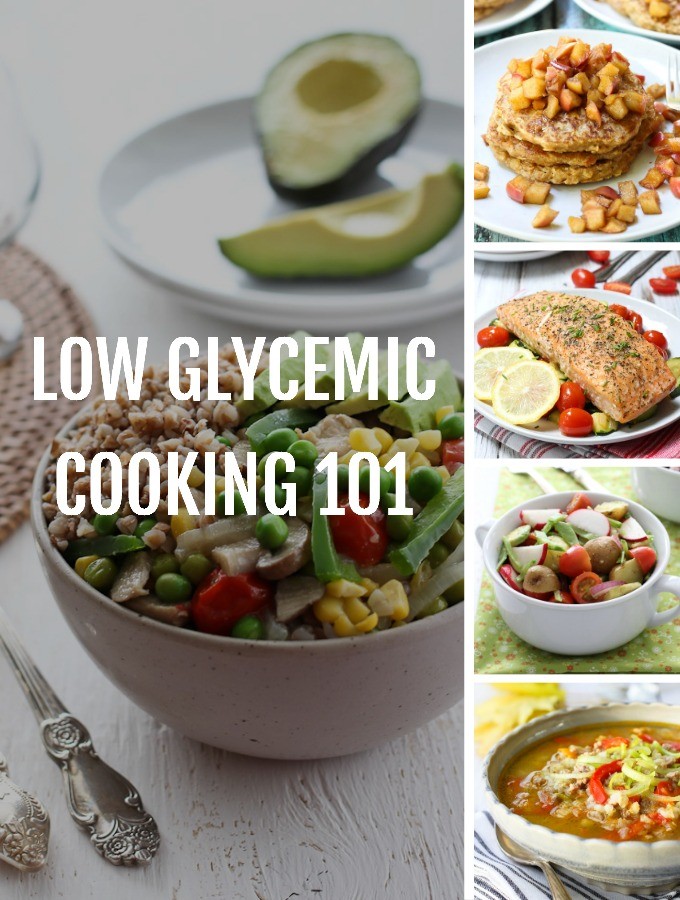 This page is for those of you who are specifically looking for low glycemic recipes and the information on low glycemic eating and cooking available on my blog. If you are here for healthy clean eating recipes, you can browse the archives found under the "Recipes" tab on the menu above.
---
Disclaimer!
Even though there are a lot of low glycemic recipes on my blog, please note that my blog is not a blog for diabetics. This is my personal blog where I share my recipes and write about nutrition, cooking and, occasionally, about other things that I am passionate about.
I eat mostly low GI foods because it works well for me. Since I am not diabetic, I also occasionally eat foods that are not low GI, such as pasta, potatoes, rice, or desserts. I also get a lot of requests from my readers for healthy dessert recipes which are not always low GI. For these reasons, not all of the recipes on my blog are low glycemic.
Also, if you have been diagnosed with diabetes or any other disease or condition, or take any prescription medication, make sure to consult your health care provider before trying any of my recipes. The most important thing to understand about nutrition and healthy eating is that we are all different and what works great for me might not work for you.
---
1. Low Glycemic Cookbook
My low GI cookbook called "Deliciously Balanced – 100 Fast, Fresh and Fun Low Glycemic Recipes" is now available on Amazon!
The book features 100 simple and tasty recipes all developed and tested in my small kitchen without using fancy kitchen appliances or any hard to find ingredients. Covering everything from breakfast to dessert, this book will show you how you can prepare healthy mouth-watering meals your family will love.
To learn more about the book, please click here.
Or buy it right here:
---
2. Understanding Glycemic Index and Glycemic Load
If you want to learn more about low glycemic eating and cooking, it's important to understand how high glycemic foods are affecting our bodies. So make sure to dig a little deeper and take some time to understand glycemic index, glycemic load, and the importance of keeping your blood sugar stable. I promise you that it is not a very complex subject and the knowledge will empower you to change your approach to food and nutrition.
I've written a few articles to help you get started:
---
3. Snacks & Appetizers
Healthy low glycemic appetizers are fun and easy to prepare. Think hummus, bean spreads & dips, crostinis with various toppings. The list is endless.
If you are not sure what to have for a low GI snack, check out 25 Healthy Low Glycemic Snack Ideas.
---
4. Breakfast
Morning is the worst time to spike our blood sugar because it is going to affect us for the whole day. So make sure to learn how to prepare a low glycemic breakfast.
Whole grains such as slow-cooking oats, quinoa, wild rice, and buckwheat make an excellent low glycemic breakfast. Cook the whole grain the day before and just mix it with your favorite non-dairy milk in the morning. Add some berries or fruits for flavor, and some seeds and nuts and/or nut butters for protein and healthy fat.
Another favorite breakfast dish of mine is an omelet with veggies. You can use the left-over roasted veggies and just add your eggs.
---
5. Salads
Salads are a great way to include greens and veggies into your diet. You can make your salads more filling by including low glycemic grains such as quinoa or wild rice and/or your favorite type of beans and lentils. You can also serve a salad as a side dish instead of the usual rice, pasta, or potatoes.
Skip the store-bought dressing with the long list of mystery ingredients. Instead, use some olive and/or flaxseed oil, balsamic vinegar and/or lemon juice and some dried or fresh herbs.
---
6. Soups
Get into the habit of making a big pot of vegetable soup every week. It will be your lifesaver! Come home from work to a warm bowl of soup and/or take it to work and eat for lunch.
To make a soup, start off with chicken or vegetable stock, add whatever veggies are on hand, and mix some beans, peas, and/or lentils for protein. Add some fresh herbs for flavor.
Also, check out my post on How to Make a Perfect Low Glycemic Soup.
---
7. Sides
Veggies, veggies, and more veggies! If you only learn one thing from this resource page, it should be this: veggies make the best side dishes. If you want to switch to a low glycemic way of eating, replace your rice, pasta, and potatoes with these full of flavor, easy to cook, packed with awesome nutrients wonderful whole foods.
Low glycemic whole grains such as quinoa, buckwheat, and wild rice also make great side dishes.
---
8. Main Dishes
Low glycemic main dishes are easily constructed by putting together your favorite source of healthy protein, with a salad, some veggies, and low glycemic whole grains such as buckwheat, quinoa, and wild rice.
---
9. Drinks
If you stop drinking sugary soft drinks, fruit juices, or any other artificially colored liquids sold in bottles ( hint 🙂 ), you are going to cut out a lot of high glycemic sugars from your diet.
Skip all the artificial sweeteners. Instead, sweeten your homemade drinks with natural low glycemic sweeteners. I personally like coconut sugar. I also use honey and maple syrup. They are higher on the glycemic index scale but are natural and very sweet so you don't need a lot.
---
10. Sweet Things and Baking
You might wonder why I don't just recommend that we cut out all sugar from our diet? And my answer to you is this: it's not possible because we are hard-wired to like the taste of sweet things. Some of us like sweets more than others but we all enjoy sweet taste. If we decided to never have anything sweet, eventually, we would start feeling deprived. And the feeling of deprivation is going to sabotage all our effort to eat healthy.
This is why it's much better to learn to use natural low glycemic sweeteners; learn to bake with a variety of whole grain flours, nuts, fruits, and seeds, so that you can still enjoy your occasional dessert and keep your healthy eating on the right track.
---
11. Useful Links & Resources
Here are few resources that you might find helpful:
Low Glycemic Eating Frequently Asked Questions by University of Australia;
Glycemic Index Infographic by USANA Health Sciences;
Blood Sugar: Your Key To Vibrant Health by Christiane Northrup, M.D.;
Understanding Glycemic Load by SELF Nutrition Data;
GlycemicIndex.com – 'home of the glycemic index' – the official website for the glycemic index and international GI database which is based in the Human Nutrition Unit, School of Molecular Bioscience, University of Sydney;
Glycemic index and glycemic load list for 100+ foods by Harvard Medical School;
Glycemic Index and Glycemic Load Values Table by Diabetes Journals;
Healthy Eating Plate & Healthy Eating Pyramid by Harvard School of Public Health;
Glycemic Index Guide by Glycemic Index Foundation;
5 Lifestyle changes to Dramatically Improve PCOS by Food Matters;
A New Global Nutrition Study Changes Nothing by James Hamblin in The Atlantic.
---