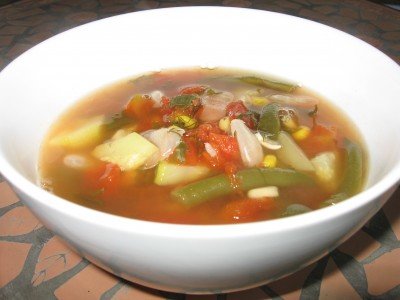 I didn't cook any soup this summer because we've been having a hot and sunny summer here in Toronto and I didn't feel like having soup at all. But last week, we had a few chilly evenings so I decided to make some soup with lima beans.
Happy to report that the fabulous warm weather returned to Toronto and it looks like it is going to be sunny and hot all week 🙂
Vegetable Soup with Lima Beans (Vegan & Low-Glycemic)
Vegetable Soup with Lima Beans Recipe. This soup is vegan, low GI, delicious and filling. Make a big batch and enjoy all week long.
Ingredients
1 cup dried lima beans
1 can (796 ml / 28 oz) diced tomatoes
1 L / 4 cups low sodium organic vegetable broth
2 cups water
1 can (341 ml / 12 oz) organic corn, drained
2 cups green beans, trimmed and halved
1 large zucchini, peeled and chopped into cubes
a handful of cilantro, roughly chopped
a handful of dill, roughly chopped
juice of 1/3 lemon
salt and pepper to taste
Instructions
Soak the lima beans overnight in 3 cups of water.
Next day, drain and rinse the lima beans and put into a large saucepan with sufficient cold water to cover (3 to 4 cups). Bring to a boil. Reduce heat and simmer, uncovered, for 1 hour, until tender. Drain and set aside.
In a large pot, add the diced tomatoes, vegetable broth, 2 cups of water and green beans. Bring to a boil and reduce heat. Cover and simmer for about 6 minutes.
Add the zucchini, corn, lima beans, salt and pepper. Bring to a boil. Reduce heat, cover and cook for another 6 minutes.
Add the lemon juice, cilantro and dill. Bring to a boil and turn off the heat.