This Spelt Banana Bread is everything you have imagined – it's soft, moist, flavorful, and satisfying. Perfect as a coffee cake or a snack, this simple healthy banana loaf won't disappoint.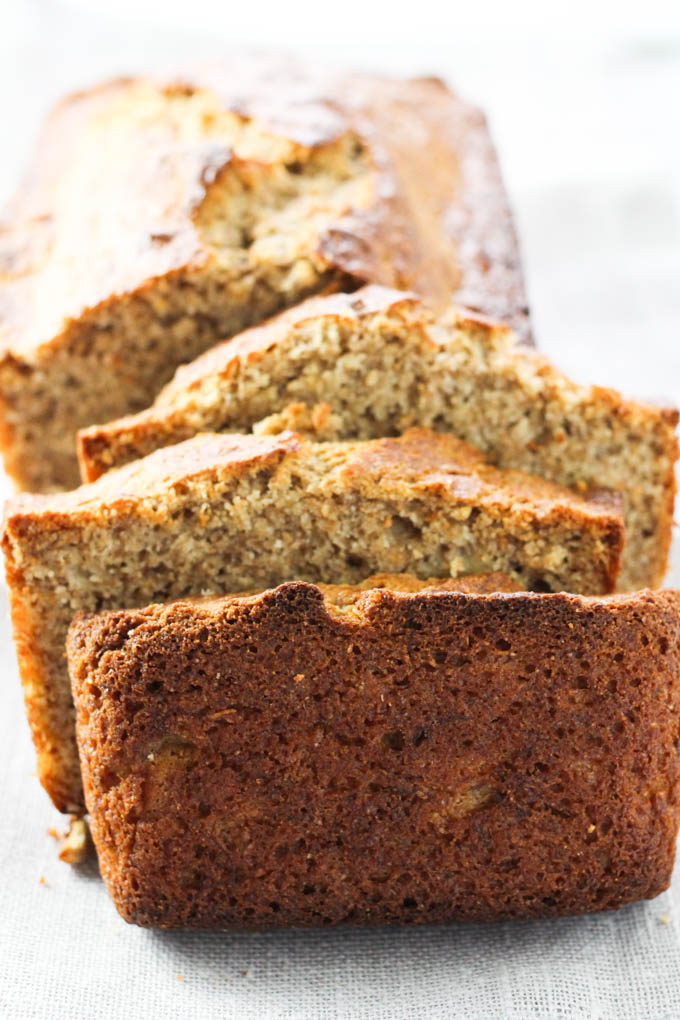 Tips for the Best Spelt Banana Bread
Making homemade spelt banana bread is very easy. Even if you have never baked anything before, you will most likely end up with a pretty decent loaf.
But there are still a few tips that will help you to take your banana bread from good to great:
Use very ripe bananas. Making banana bread is the perfect way to use overripe bananas that are about to go bad. Ripe bananas add flavor, sweeten the bread and add moisture. If you don't have enough bananas to whip up a loaf, you can always freeze them. When using frozen bananas, make sure they have thawed completely.
Use whole spelt flour. Spelt flour has a unique nutty flavor. It's perfect for banana bread because it helps to make the bread moister and filling. Make sure to use wholemeal spelt flour and not white spelt flour.
Don't overmix the batter. Mixing the batter helps to develop gluten which will make the bread denser and less moist. Even though spelt flour has less gluten than regular flour, overmixing the batter is not recommended and can result in a dry dense loaf.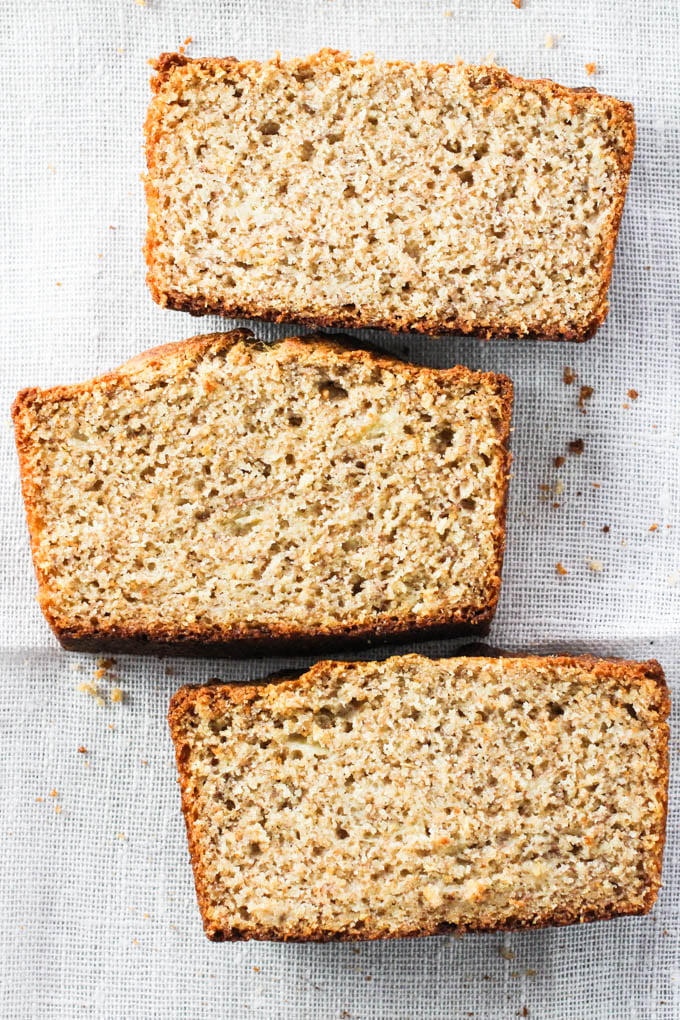 Add-ons for More Flavor and Nutrition
You can customize the recipe by adding dried fruits, berries, or nuts. Make sure to chop the nuts and large dried fruits such as apricots into smaller pieces.
When adding dried fruits, keep in mind that they will increase the sugar content of the banana loaf.
Here is what you can add to your banana bread:
Dried fruits and berries:
raisins
dried currants
dried cranberries
dried blueberries
dried apricots
dried prunes
Nuts and seeds:
walnuts
pecans
almonds
pistachios
cashews
sunflower seeds
pumpkin seeds
hemp hearts
shredded coconut

How Do I Know When My Banana Bread is Done?
Making sure your banana bread is perfectly done is very important because you don't want to under or overbake it.
Here are a few ways to check if it's time to take it out of the oven:
It should be dark golden in color. Spelt flour banana bread will be slightly darker than the one made with white flour simply because the flour is darker. The edges of the bread should be slightly darker than the top.
There will be one large crack or a few smaller cracks running along the top of the bread. The cracks can appear in the center or closer to the sides. There should be no wet batter inside the cracks.
Use a toothpick or a cake tester to check the bread for doneness. Just insert it into the bread and then pull it out. It should come out clean or just a few crumbs clinging to it. If there are a lot of wet crumbs or wet batter on the cake tester, the bread isn't done.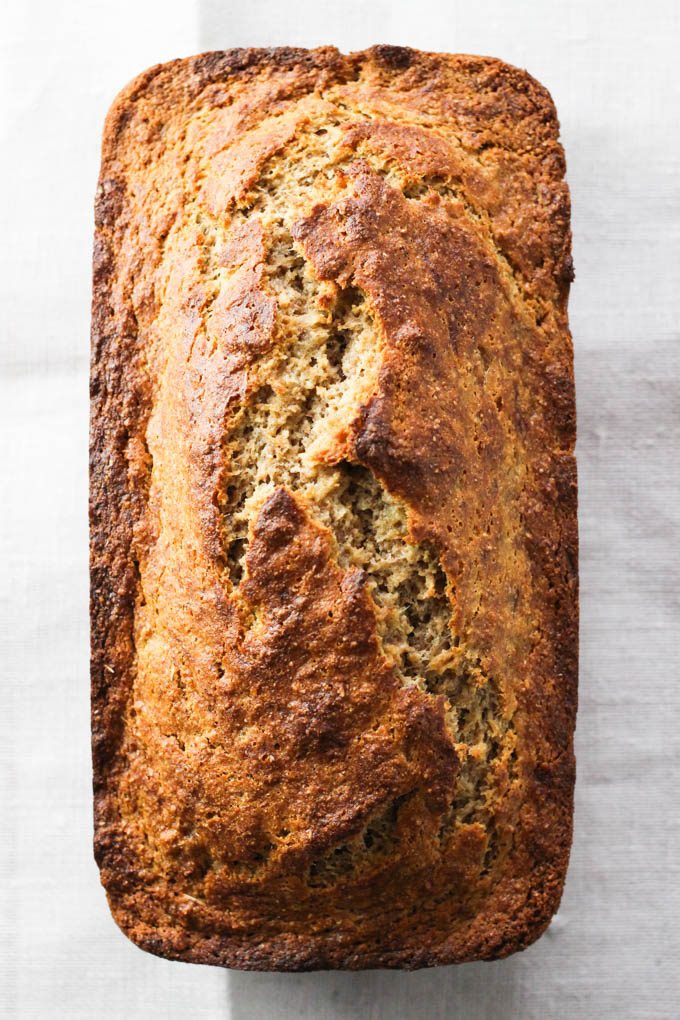 How Do You Store and Reheat it?
To keep the banana bread moist and prevent it from drying out, store it in a sealed plastic bag. To prevent mold growing on the bread, store it in a refrigerator. It usually keeps well for up to 3 days.
The bread tastes better when it's slightly warm so make sure to reheat it before serving, especially if you keep it in the fridge.
It's much easier to reheat slices than the whole loaf so slice it first. You can reheat the slices in a toaster, microwave, or in a warm oven. Just make sure not to overheat it because it will dry out the bread.
This spelt banana bread can also be frozen for up to 3 months.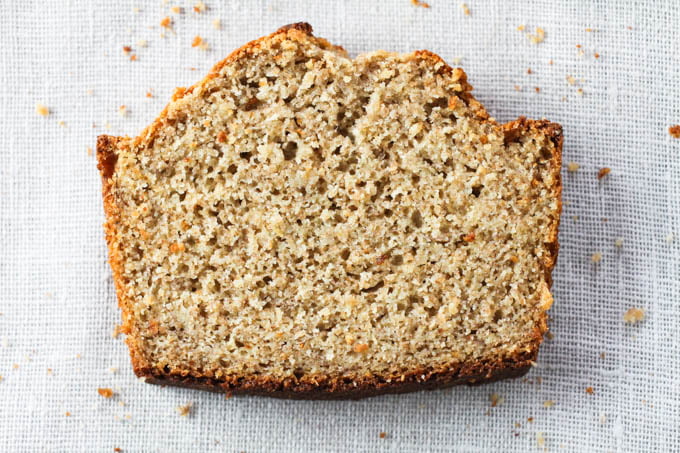 More Recipes With Spelt Flour
If you love baking with spelt flour, check out these healthy recipes: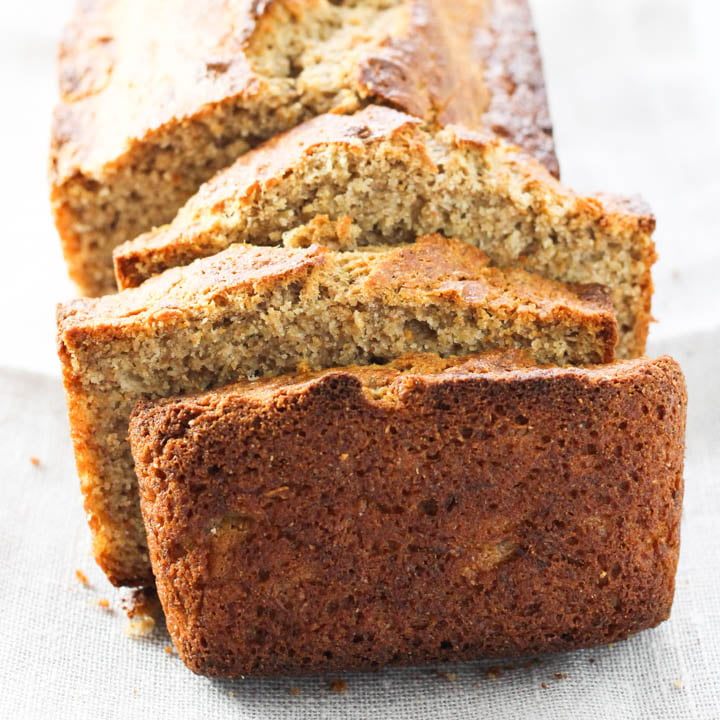 Simple Spelt Banana Bread
Very easy Spelt Banana Bread recipe. Perfectly soft and moist. You can eat it as a coffee cake or a snack. The best homemade healthy banana bread recipe ever!
Ingredients
2 cups whole spelt flour
2 1/2 tsp aluminum-free baking powder
1/2 tsp salt
4 very ripe bananas, peeled and broken into chunks
2 eggs, beaten
1/3 cup milk
1/4 cup maple syrup
1/4 cup + 1/2 Tbsp, coconut oil melted
1 tsp vanilla extract
Instructions
Preheat the oven to 375 F. Oil the loaf pan with 1/2 tablespoon of coconut oil.
In a medium bowl, combine the flour, baking powder, and salt. Mix to combine.
Place the banana chunks into a large bowl and mash them with a fork. If you are using frozen bananas, make sure they have thawed completely.
To the bowl with the mashed bananas, add the eggs, milk, maple syrup, 1/4 cup of melted coconut oil, and vanilla extract. Mix until well combined. See the notes.
Add the dry ingredients to the wet ingredients and stir until everything is moistened but make sure not to overmix.
Pour the batter into the loaf pan and place the pan in the oven. Bake for 45 to 50 minutes or until the cake tester comes out clean.
Remove the loaf pan out of the oven and place it on a cooling rack. When the banana bread is cool enough to handle, take it out of the loaf pan.
The banana bread tastes best when it's slightly warm.
Notes
Make sure that all the ingredients are room temperature. If the eggs or milk are too cold, the coconut oil will solidify. If this happens, fill a large bowl or sink with warm water and place the bowl with the wet ingredients into it. Make sure that water doesn't get into the ingredients. The water will slightly warm it up. Keep the bowl in the water until the coconut oil melts again.
Recommended Products
As an Amazon Associate, I earn from qualifying purchases.
Nutrition Information
Yield

12
Serving Size

1 slice
Amount Per Serving
Calories

159
Total Fat

2g
Saturated Fat

1g
Trans Fat

0g
Unsaturated Fat

1g
Cholesterol

32mg
Sodium

217mg
Carbohydrates

32g
Fiber

4g
Sugar

11g
Protein

5g
Nutrition facts provided on this website are an estimate and not guaranteed to be accurate. Please see a qualified health care provider for personalized diet advice and make sure that each of the ingredients is allowed in your diet.