If you are looking for easy zucchini recipes, you've come to the right place. This sauteed zucchini is probably the easiest way to prepare this vegetable. Well, almost the easiest.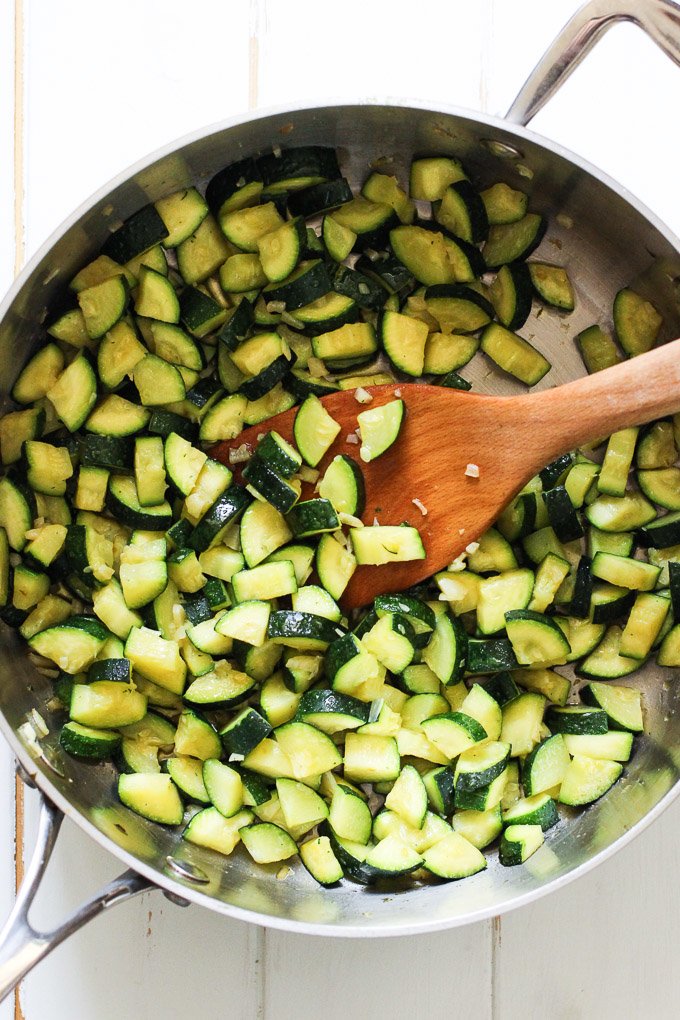 You can of course just chop it up and add to a salad. And yes, raw zucchini taste great in a salad. They are crunchy and don't make the salad soggy the way a cucumber would. Raw zucchini taste quite mild so they don't overpower other vegetables in a salad. If you've never tried adding raw zucchini to a salad, try this zucchini tabbouleh.
But if you want to actually cook zucchini for a side dish then this recipe is a winner.
Many years ago, a friend of mine showed me how to cook sauteed zucchini with garlic for a super easy, delicious, healthy, and budget-friendly side dish. I couldn't believe how easy it was and have been cooking it this way ever since.
How to Serve This Sauteed Zucchini
This side dish tastes great served with meat, fish, chicken as well as a part of vegetarian or vegan grain bowls. Try it with this Pan Fried Rainbow Trout or these Yogurt Marinated Chicken Kebabs. It can also be paired with black rice and mushroom goulash for a vegan grain bowl.
Yield: 4 servings
Easy Sauteed Zucchini with Garlic
These stove-top sautéed zucchini with garlic are budget-friendly and super easy and quick to make. If you have some fresh zucchini, a little bit of garlic and olive oil on hand you can prepare a healthy side dish in just a few minutes. Tastes delicious served with meat, fish, or chicken and is also perfect for vegetarian and vegan grain bowls
Ingredients
1.5 to 2 pounds zucchini
5 garlic cloves
1 1/2 Tbsp olive oil
salt and pepper to taste
Instructions
Slice the zucchini lengthwise into quarters and then chop into 1/4 inch thick pieces. Make sure that the slices are the same size.
Mince the garlic. Heat the olive oil in a large pan over medium heat. Add the garlic and cook stirring constantly for about 30 seconds to 1 minute. Make sure the garlic doesn't burn as it will get bitter.
Add the zucchini to the pan and toss until all zucchini slices are covered with olive oil and the garlic is distributed equally. Don't cover as zucchini get soggy when cooked covered.
Cook the zucchini for about 5 minutes stirring occasionally until they are cooked through but still have a bite to them. Make sure to not overcook as zucchini can get too soft very fast.
Season with salt and pepper and serve immediately or keep in the fridge in a glass container with a tight lid. The sauteed zucchini taste great the next day but will start losing flavor if kept too long.
Recommended Products
As an Amazon Associate, I earn from qualifying purchases.
Nutrition Information
Yield
4 portions
Serving Size
1/4 of recipe
Amount Per Serving
Calories

82.2
Total Fat

5.9g
Saturated Fat

0.9g
Trans Fat

0g
Unsaturated Fat

5g
Cholesterol

0mg
Sodium

46mg
Carbohydrates

6.9g
Fiber

2.3g
Sugar

3.9g
Protein

2.7g
Nutrition facts provided on this website are an estimate and not guaranteed to be accurate. Please see a qualified health care provider for personalized diet advice and make sure that each of the ingredients is allowed in your diet.