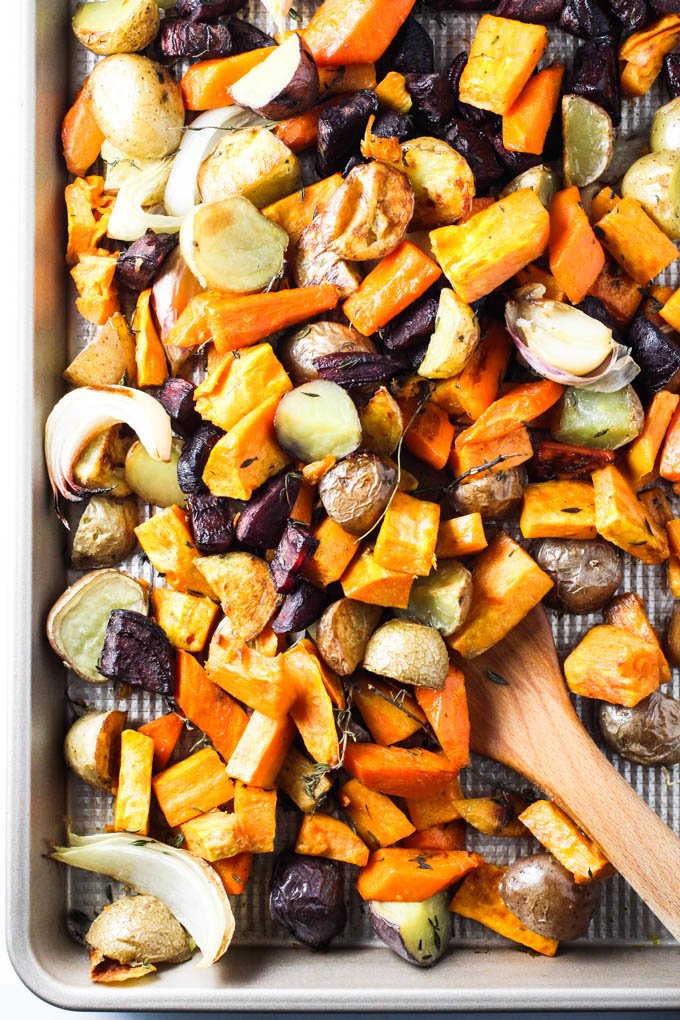 These roasted root vegetables are very easy to make and can be served with meat, fish, and poultry. They also make a great addition to salads and veggie and grain bowls.
Which Root Vegetables are Good for Roasting?
There are quite a few root vegetables that a good for roasting. Here are a few examples:
carrots
beets
fennel
turnip
parsnip
rutabaga
potatoes
sweet potatoes
yams
celeriac
onion
garlic
Do You Peel Root Vegetables Before Roasting Them?
In general, it depends on the type of vegetable, the method of roasting, and whether or not its skin is edible.
For this particular recipe, I only leave the skin on potatoes and peel all the other vegetables. Even though carrot and beet skin is edible, I don't like the texture of it.
If you prefer to leave the skin on, make sure to thoroughly scrub it to remove all dirt and sand.
Can I Roast Root Vegetables in Advance?
Roasted root vegetables taste best just out of the oven. So, if you are preparing them for the Thanksgiving dinner or any other occasion, I suggest popping them into the oven just before dinner.
The good thing about roasting vegetables is that you don't have to constantly watch over them so you can do other things while the vegetables are roasting.
Having said that, even though they might not look the best, the leftover roasted root vegetables taste just fine.
So, if you are making them for a meal-prep at the start of the week, I think it's totally fine to prepare them in advance and reheat for dinner or add to salads and grain bowls to take to work for lunch.
How to Store and Re-Heat Roasted Root Vegetables
Roasted root vegetables can be stored in the fridge in a glass container with a tight lid for two to three days.
There are a few ways you can reheat roasted root vegetables:
in an oven: to reheat the vegetables in the oven spread them over a baking sheet in a single layer and reheat at 375F until they are warm enough to eat;
in a skillet: to reheat the vegetables in a skillet, heat some olive oil in a wide skillet over medium heat. Add the vegetables and reheat them stirring occasionally until they are warm enough to eat;
in a microwave: small portions can also be reheated in a microwave oven.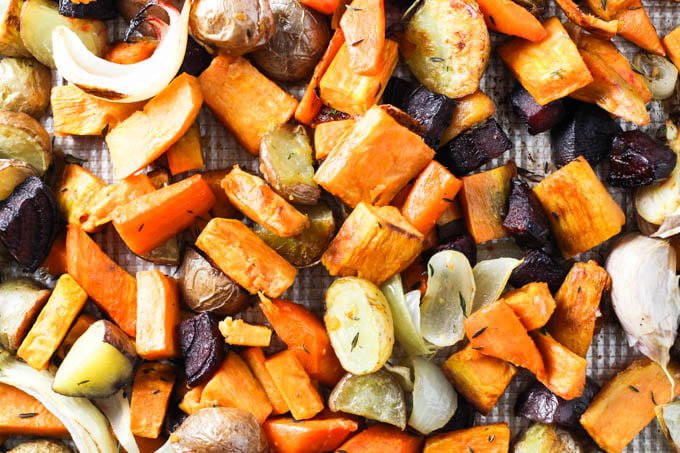 Tips for Preparing the Best Roasted Root Vegetables in the Oven
Roasted root vegetables are quite easy to make. All you need to do is peel and slice the veggies, add some aromatics such as herbs, spices, onion, and garlic, toss the vegetables in olive oil and season with salt and pepper. Then roast them in the oven until nice a golden.
Even though this recipe is very simple, there are still a few things that will help you to take your roasted root vegetables from good to great:
1. Pat Dry the Vegetables After Washing Them
If you wash the vegetables, make sure to pat them dry. Roasting the vegetables requires them to cook in dry heat so any excess moisture will cause them to steam instead of roasting which will result in soft limp vegetables.
2. Cut the Vegetables into Uniformly Sized Pieces
It's important to cut the vegetables into uniform pieces so that they cook through at the same time. Beets are denser than the other vegetables so slice them into smaller pieces than the rest.
3. Spread the Vegetables in a Single Layer on a Baking Sheet
Spread the vegetables in a single layer on a baking sheet so that they are heated evenly. Piling the vegetables on top of each other will cause them to steam instead of roast. If you are making a big batch you can use two baking sheets to give the vegetables more space.
4. Add Aromatics
Nobody likes bland and boring vegetables. Spice up your veggies with herbs, spices, garlic, onion and of course olive oil. Don't be afraid to experiment and create your own favorite flavor combination.
5. Don't Over-Cook or Under-Cook the Vegetables
Check on the vegetables often at the end of cooking because over-cooked roasted vegetables can become dry very quickly. But you also don't want to under-cook them because under-cooked vegetables just don't taste very good.
The vegetables are done when they start turning golden on the outside and are soft on the inside. You might need to practice a few times to get them out of the oven at the perfect moment.
How to Make Roasted Root Vegetables with Beets
Step 1. Separate thyme leaves from stems. You would need about one tablespoon of thyme leaves. Keep the stems because you can add them to the vegetables too for more flavor.
Step 2. Cut all the vegetables into uniform pieces. Cut the beets a bit smaller than the rest because they are denser and take longer to cook.
Place the cut potatoes, carrots, and sweet potatoes into a bowl. Add the thyme leaves and 1 3/4 tablespoon of olive oil, season with salt and pepper and mix making sure all vegetables are covered with oil.
Step 3. I keep the beets separate from the other vegetables so that they don't discolor. If you don't mind getting the beet juice on other vegetables you can just mix them all together in one bowl.
Otherwise, place the sliced beets into another bowl and add the rest of thyme leaves and 3/4 tablespoon of olive oil, season with salt and pepper. Mix to combine making sure all beets are covered in olive oil.
Step 4. Preheat the oven to 400F. Transfer the vegetables onto a baking sheet. Spread the vegetables over the baking sheet in one layer. Transfer the beets to one side of the baking sheet so that the beets don't discolor other vegetables.
Add garlic, onion, and a few of thyme sprigs and the stems that are left from Step 1.
Step 5. Place the baking sheet onto the oven and roast the vegetables until cooked through for about 40 to 45 minutes. Make sure to mix them at least once or twice during cooking.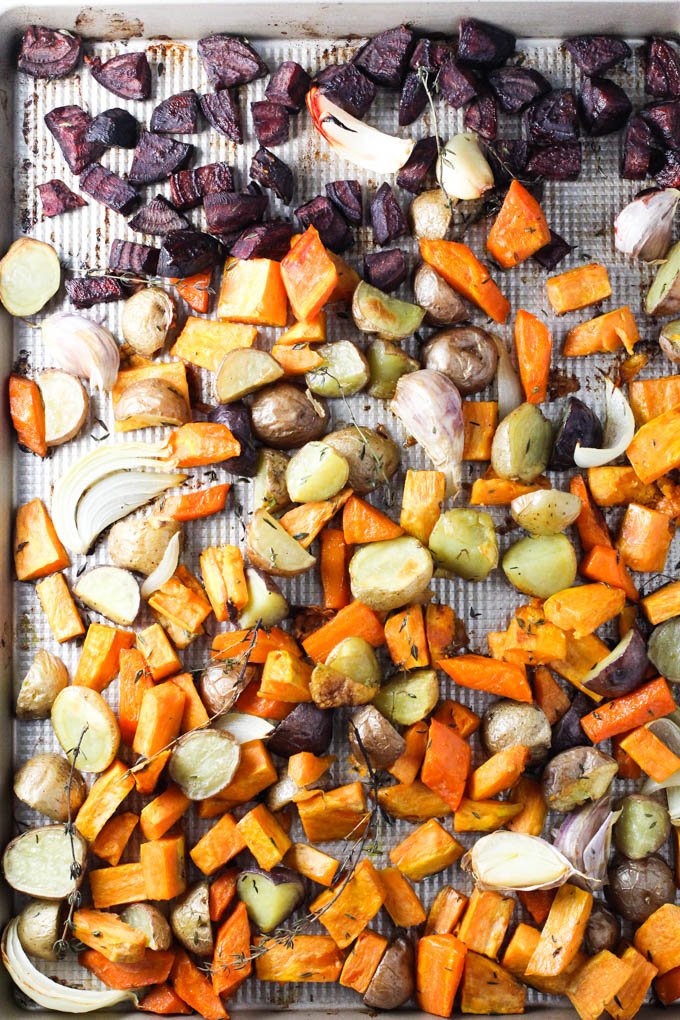 Looking for more side-dish recipes that are perfect for fall and winter? Check out this German Red Cabbage, this Oven Roasted Cauliflower, and these Savory Steel Cut Oats.
Yield: 4 portions
Roasted Root Vegetables
This roasted root vegetable medley makes the perfect healthy side dish for the Thanksgiving dinner and other occasions. Also great for meal-prep and can be added to salads and grain bowls.
Ingredients
6 to 7 thyme sprigs, should yield 1 Tbsp thyme leaves
2 medium sweet potatoes, peeled and sliced
1 pound baby potatoes, sliced in halves or quarters
2 medium carrots, peeled and sliced
2 medium beets, peeled and diced
1/2 medium onion, sliced into wedges
4 to 6 garlic cloves, unpeeled
2 Tbsp olive oil, divided
salt and pepper to taste
Instructions
Preheat the oven to 400F. Separate thyme leaves from the stems. You should have about 1 Tbsp of thyme leaves, plus a few more thyme sprigs to put on top of the veggies.
Place the cut potatoes, sweet potatoes, and carrots into a large bowl. Sprinkle about 3/4 Tbsp of the thyme leaves over the veggies. Add 1 3/4 Tbsp of olive oil, season with salt and pepper and mix to combine. Make sure all the vegetables are covered in oil. Transfer the vegetables onto a baking sheet.
Place the sliced beets into a bowl. Sprinkle the rest of the thyme leaves on top and add the remaining olive oil. Season with salt and pepper. Mix to coat.
Move the vegetables away from one edge of the baking sheet and place the beets on it. Spread the vegetables evenly over the baking sheet in one layer. Add the garlic, onion, and remaining thyme stems and sprigs.
Place the vegetables into the oven and roast until cooked through for about 40 to 45 minutes. Make sure to mix them at least once or twice during cooking.
Nutrition Information
Yield
4
Serving Size
1
Amount Per Serving
Calories

250
Total Fat

7g
Saturated Fat

1g
Trans Fat

0g
Unsaturated Fat

6g
Cholesterol

0mg
Sodium

140mg
Carbohydrates

43g
Fiber

6g
Sugar

8g
Protein

5g
Nutrition facts provided on this website are an estimate and not guaranteed to be accurate. Please see a qualified health care provider for personalized diet advice and make sure that each of the ingredients is allowed in your diet.