I am so excited to share with your this German Red Cabbage recipe because it's a delicious side dish for almost anything. You can serve it with meat, fish, fried or poached eggs or as a part of your veggies and grain bowl.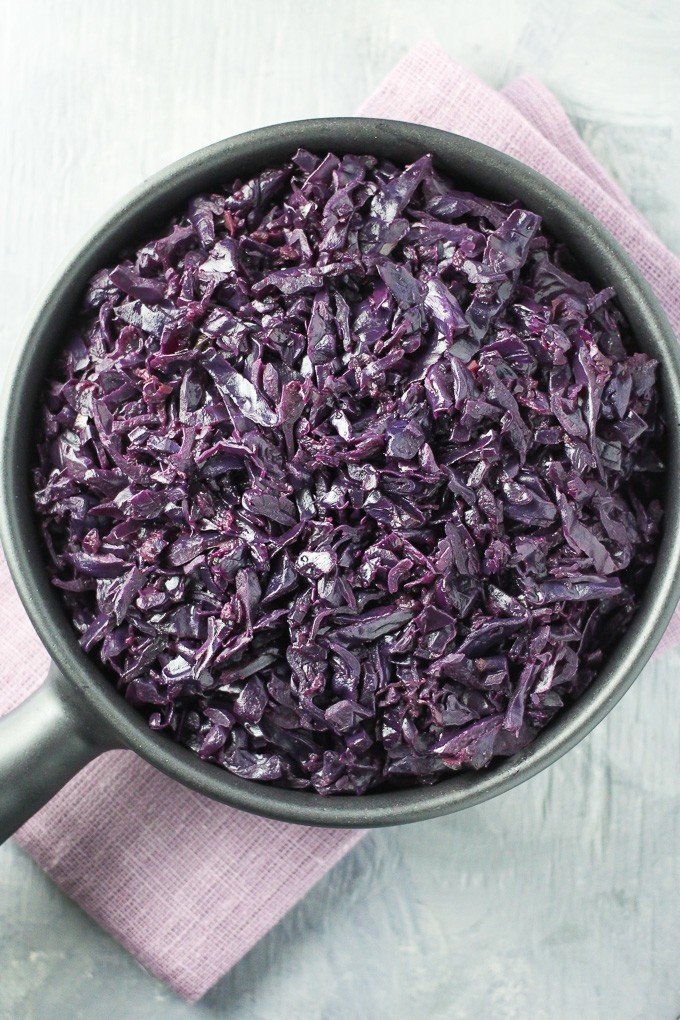 Braised red cabbage (also known as Rotkohl or Rote Kraut) is very popular in Germany and other European countries. In Germany and Austria, you can find it on the menu in almost any restaurant.
Unfortunately, here in North America red cabbage is very underappreciated which is a shame because it's inexpensive and quite easy to prepare.
Braised German red cabbage also keeps very well in the fridge. In fact, it tastes better the next day so you can make it ahead and enjoy for a few days for lunch or dinner.
Most German Red Cabbage recipes call for some sort of sweeteners such as cane sugar, brown sugar, or honey. I find that there is no need for that if you use apples of a sweet variety.
Red cabbage is a good source of dietary fiber as well as vitamins A, C, K, B6, potassium, and manganese. Glycemic load of raw red cabbage is 2.
If you love red cabbage, check out this Red and Green Cabbage Salad recipe and if you are looking for more German recipes, try this German Cucumber Salad.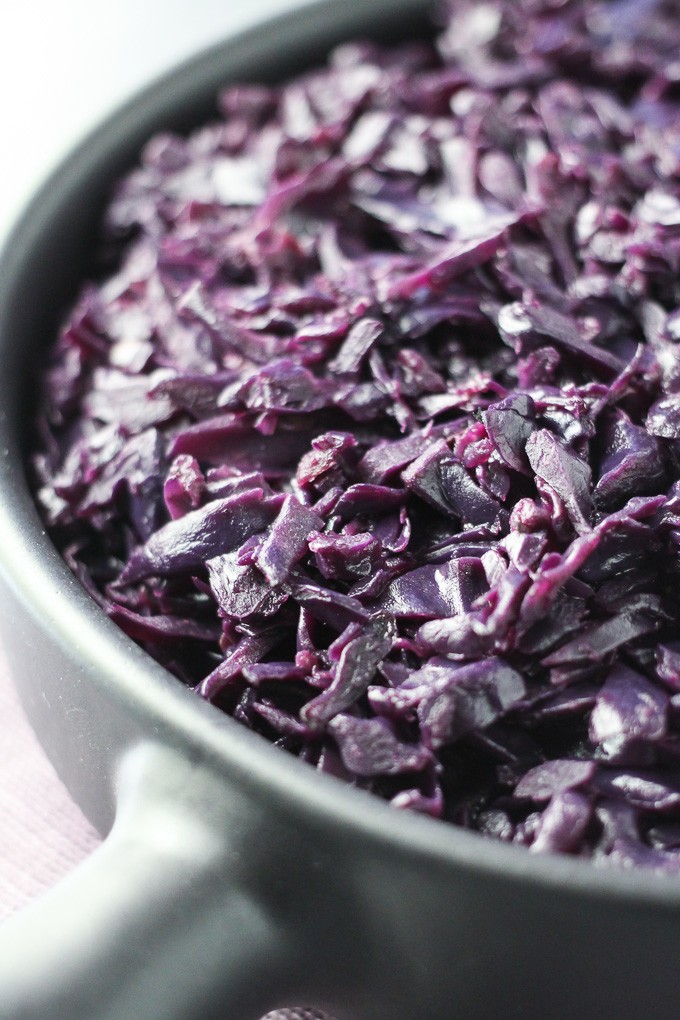 German Red Cabbage
This braised German Red Cabbage is very easy to make. Serve it as a side dish for meat, fish, fried or poached eggs, or as a part of your veggie-grain bowl.
Ingredients
2 Tbsp olive oil
1/2 large onion, thinly sliced
1 medium red cabbage, shredded
3/4 cup vegetable broth
1/4 cup apple cider vinegar
2 medium apples (sweet variety), cored and chopped
1 bay leaf
1 cinnamon stick
3 cloves
salt and pepper to taste
Instructions
Heat the oil in a large pan over medium heat. Add the onions and cook, stirring frequently, until the onions start to brown.
Increase the heat to medium-high and start adding the cabbage a few handfuls at a time stirring constantly to make sure the cabbage doesn't burn. If at any time you feel that your pan is overheated take it off the burner for a few seconds. Once the first batch wilts a bit and becomes fragrant add the next batch. Repeat the steps until you've transferred all the cabbage into the pot.
Reduce the heat to medium and add the vegetable broth, apple cider vinegar, chopped apples, bay leaf, cinnamon stick, and cloves. Season with salt and pepper. Mix well to combine.
Cover the pot and cook for about 30 minutes or until the cabbage is very tender. Make sure to check on it and stir every so often. Add more vegetable broth if needed. However, all liquid should have evaporated by the end of the cooking time. If the cabbage is done but you still have a lot of liquid, open the lid and bring the heat to medium high. The liquid should evaporate quickly.
Notes
1.Keep in the fridge in a glass container with a tight lid. Reheat to serve.
Recommended Products
As an Amazon Associate, I earn from qualifying purchases.
Nutrition Information
Yield

4 portions
Serving Size

1/4 of recipe
Amount Per Serving
Calories

136
Total Fat

7g
Saturated Fat

1g
Trans Fat

0g
Unsaturated Fat

6g
Cholesterol

0mg
Sodium

103mg
Carbohydrates

19g
Fiber

4g
Sugar

12g
Protein

1g
Nutrition facts provided on this website are an estimate and not guaranteed to be accurate. Please see a qualified health care provider for personalized diet advice and make sure that each of the ingredients is allowed in your diet.