This baked rainbow trout is so easy to make that you can even make it on a weeknight. All you have to do is put everything in the oven and wait. In addition, everything cooks on one baking sheet, so you'll have fewer dishes to wash which is always a good thing.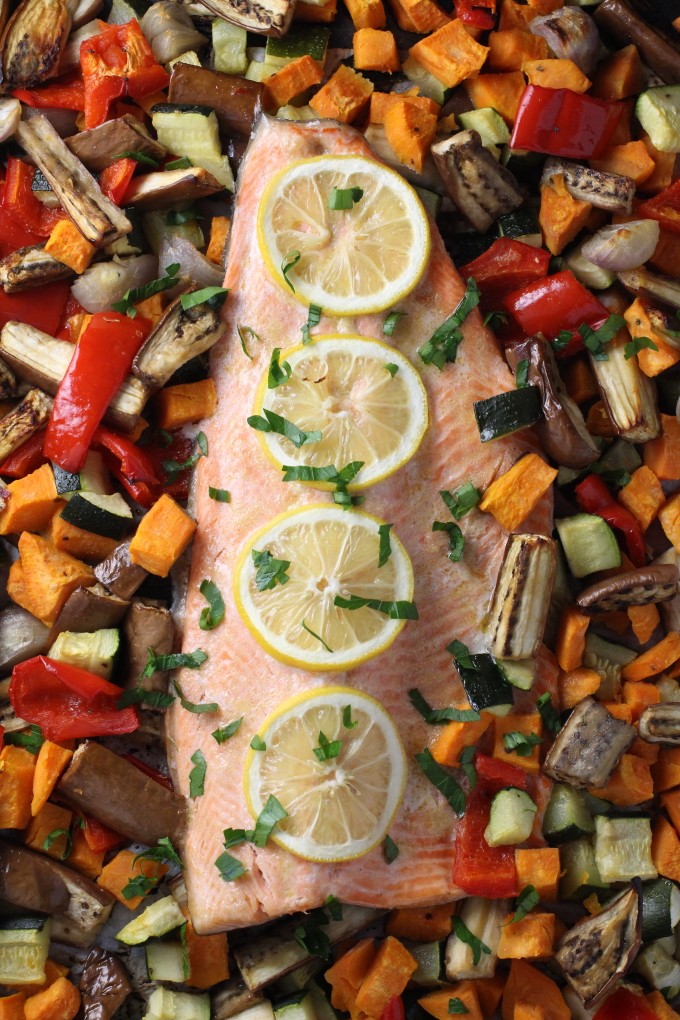 You can also make this baked rainbow trout if you are awaiting a company and want to make something quick, delicious, and healthy. In this case, chop the veggies ahead of time and place everything in the oven just before you are ready to eat. Have an appetizer, a glass of wine, and a good conversation while the fish is roasting.
No company? No problem! You are lucky because you are going to have some baked rainbow trout and roasted vegetables leftovers and will be able to enjoy a tasty lunch at work the next day. I guarantee your co-workers will be jealous.
There is no better food for me than fish and veggies. I seriously could eat them every single day. Sometimes I think that I really should move somewhere closer to the sea where I could get fresh fish every day.
Rainbow trout is ideal if you want to cook something healthy fast because it is ready in just a few minutes. If you don't want to cook the whole rainbow trout fillet, you can cut it into portion sizes, wrap in plastic wrap, and freeze. Then cook it as needed.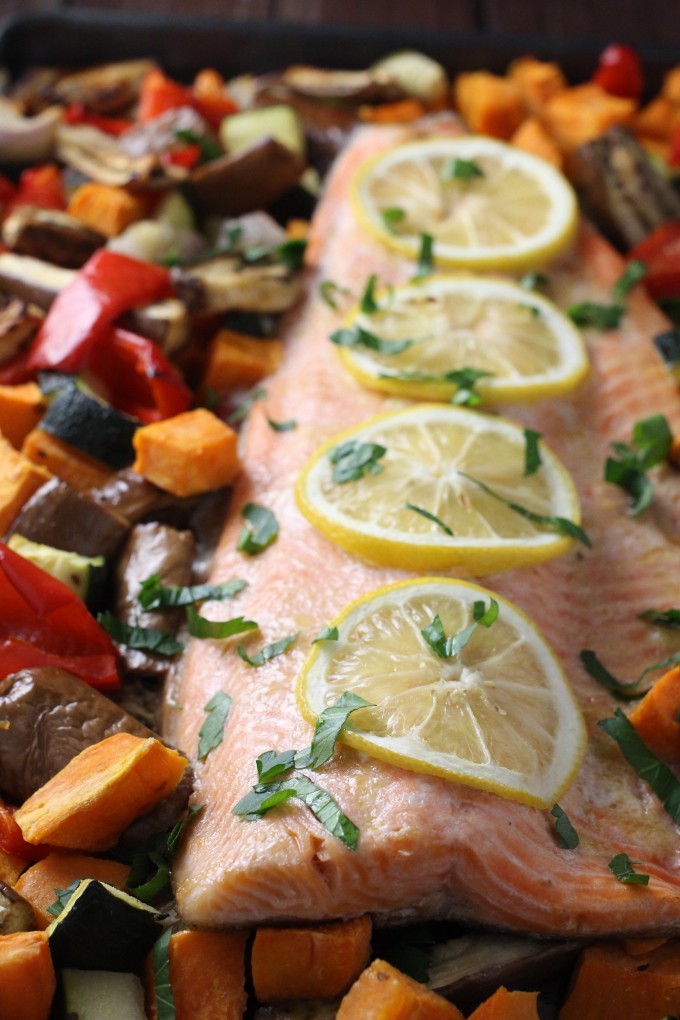 If you like fish, check out this Pan Fried Rainbow Trout Recipe, this Roasted Salmon with Veggies, and this Russian Fisherman Soup.
Baked Rainbow Trout with Vegetables
A simple recipe for Baked Rainbow Trout with Vegetables. Make the healthiest dinner you can imagine without much effort. Turns out perfect every time.
Ingredients
1 large zucchini, cut into chunks
2 Chinese eggplants, cut into chunks
1 sweet potato, peeled and cut into bite-size pieces, see Notes
1 red bell peppers, core and seeds removed, cut into chunks
5 shallots, peeled and halved
2 Tbsp olive oil
1 Tbsp maple syrup
1 tsp garlic powder
salt and pepper to taste
1 1/2 pound rainbow trout filet skin on
5 lemon slices
Instructions
Pre-heat the oven to 400F.
Place all the vegetables in a large bowl.
In a small bowl, mix the olive oil, maple syrup, and garlic powder. Reserve 1 tablespoon of the mixture and pour the rest over the veggies. Toss to cover. Season the veggies with salt and pepper and transfer to a baking sheet covered with parchment paper. Place the veggies into the oven and roast for 15 minutes.
In the meantime, season the rainbow trout fillet with salt and pepper and rub with the remaining 1 tablespoon of the oil mixture. Let it marinate for a bit.
Take the baking sheet out of the oven. Carefully move the veggies to the edge and place the fish into the center. Put the lemon slices on top of the fish. Return the baking sheet to the oven. Bake for another 20 to 25 minutes until the veggies and fish are cooked through.
Notes
1. Make sure to cut the sweet potato into smaller pieces because it takes longer to cook through compared to zucchini and eggplant.
Nutrition Information
Yield

3
Serving Size

1/3 of recipe
Amount Per Serving
Calories

604
Total Fat

24g
Saturated Fat

4.6g
Trans Fat

0g
Unsaturated Fat

19.4g
Cholesterol

133.8mg
Sodium

170.9mg
Carbohydrates

47.2g
Fiber

11.7g
Sugar

23.8g
Protein

52g
Nutrition facts provided on this website are an estimate and not guaranteed to be accurate. Please see a qualified health care provider for personalized diet advice and make sure that each of the ingredients is allowed in your diet.