This is the easiest oven roasted cauliflower recipe ever. It's also very versatile because you can adapt it to your taste preferences using different spices. For example, you can use cumin, coriander, chili powder, curry powder, or red pepper flakes instead of garlic powder or mix them all together.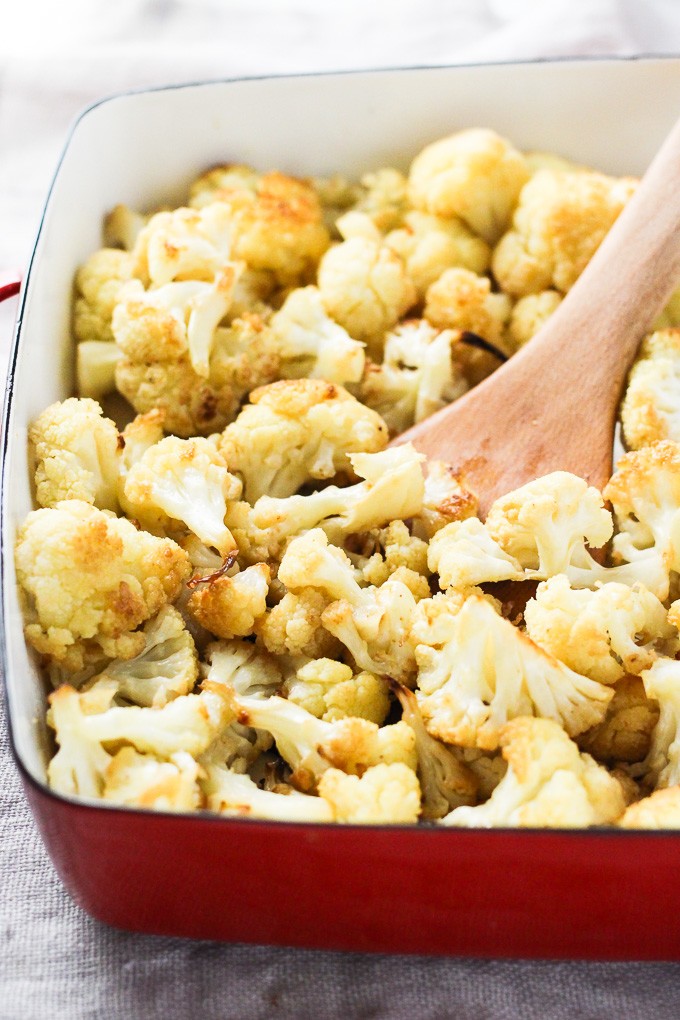 There is something you should know about me. This is a serious business, you guys, and it is very hard for me to admit. But I am going to do it anyway.
So, here it goes: I've been addicted to cauliflower since I was 5 years old.
I am totally serious here. No jokes. I am a cauliflower-holic.
In addition, it also really hurts my feelings when I hear people say that cauliflower is a weird vegetable and it doesn't taste good. This is so wrong!
If you are also addicted to cauliflower, our support group meets every Wednesday at 7 pm.
OK. I hope you are laughing now because this was intended as a joke.
What I want to say here is that cauliflower has been greatly under-appreciated. And if all you have ever tried are boiled cauliflower pieces then I totally understand why you think it tastes horrible.
Please try this oven-roasted cauliflower recipe! I am sure you will change your mind because roasted cauliflower is delicious. The secret is to use the spices that you like.
Cauliflower is also recommended for people with diabetes and those wanting to balance blood sugar. Yes, another healthy and budget-friendly low glycemic food full of awesome nutrients.
Did you know that there is a cauliflower craze happening out there right now? People are getting creative with it and you can find recipes for anything from cauliflower Alfredo sauce to cauliflower pizza crust.
I am not that adventurous and just wanted to share with you my favorite easy way to prepare cauliflower.
Enjoy!
Oven Roasted Cauliflower Recipe
The easiest way to prepare cauliflower is to roast it in the oven with your favorite spices. Healthy, delicious, low glycemic food full of awesome nutrients.
Ingredients
1 large or 2 small cauliflower heads (about 4 pounds), cut into florets
1/4 cup olive oil
1/2 Tbsp garlic powder
salt
Instructions
Preheat the oven to 375F.
Place the cauliflower florets on a baking dish.
Pour the olive oil over the cauliflower. Season with garlic powder and salt.
Mix the cauliflower making sure that all florets are covered evenly with oil and seasoning. Spread the cauliflower evenly in the baking dish making sure it's not too crowded.
Roast the cauliflower in the preheated oven for 35 to 45 minutes or until the cauliflower is tender and starts to caramelize. Mix the florets during cooking one or two times.
Nutrition Information
Yield

4
Serving Size

1/4 of recipe
Amount Per Serving
Calories

237
Total Fat

14.8g
Saturated Fat

2.5g
Trans Fat

0g
Unsaturated Fat

11.6g
Cholesterol

0mg
Sodium

282.4mg
Carbohydrates

23.4g
Fiber

9.2g
Sugar

8.7g
Protein

8.9g
Nutrition facts provided on this website are an estimate and not guaranteed to be accurate. Please see a qualified health care provider for personalized diet advice and make sure that each of the ingredients is allowed in your diet.