I made these Healthy Oatmeal Pancakes three times last week, and all I want to do now is stop writing this post, get into the kitchen, and make them again.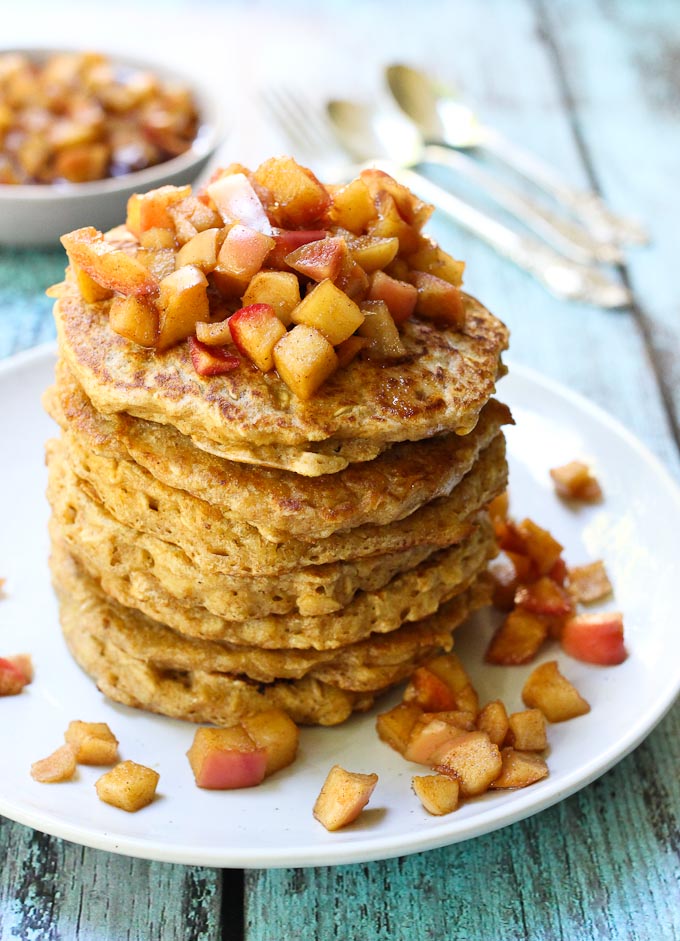 These healthy oatmeal pancakes are thick and taste just like oatmeal because they are made with real 100% whole grain oats. The kind of oats that take over 10 minutes to cook.
For those who are new here, let me tell you that quick oats are NOT good for you because they are high glycemic which means they spike your blood sugar.
I always buy regular slow cooking rolled oats without any added sugar.
In my grocery store, they can be found on the bottom shelf in the cereal aisle. It looks like they really want you to buy the junk that is full of sugar and artificial sweeteners because these products are displayed right here in your face.
Slow cooking oats, on the other hand, are always somewhere at the bottom so that you almost have to get down on your knees to get them.
Baking or pancake recipes often call for quick oats because they easily cook through in the process of baking. And I get it; you don't really want to chew on dry oats when you are enjoying a slice of cake.
This is why I quickly pre-cook the oats by mixing them with milk and quickly bringing the oats to a simmer. I then turn off the heat and let them cool. As they cool, the oats swell and soften and are perfect for adding to any recipe.
All right, back to these healthy oatmeal pancakes. As I said, they are to die for. And to keep the fall recipe theme here on the blog, I decided to serve them with an apple topping.
The pancake batter is nice and thick and won't run once you spoon it on your pan. Just use a spatula to shape flat pancakes. If you measure out 1/4 cup of batter for each pancake, it will be enough to make you 7 pancakes.
Enjoy!
For more recipes with rolled oats, check out this Homemade Sugar Free Granola , this Hot Chocolate Oatmeal, or learn How to Make Muesli.
Yield: 6 to 8 pancakes
Healthy Oatmeal Pancakes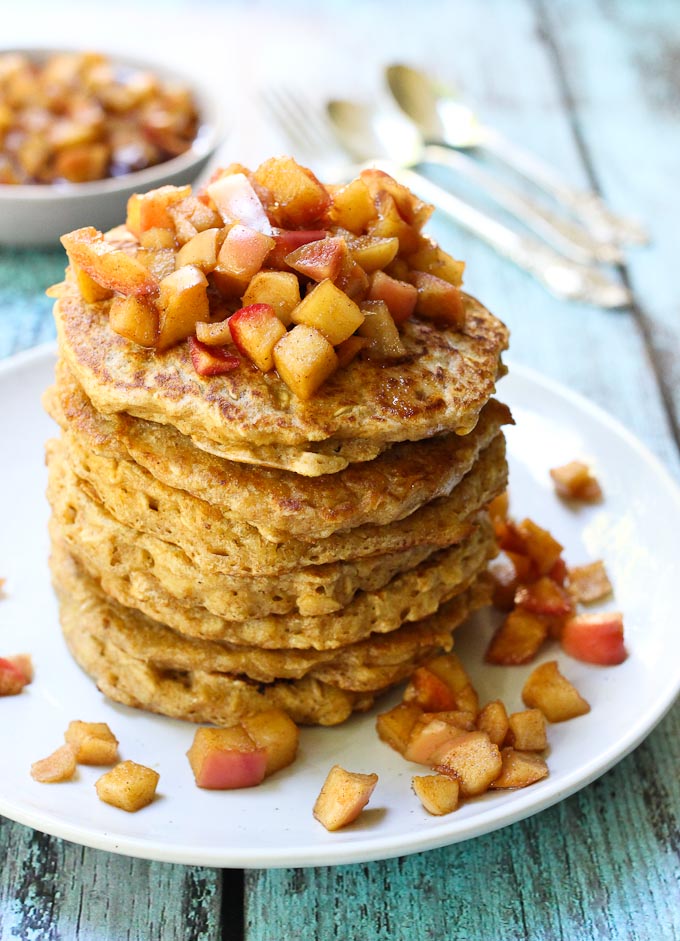 Oatmeal pancakes made from scratch using 100% whole grain oats and served with a delicious apple topping. Just as healthy as your apple cinnamon oatmeal.
Ingredients
1 cup rolled whole grain oats
1 1/4 cup your favorite non-dairy or cow's milk, divided
1/2 whole spelt flour
1 tsp baking powder
1/8 tsp salt
1 Tbsp coconut sugar
1 egg, beaten
1 tsp vanilla extract
For the apple topping:
2 apples, cored and diced
1/4 cup maple syrup
1 tsp cinnamon
You will also need:
Instructions
In a small pot, add the rolled oats and 1 cup of milk and mix. Bring the oats to a simmer over medium-high heat. Turn off the heat and set aside. This will help the oats to soften a bit.
In the meantime, prepare the apple topping. Place the apples, maple syrup, and cinnamon into a small pot and bring to a simmer over medium heat and cook, stirring occasionally, until the apples are soft, for about 10 minutes.
Place the whole spelt flour, baking powder, and salt into a bowl and mix well.
Add the egg, vanilla extract, 1/4 cup of milk and oats (at this point the oats should be warm and not too hot, you will also notice that the oats absorbed almost all the milk). Mix well.
Heat a large frying pan over medium heat. Oil the pan with the coconut oil. Spoon the batter into the pan. You will notice that the batter is not runny and you will need to form the pancakes with a wooden spatula. Just press it a bit to make flat pancakes. The batter holds the shape very well.
When tiny bubbles appear on top of the pancakes, flip and cook for 2 more minutes or until cooked through.
Serve with the apple topping.
Notes
Nutrition information is a rough estimate for 1 of 8 servings calculated including topping.
Recommended Products
As an Amazon Associate, I earn from qualifying purchases.
Nutrition Information
Yield
8
Serving Size
1 pancake + topping
Amount Per Serving
Calories

164
Total Fat

3.2g
Saturated Fat

1.1g
Trans Fat

0g
Unsaturated Fat

1.6g
Cholesterol

23.8mg
Sodium

108.6mg
Carbohydrates

29.6g
Fiber

3.3g
Sugar

14.2g
Protein

5.3g
Nutrition facts provided on this website are an estimate and not guaranteed to be accurate. Please see a qualified health care provider for personalized diet advice and make sure that each of the ingredients is allowed in your diet.