This eggplant vegetable soup is delicious, healthy, and filling. The recipe is easy to make and you get a large pot of soup to enjoy throughout the week.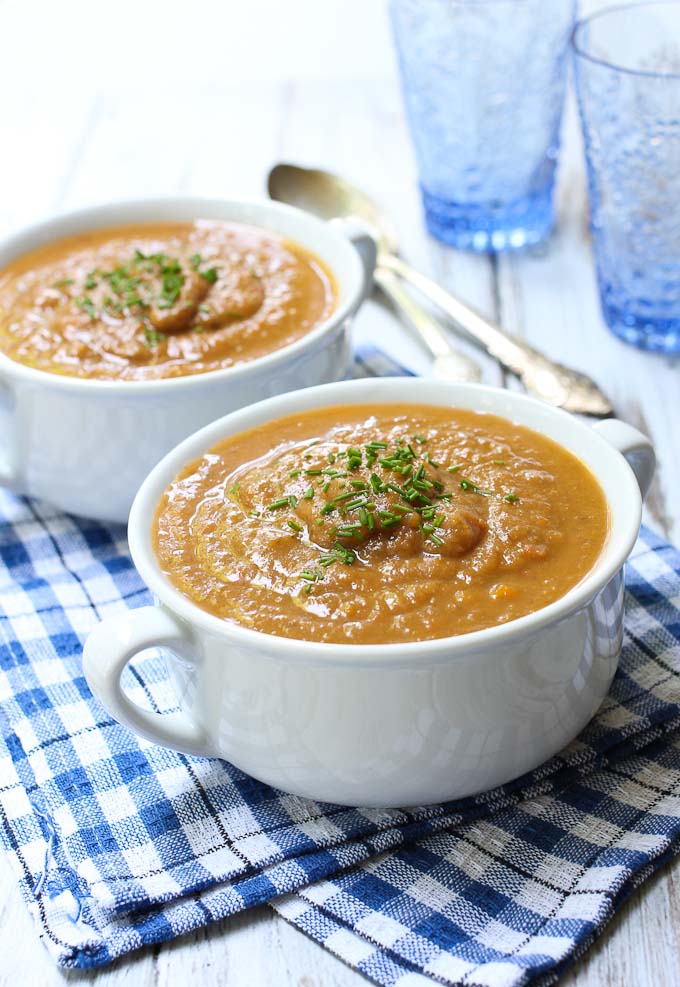 Do you like eggplant? I love eggplant! It's absolutely delicious and can be used in a variety of recipes.
The secret to preparing eggplant is getting rid of the bitter taste typical for larger eggplant varieties.
To help get rid of the bitterness, cut the eggplant into chunks, generously sprinkle it with salt, place it in a colander for about 30 minutes. You will see a lot of moisture coming to the surface. Then rinse the eggplant and pat it dry with a paper towel.
Eggplant soaks up oil like a sponge, so it's better to grill, roast, oven-bake or saute it instead of frying it in oil.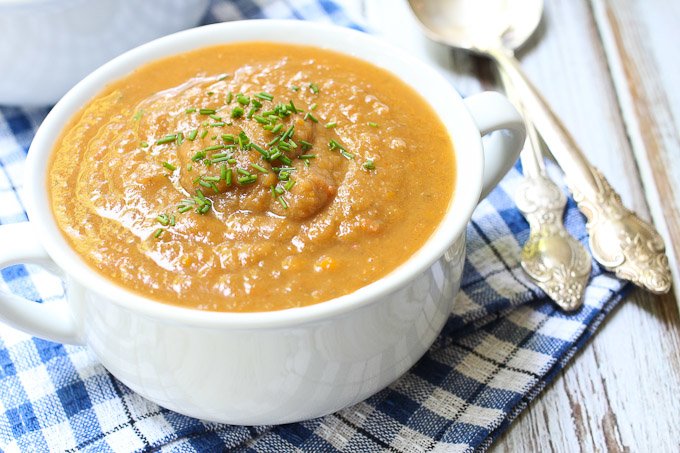 Eggplant tastes wonderful paired with other vegetables like in this soup. It's really a perfect recipe for summer and early fall time when fresh vegetables are in abundance.
This Eggplant Vegetable Soup is light enough for warmer weather. It's also quite filling and satisfying without being too heavy.
Hope you try it!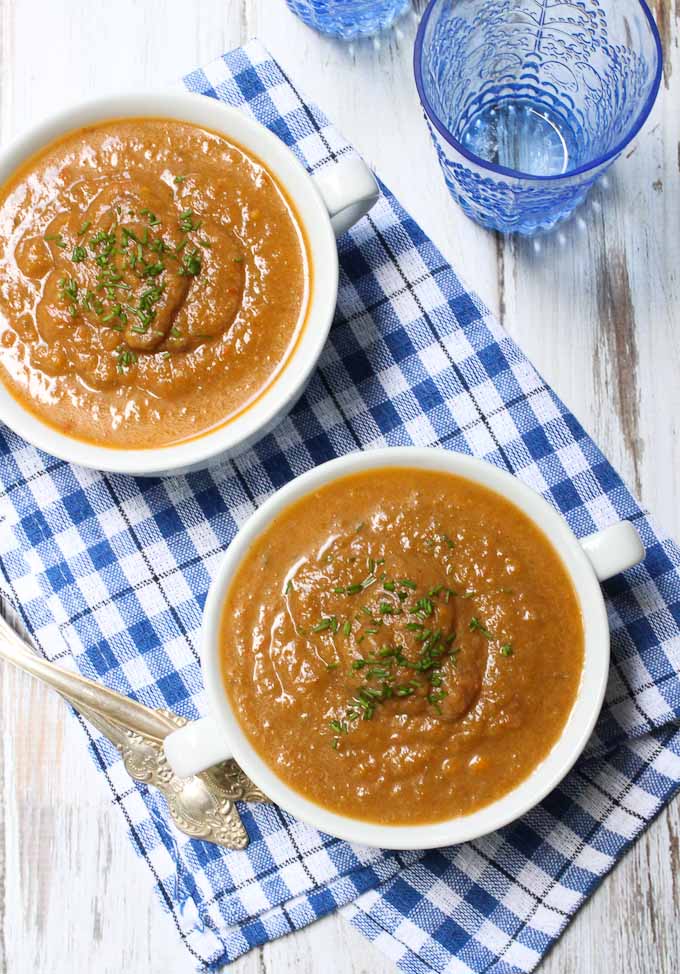 For more creamy soups without any cream, check out this Cauliflower Carrot Soup and this Spicy Red Lentil Soup.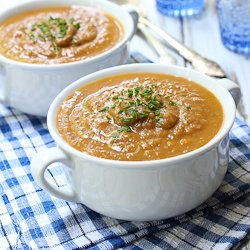 Eggplant Vegetable Soup
Easy Eggplant Vegetable Soup recipe. This soup is light and at the same time quite filling and satisfying without being too heavy.
Ingredients
2 large eggplants (about 1 pound each)
salt
2 Tbsp olive oil
1 medium onion, chopped
2 carrots, grated
1 red bell pepper, chopped
3 tomatoes, sliced
4 cups low sodium vegetable stock
1/2 Tbsp red paprika
1/4 tsp cayenne pepper
1/2 Tbsp garlic powder
Instructions
Slice the eggplant across into several rings - about 5 to 8. Sprinkle the pieces generously with salt and let them sit in a colander for about 30 minutes. You will see a lot of liquid accumulate on top of the eggplant.
In the meantime, heat the olive oil in a large pot over medium heat. Add the onion and carrot and cook, stirring occasionally, for about 4 to 6 minutes until the vegetables start to soften. Add the red bell pepper and tomato slices and cook for another 5 minutes.
Rinse the eggplant pieces, pat them dry with a paper towel and cut into small cubes. Place the eggplant into the pot. Mix the vegetables and let them cook for another 5 minutes until the eggplant starts to soften.
Add the vegetable stock, red paprika, cayenne pepper and garlic powder. Bring to a boil and reduce heat. Cover and let it simmer for 15 minutes to allow the flavors to combine. Turn off the heat and let it cool.
Once the soup is cool enough to handle, blend it using a blender or a food processor. Bring the blended soup to a simmer one more time and turn off the heat.
Recommended Products
As an Amazon Associate, I earn from qualifying purchases.
Nutrition Information
Yield

6
Serving Size

1/6 of recipe
Amount Per Serving
Calories

116
Total Fat

5.2g
Saturated Fat

0.7g
Trans Fat

0g
Unsaturated Fat

4.1g
Cholesterol

0mg
Sodium

144.8mg
Carbohydrates

17.3g
Fiber

6.9g
Sugar

9.7g
Protein

2.9g
Nutrition facts provided on this website are an estimate and not guaranteed to be accurate. Please see a qualified health care provider for personalized diet advice and make sure that each of the ingredients is allowed in your diet.