This green quinoa salad is light and filling at the same time. You can serve it as a salad, side-dish, or even as a full meal. It's great to bring to work for lunch because it's really easy to transport in a jar or food container.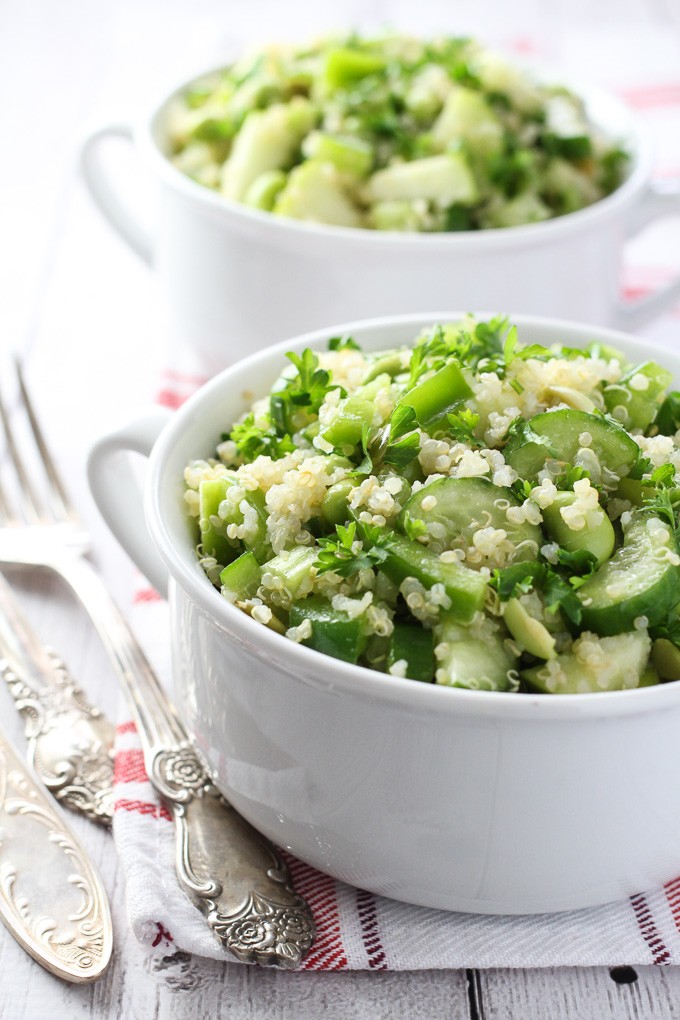 I called this spring quinoa salad '7 Shades of Green' for a reason.
First of all, I would like to publicly declare that I haven't watched that movie (you know which movie I am referring to, right?). And I haven't read the book either.
I've heard mixed reviews from friends, starting from "it's just a movie" to "it's offensive to women and people should boycott it" and everything in between.
Since I've only seen the trailer, I can only tell you that the story seems a bit sinister to me. But then again, I might be wrong. Maybe I should really watch it just to see why it became so overwhelmingly popular.
There is a reason why I am discussing with you a movie I haven't seen. (You might be thinking that I just don't know what to write about. Just wait, it's coming!).
My point in writing about it is this – I really wish people would be so incredibly enthusiastic about their health and well-being as they are about this movie.
Because healthy is the new sexy.
Healthy is the new light, bright, and cheerful.
Like spring…
Yes, it's spring!!!
Although, we (here in Toronto) only know about it because the calendar says so and because Canada geese are back. Other than that, there are no other signs of spring – no green grass, no warm weather, no sunny days…
But I still wanted to celebrate spring, so I made this Green Quinoa Salad full of healthy green veggies. Isn't it pretty?
It's also very easy to make and perfect for bringing to work for a quick, healthy and delicious lunch.
Enjoy!
If you love quinoa, check out this Caprese Quinoa Bowl, this Fruit and Nut Quinoa Breakfast, and this Mushroom and Quinoa Minestrone Soup.
Green Quinoa Salad
This Green Quinoa Salad is full of healthy green vegetables. It's also very easy to make and perfect for bringing to work for a quick, healthy and delicious lunch.
Ingredients
1 cup quinoa
3 mini cucumbers, chopped
2 Granny Smith apples, chopped
2 celery stalks, chopped
2 cups frozen shelled edamame beans
1 green bell pepper, cored and chopped
1/2 cup pumpkin seeds
2/3 cup chopped parsley
For the dressing:
juice of 2 limes (about 2 to 2 1/2 Tbsp)
3 Tbsp olive oil
1/4 tsp salt
Instructions
To prepare quinoa, rinse and soak it in cold water for 30 minutes to 4 hours. Drain and rinse well one more time. This helps to get rid of any left-over saponin residue (a natural insect repellent) that gives quinoa a bitter taste. ( You can skip this step if the slightly bitter taste doesn't bother you. I always soak quinoa first because I don't like bitter foods. )
Place the quinoa and 2 cups of water into a small saucepan. Bring to a boil. Reduce heat and cover. Simmer for 10 minutes or until quinoa is fluffy and has absorbed all of the liquid. Let the quinoa cool to room temperature.
In the meantime, cook the edamame following the instructions on the package. Let it cool to room temperature.
In a large salad bowl, add the cucumbers, apples, celery, bell pepper, pumpkin seeds, parsley, edamame and quinoa.
To prepare the dressing, add the lime juice, olive oil and salt to a small bowl. Whisk and pour over the veggies. Toss to combine.
Recommended Products
As an Amazon Associate, I earn from qualifying purchases.
Nutrition Information
Yield

4
Serving Size

1/4 of recipe
Amount Per Serving
Calories

466
Total Fat

23.1g
Saturated Fat

3g
Trans Fat

0g
Unsaturated Fat

20.1g
Cholesterol

0mg
Sodium

28.6mg
Carbohydrates

51.1g
Fiber

10.6g
Sugar

11.7g
Protein

17.9g
Nutrition facts provided on this website are an estimate and not guaranteed to be accurate. Please see a qualified health care provider for personalized diet advice and make sure that each of the ingredients is allowed in your diet.