This cauliflower and carrot soup is perfect for the end of summer and beginning of fall. It's easy to make, dairy-free, and quite light.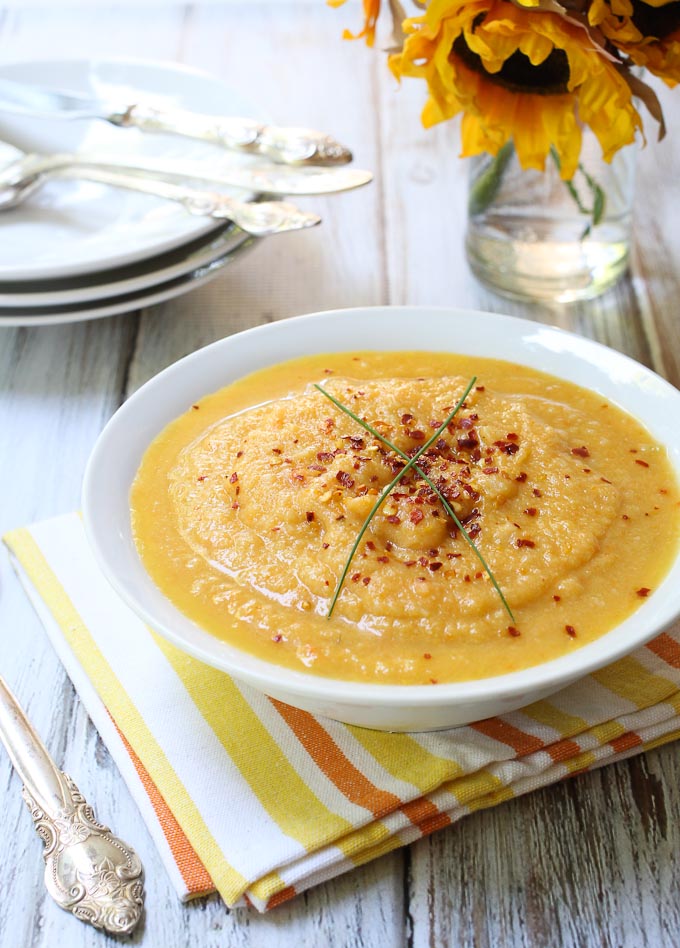 Here I am with my first fall post of 2014. Am I too early?
I so want to have another couple of weeks of summer. But I can feel and smell the fall coming. It's right here around the corner.
A few trees in our park started changing color; and yesterday, I saw a flock of Canada geese getting ready to head South.
It's not that I don't like fall. I love the beautiful fall colors and the abundance of fruits and veggies.
I am already looking forward to sharing with you my favorite pumpkin recipes and to experimenting in my kitchen trying to come up with some new ones. My list of ideas is a mile long.
It's just I love fall after a really nice hot summer. This year, however, summer didn't stop by here in Ontario.
I heard it was having fun somewhere else. And as much as we waited for it to show up here at our door, it didn't make it…
My dog Toby, on the other hand, has been really enjoying this summer. He doesn't like heat so this year he feels nice and comfortable.
Thanks to the moderate temperatures, he is able to spend a lot of time on the balcony. He can sit there for hours.
Doesn't it look like he is watching TV?
His favorite TV show is called A Day in Life – Squirrels and Birds Edition.
All right, I am not sure how to transition to the recipe from here 🙂
All I am going to say is that this Creamy Cauliflower and Carrot Soup is very light. The sweetness of apples combines perfectly with ginger and makes it flavorful and comforting.
Toby really liked this soup too – last night he finished up all the leftovers.
For more light soups that are perfect for fall, check out this Spicy Red Lentil Soup and this Hearty Vegetable Soup with Bulgur.
Creamy Cauliflower and Carrot Soup
Yield: 6 portions

Prep Time: 10 minutes

Cook Time: 30 minutes

Total Time: 40 minutes

This Creamy Cauliflower and Carrot Soup is very light. The sweetness of apples combines perfectly with ginger and makes the soup flavorful and comforting.
Ingredients
2 Tbsp olive oil
1 medium onion, chopped
4 medium carrots, chopped
2 green apples such as Granny Smith, cored and chopped
1 cauliflower ( about 2 to 2 1/2 pounds), cut into florets
4 cups low sodium vegetable stock
2 cups water
1 tsp garlic powder
1/2 tsp dried ginger
crushed red pepper to serve
Instructions
In a large pot, heat the olive oil over medium heat. Add the onion and carrots and cook, stirring occasionally until the vegetables start to caramelize.
Add the vegetable stock and water.
Place the apples and cauliflower into the pot. Add the garlic powder and ginger and bring it to a boil. Reduce heat. Cover and cook for about 20 minutes or until the vegetables are cooked through.
Turn off the heat and let the soup cool.
Once the soup is cool enough to handle, blend it using a blender or a food processor. Bring the blended soup to a simmer one more time and turn off the heat.
Serve with crushed red pepper.
Recommended Products
As an Amazon Associate, I earn from qualifying purchases.
Nutrition Information
Yield 6 Serving Size 1/6 of recipe
Amount Per Serving Calories 135Total Fat 5gSaturated Fat 1gTrans Fat 0gUnsaturated Fat 4gCholesterol 0mgSodium 137mgCarbohydrates 22gFiber 6gSugar 13gProtein 3g

Nutrition facts provided on this website are an estimate and not guaranteed to be accurate. Please see a qualified health care provider for personalized diet advice and make sure that each of the ingredients is allowed in your diet.