This fresh and flavorful Romaine Lettuce Salad is full of vibrant and crunchy veggies, soft and tangy feta cheese, and is tossed in a tasty homemade lemon dressing. Perfect for dinner parties as an appetizer salad or side dish. Gluten-free, vegetarian, and vegan adaptable.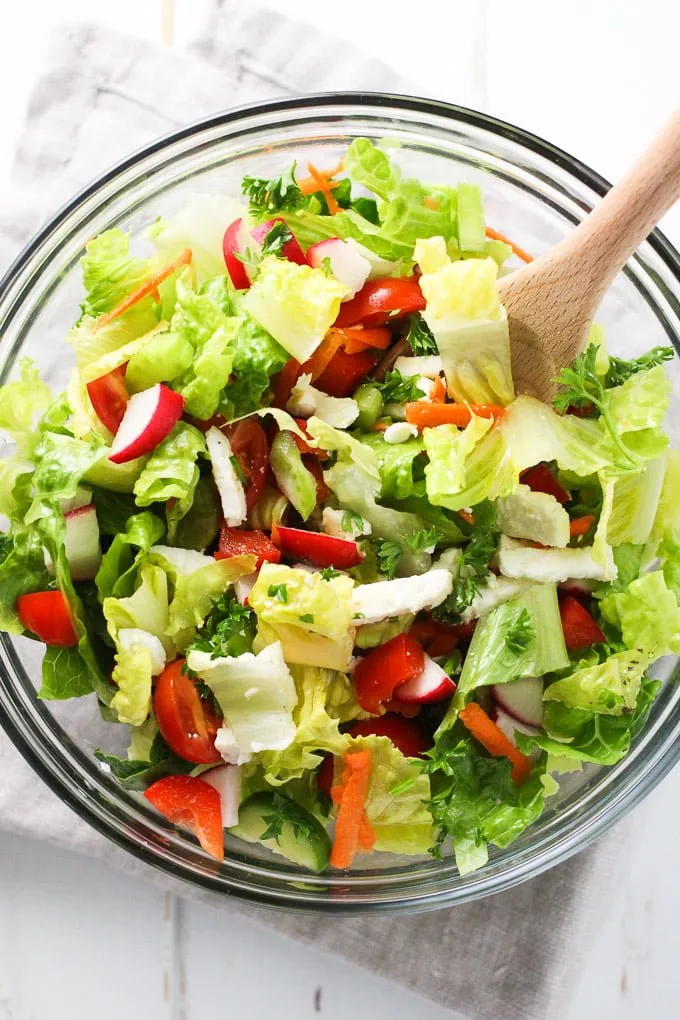 I love salads with bite-size ingredients. It makes it so much easier to get a little bit of everything in each forkful. This chopped romaine salad is crunchy and refreshing and is ideal for a hot summer day!
Romaine lettuce may be boring by itself, but this delicious salad is anything but.
This easy recipe makes a huge bowl of healthy chopped salad in minutes. It's perfect as a side salad. Add some protein, and it becomes a satisfying entree.
Why You'll Love This Recipe
This romaine salad recipe is simple, light, fresh, and delicious.
It's gluten-free, vegetarian and you can make it dairy-free and vegan if you leave out the cheese.
This healthy salad is loaded with vitamins, minerals, and antioxidants.
The recipe is versatile. You can mix and match the veggies as you please.
Ingredients You'll Need
For the Salad:
Romaine Lettuce: Its thick, sturdy leaves are great for salads because they stay nice and crunchy after getting tossed in the dressing.
Bell Pepper: Red bell pepper adds bursts of sweet-citrusy flavor. You could also use orange or yellow pepper or some of each.
Radishes: I love adding crisp and spicy radishes to raw salads. They always add some satisfying crunch and bust the flavor.
English Cucumber: These are great in salads because they have fewer seeds and release less moisture. If you have a regular field cucumber, scoop the centers out with a spoon and then chop. If the skin is too thick, make sure to peel it.
Carrot: Bright, sweet carrots are always a great addition to raw salads.
Tomatoes: Use a ripe and juicy tomato. Cherry, grape, Roma, and Campari tomatoes are great in salads.
Celery: The bright green celery is an excellent source of fiber and hydration. And it makes the salad even more crunchy.
Parsley: Tossing fresh parsley with the veggies brightens the healthy and vibrant flavors.
Feta Cheese: This soft cheese is perfect for salads. Its smooth texture pairs well with the crunchy veggies and makes the salad more filling and satisfying.
For the dressing:
Lemon Juice: Always use freshly squeezed lemon juice for a homemade vinaigrette with a vibrant citrus flavor.
Olive Oil: Extra virgin olive oil is the base of the dressing. It's neutral tasting and great in vinaigrettes. You could also use avocado or flaxseed oil here.
Balsamic Vinegar: Always use a good quality balsamic vinegar for the dressing with a rich sweet and tangy flavor.
Dried Basil: This popular herb will enhance the flavor of the dressing. You can also use dried oregano or rosemary.
Salt: Season to taste to balance out the sweet and acidic flavors.
How To Make Romaine Lettuce Salad
Make the vinaigrette: Mix the lemon juice, olive oil, balsamic vinegar, basil, and salt in a small bowl. Set the dressing aside while you assemble the salad.
Combine the chopped vegetables: Add the lettuce, red pepper, radishes, cucumber, carrots, tomatoes, celery, parsley, and feta in a large bowl. Toss to combine.
Serve or store: If serving immediately, give the dressing another quick whisk and then add it to the bowl with the veggies. Toss everything together to coat in the dressing. To make it in advance and serve later, I recommend storing the romaine lettuce salad and the dressing separately and then tossing it all together before serving.
Recipe Tips
For the best texture and flavor, use the freshest vegetables available. This simple salad is all about the crunch of fresh veggies.
Cut all vegetables in relatively the same size, so you get some of each with every bite.
This is a high-volume salad, so make sure you're using a big mixing bowl.
Variations
Add more fresh herbs: You can use cilantro, dill, or basil instead of parsley or some of each.
Add different types of cheese: This crunchy romaine salad is also great with fresh mozzarella, freshly grated parmesan cheese, and goat cheese.
Add chopped nuts: Toss in a handful of your favorite nuts for even more crunch (walnuts, pecans, or almonds).
Mix and match the veggies: Sliced red onion and chopped broccoli florets are yummy crunchy veggies to the salad. You could also toss in chopped avocado before serving.
How to Serve Romaine Salad
Pile the salad in the bowl and use it as the base for a healthy grain or quinoa bowl.
Make your romaine salad an entree and serve it with a protein like grilled chicken, shrimp, or pan-fried fish.
Make-Ahead & Storing
Making ahead: You can prepare the salad in advance and eat it the next day. In which case, don't mix the veggies with the dressing until right before serving. Keep the dressing, and the salad refrigerated separately.
Storing: Store leftovers in an airtight container in the fridge for 24 hours. Once the lettuce is mixed with the dressing, it will start wilting and won't be as crunchy the next day.
Frequently Asked Questions
What else can you do with romaine lettuce?
Romaine is also perfect for grilling, caesar salads, and lettuce wraps.
How do you chop romaine lettuce for a salad?
After thoroughly washing your lettuce leaves under cold water, pat them dry with a paper towel or use a salad spinner to remove the excess moisture. Pile up a few leaves on top of each other and chop them into bite-size pieces. Repeat with the remaining leaves.
Can I make a vegan romaine salad?
Absolutely. Omit the feta cheese entirely, or replace it with your favorite plant-based soft cheese alternative.
More Healthy Salad Recipes
Romaine Salad with Chopped Veggies and Feta
This romaine salad with chopped veggies and feta is delicious and very easy to make. It's perfect as a crunchy side salad and you can also use it as a base to create a healthy veggie and grain bowl. This recipe is perfect for a dinner party. Made with simple lemon dressing. Gluten-free, vegetarian.
Ingredients
1 medium head of romaine lettuce, chopped
1 red pepper, diced
6 radishes, chopped
½ English cucumber, chopped
1 medium carrot, grated
2 tomatoes, diced
2 stalks celery, chopped
½ cup parsley, chopped
½ cup feta cheese
¼ cup lemon juice, freshly squeezed (juice of 1 lemon)
2 Tbsp olive oil
1 Tbsp balsamic vinegar
1/4 Tbsp dried basil
salt to taste
Instructions
To make the dressing, combine the lemon juice, olive oil, balsamic vinegar, basil, and salt.
In a large bowl, combine the lettuce, red pepper, radishes, cucumber, carrots, tomatoes, celery, parsley and feta cheese. Mix with the dressing to serve immediately or refrigerate separately and add the dressing just before serving.
Recommended Products
As an Amazon Associate, I earn from qualifying purchases.
Nutrition Information
Yield

5
Serving Size

1/5 of recipe
Amount Per Serving
Calories

167.8
Total Fat

11.3g
Saturated Fat

4.5g
Trans Fat

0.3g
Unsaturated Fat

6.5g
Cholesterol

21.8mg
Sodium

297.4mg
Carbohydrates

12.4g
Fiber

4.8g
Sugar

6.7g
Protein

6.3g
Nutrition facts provided on this website are an estimate and not guaranteed to be accurate. Please see a qualified health care provider for personalized diet advice and make sure that each of the ingredients is allowed in your diet.