This hot chocolate oatmeal is rich, smooth, and creamy. It's basically a mix of hot chocolate and morning oatmeal and will satisfy your chocolate craving and, at the same time, fill you up with nourishing old-fashioned oats.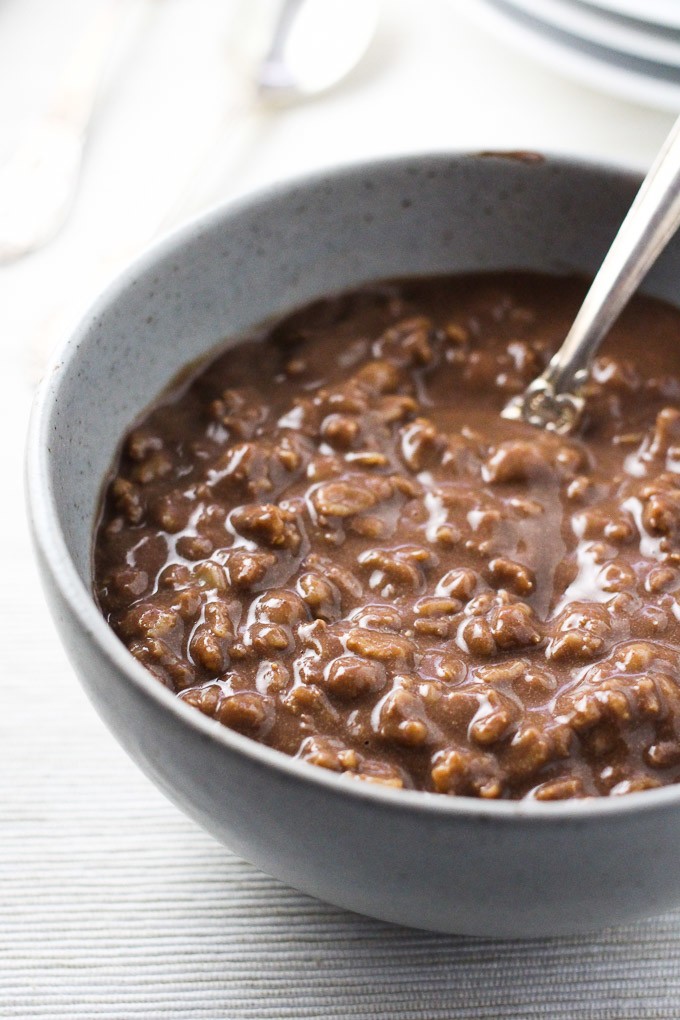 After I published this Raspberry Hot Chocolate recipe two weeks ago, I got really sad because I no longer had a reason to make it for myself every single evening (all in the name of recipe testing!).
But it took me only a few days to come up with a perfect excuse to keep making a chocolate-based dish.
I had to test this hot chocolate oatmeal recipe!
Why I Love This Hot Chocolate Oatmeal
Oatmeal is a popular breakfast food, and I also like it as a small meal throughout the day or in the evening.
And because chocolate makes life so much better, this hot chocolate oatmeal has been added to the list of my favorite oatmeal-based recipes.
Here are a few other reasons to make it:
It's really very creamy.
It has a perfect amount of chocolate.
It's not too sweet.
It's easy and quick to make.
You can make it vegan or vegetarian.
It's made only with real food ingredients.
Ingredients Overview
Here is what you will need to make a bowl of healthy hot chocolate oatmeal from scratch:
Oats – I make my oatmeal only with old-fashioned rolled oats because I'm not too fond of the texture of the quick-cooking oats. So, this recipe works best with the regular slow-cooking or at least 5-minute oats (not instant, 1-minute, or 2-minute oats).
Milk – This recipe works with any type of milk. You can use regular whole milk or make it vegan with non-dairy milk. I recently discovered cashew milk, and it's now my absolute favorite non-dairy milk. Oat milk is also great for this chocolate oatmeal.
Cocoa powder – Use regular cocoa powder you get in the baking section.
Dark chocolate – Cocoa powder is a good start. But good quality 70% dark chocolate is the secret ingredient that will make all the difference.
Salt – A pinch of salt is a must in oatmeal because it brings out the subtle flavor of oats. Salt also enhances the flavor of chocolate. But you really need a tiny amount, so don't overdo it.
Vanilla extract – Vanilla adds depth and dimension to the flavor of the oatmeal. It also enhances the sweetness of chocolate, so you don't need to add more sweetener. Just make sure to use real vanilla extract and don't substitute it with artificial stuff.
Sweetener – This chocolate oatmeal shouldn't be too sweet, but if you still want to add some sweetener, you can add some honey or maple syrup.
Chocolate Oatmeal Toppings
This hot chocolate oatmeal tastes great as is, and you can also garnish it with some delicious toppings.
Here are a few healthy topping ideas for you to try:
toasted coconut flakes;
fresh or frozen berries, such as raspberries, blueberries, blackberries, or strawberries;
nuts, such as walnuts, almonds, cashews, or pecans;
nut butter, such as cashew or almond butter;
seeds, such as sunflower, pumpkin, or chia seeds;
fresh or dried cherries;
banana slices;
and more!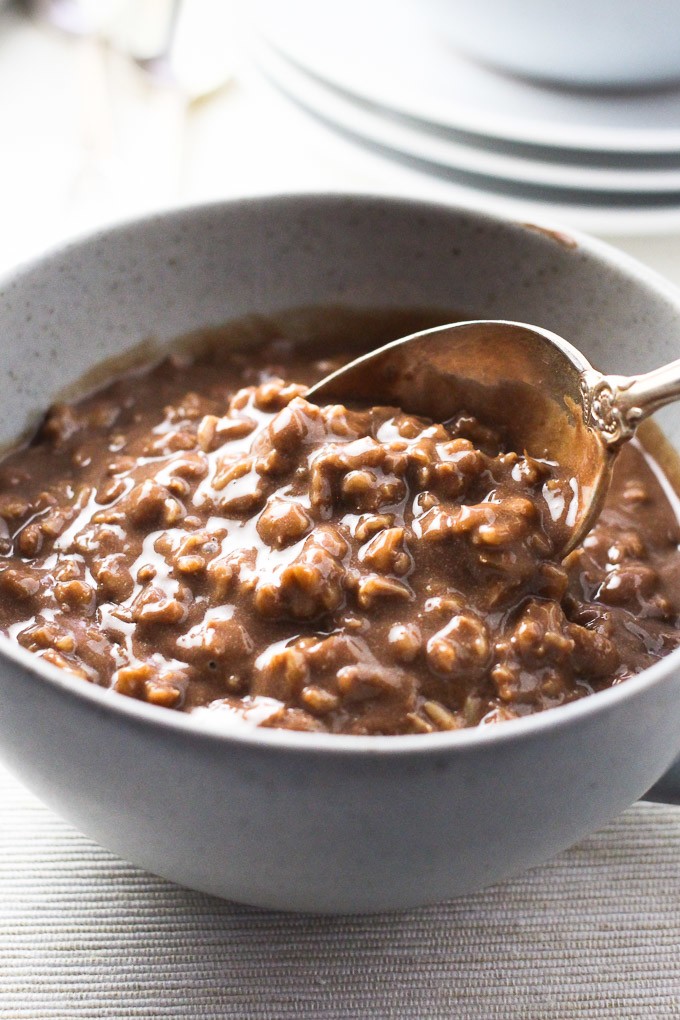 Hot Chocolate Oatmeal
This hot chocolate oatmeal is a perfect mix of a hot chocolate and morning oatmeal. It's very rich, creamy and comforting and will fill you up and satisfy your chocolate craving at the same time.
Ingredients
1 1/2 cup non-dairy or cow's milk (I prefer unsweetened cashew milk)
1/3 cup old-fashioned rolled oats (use gluten-free oats if needed)
1 Tbsp unsweetened cocoa powder
pinch of salt
0.35 oz / 10 g dark 70% chocolate
1/4 tsp vanilla extract
1/2 tsp maple syrup or to taste
Instructions
Pour the milk into a saucepan. Add the oats and bring the milk to a boil. Reduce the heat and cook stirring occasionally for 5 minutes.
In the meantime, add the cocoa powder and 1 1/2 tablespoon of milk in a small bowl and mix to create a smooth paste.
Add the cocoa paste, salt, dark chocolate, vanilla extract, and maple syrup to the oats. Mix well to combine and bring it to a light simmer. Take off the heat.
If you like your oats to be creamy, you can cover the saucepan and let the oats swell for about 5 minutes or you can serve them as is.
Notes
1. The recipe is for one serving. Just multiply the ingredients to make more.
2. Nutrition information is a rough estimate for 1 serving of the hot chocolate oatmeal made with cashew milk.
Recommended Products
As an Amazon Associate, I earn from qualifying purchases.
Nutrition Information
Yield

1 portion
Serving Size

full recipe
Amount Per Serving
Calories

262.6
Total Fat

12g
Saturated Fat

34g
Trans Fat

0g
Unsaturated Fat

1.67g
Cholesterol

0.3mg
Sodium

284.6mg
Carbohydrates

33.7g
Fiber

6.7g
Sugar

4.8g
Protein

5.5g
Nutrition facts provided on this website are an estimate and not guaranteed to be accurate. Please see a qualified health care provider for personalized diet advice and make sure that each of the ingredients is allowed in your diet.