This pineapple coleslaw is a great way to add fresh produce to your dinner table. It works really well with fish, meat, and vegetarian based dishes. In addition, it's really easy and quick to make.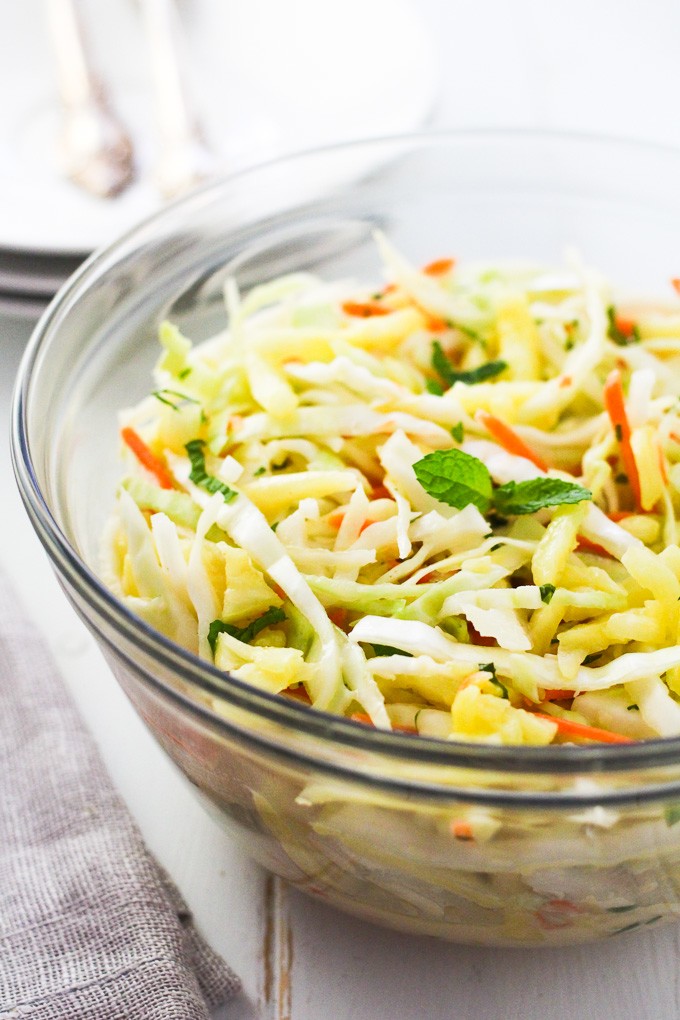 I decided to skip the mayo and make this pineapple coleslaw with plain yogurt. I also added some Dijon mustard, olive oil, and white vinegar to the dressing to make it more flavorful.
This pineapple coleslaw is quite minty because of the added fresh mint. I think it makes an interesting flavor variation but it's totally optional and you can make this salad without it.
This salad keeps well in the fridge for up to 24 hours, after that the mint leaves start to wilt but if you make the salad without the mint, it should keep well for a bit longer.
Also, make sure to mix the salad well before serving as a lot of dressing runs to the bottom of the bowl.
If you like simple cabbages salads, check out this Healthy Cabbage Salad or this Red and Green Cabbage Salad. Both of these salads are very popular on pinterest.
Enjoy!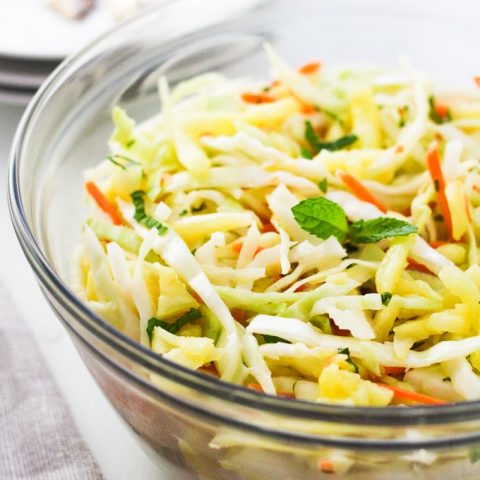 Crunchy Pineapple Coleslaw - No Mayo
This pineapple coleslaw is crunchy and refreshing. It's made with a light no-mayo dressing and fresh whole food ingredients. The recipe is very easy to make.
Ingredients
1/3 green cabbage, shredded
1 carrot, grated
1/4 large pineapple, cut into thin strips
5 mint leaves, chopped
For the dressing:
1/2 cup plain yogurt
1/2 Tbsp olive oil
1/2 Tbsp Dijon mustard
1 Tbsp white vinegar
1 tsp sugar
1/4 tsp salt
Instructions
In a small bowl, mix the yogurt, olive oil, mustard, white vinegar, sugar, and salt.
Place the cabbage, carrot, pineapple, and mint into a large bowl. Add the dressing and mix to combine.
Chill in the fridge for about 30 minutes before serving.
Nutrition Information
Yield

4 portions
Serving Size

1/4 of recipe
Amount Per Serving
Calories

93
Total Fat

0.9g
Saturated Fat

0.9g
Trans Fat

0g
Unsaturated Fat

1.87g
Cholesterol

4mg
Sodium

94.7mg
Carbohydrates

15.8g
Fiber

3g
Sugar

11.2g
Protein

2.6g
Nutrition facts provided on this website are an estimate and not guaranteed to be accurate. Please see a qualified health care provider for personalized diet advice and make sure that each of the ingredients is allowed in your diet.