This no churn vegan chocolate ice cream is so rich, smooth, and creamy that nobody would ever guess that it's dairy and egg-free. In addition, it's quite easy to make. If you have a muffin pan and a food processor or a high-quality blender, you can whip up this vegan chocolate ice cream in just 15 minutes (plus the freezing time). No ice cream maker and no tedious churning are required.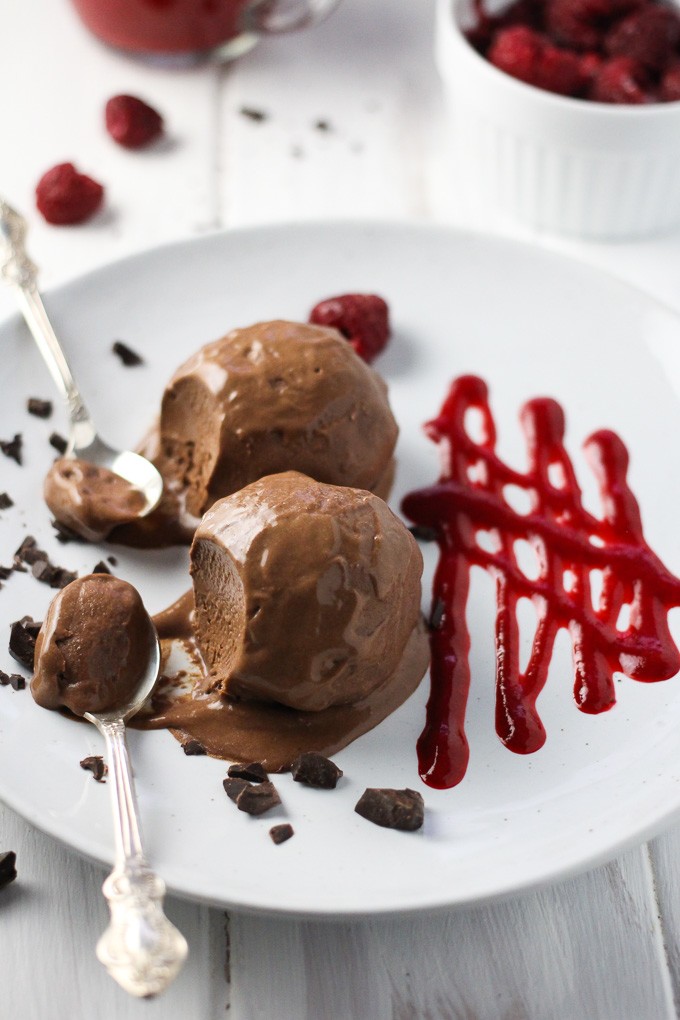 About My No-Churn Ice Cream Method
I've written about it already a few times here on the blog but I am going to briefly explain it anyway just in case you are new here.
I really like making ice cream but don't own an ice cream maker because I have a really small kitchen where storage is an issue.
I had tried making ice cream without an ice cream machine using the traditional method which tells you to freeze the ice cream base and vigorously mix it every 30 minutes. This method is very time-consuming and it's also pretty hard to mix even a partially frozen ice cream base.
Just to be fair I have to mention that there are some ice cream recipes out there that don't require any churning at all. These recipes usually use a lot of fat. I am not saying that it's bad or unhealthy, it just doesn't work for the ice cream base that I like to use.
So after some trial and error, I created my favorite no-churn ice cream method where I freeze the ice cream base in a muffin pan, then transfer the frozen ice cream cups into a glass container for storage.
Once ready to serve, the ice cream cups are processed in a food processor to the consistency of soft ice cream.
The method is described in detail in the recipe section below and here are the step-by-step photos (the photos are from my Raspberry Ice Cream recipe but the method is the same):
Other No-Churn Ice Cream Recipes That are Made Using the Same Method: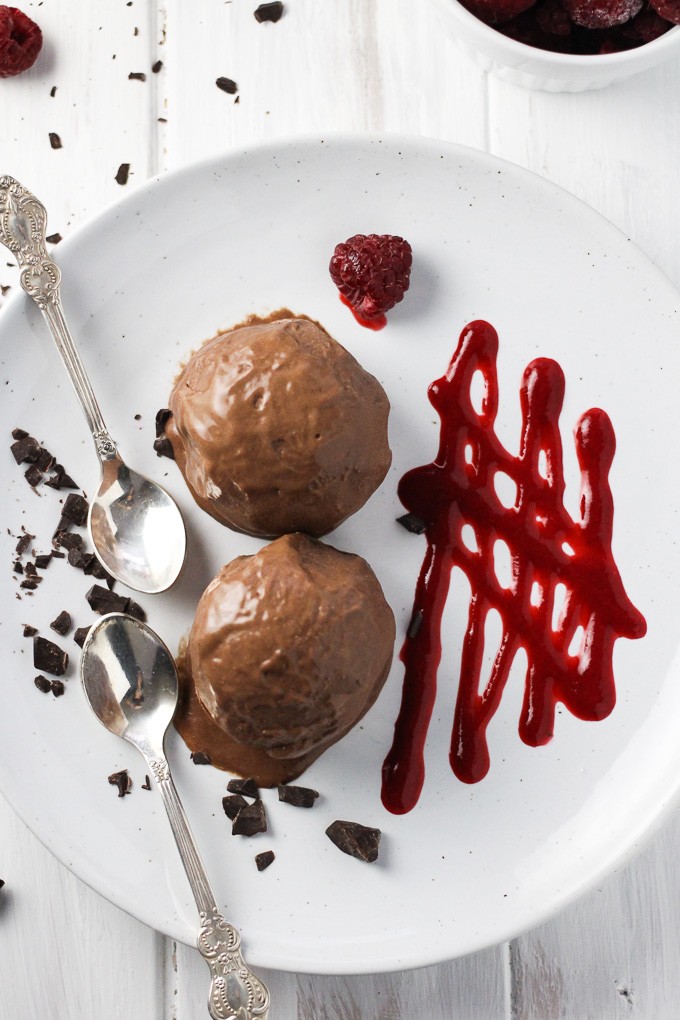 How to Make This No Churn Vegan Chocolate Ice Cream Even Better
Chocolate and raspberries are a match made in heaven. You will take the plain vegan chocolate ice cream to a whole new level if you pair it with the Raspberry Sauce. Decorate the plate with it or simply pour it over the ice cream.
You can also sprinkle this no churn vegan chocolate ice cream with some chocolate chunks, nuts, or fresh or frozen berries.
No Churn Vegan Chocolate Ice Cream
Yield: 5 portions

Prep Time: 5 minutes

Cook Time: 10 minutes

Additional Time: 6 hours

Total Time: 6 hours 15 minutes

This chocolate ice cream is so rich, smooth, and creamy that it's hard to believe it's dairy and egg-free. Made without an ice cream maker using a simple no-churn method.
Ingredients
1 (13.5 oz/400 ml) can full-fat coconut milk
2 Tbsp arrowroot powder
2 oz/ 55 gr 100% pure unsweetened baker's chocolate
2 1/2 Tbsp maple syrup
1 tsp vanilla extract
1/4 tsp sea salt
To serve the ice cream as in the photo:
400 gr fresh or frozen raspberries
1 to 2 Tbsp maple syrup
Instructions
Chocolate Ice Cream Base:
When you open the coconut milk can, you should see the white coconut cream and coconut water. Add 2 to 3 tablespoons of the coconut water into a small bowl. Scoop the rest of the coconut milk can into a saucepan.
Add the arrowroot powder to the coconut water and whisk well until dissolved. Set aside.
Place the chocolate into the saucepan where you have the coconut cream and start warming it up over medium heat, first stirring with a spoon and then whisking with a whisk. Whisk until the chocolate and coconut milk are fully combined.
Add the maple syrup, vanilla extract, and sea salt.
Slowly add the arrowroot powder and coconut water mixture making sure to constantly whisk. Keep whisking and warming up the mixture until it thickens. Make sure not to boil or simmer because arrowroot powder loses it's thickening ability when overheated.
Let the ice cream base cool completely.
No Churn Method:
Pour the ice cream base into a muffin pan. This recipe makes enough ice cream base to fill 5 muffin pan cups if using a standard 12-cup muffin pan.
Place the muffin pan into the fridge and let the ice cream freeze. Depending on the temperature in your freezer, it might take anywhere between 3 to 5 hours. You can also leave it there overnight.
Once the ice cream base is frozen, pop the frozen ice cream cups out of the muffin pans. You can store them in a glass container with a tight lid or in a freezer bag. I have a silicone muffin pan, so the ice cream cups easily pop out. But if you have a metal muffin pan, you can briefly place the bottom of the muffin pan into hot water to loosen them up.
Once you are ready to serve the ice cream, break one ice cream cup into 4 pieces and then process it in a food processor until you get soft ice cream (check the instructions of your food processor first to make sure it's powerful enough to crush it).
To serve the ice cream as in the photo:
Chocolate ice cream pairs perfectly with my favorite 2 Ingredient Raspberry Sauce. Decorate the plate with it or pour it over the ice cream.
Sprinkle the plate with some chocolate chunks.
Notes
Nutrition information is a rough estimate for 1 serving of the ice cream calculated without any toppings.
Recommended Products
As an Amazon Associate, I earn from qualifying purchases.
Nutrition Information
Yield 5 portions Serving Size 1/5 of recipe
Amount Per Serving Calories 259Total Fat 21.4gSaturated Fat 18gTrans Fat 0gUnsaturated Fat 2.2gCholesterol 0mgSodium 109mgCarbohydrates 19.1gFiber 0.8gSugar 12.1gProtein 2.2g

Nutrition facts provided on this website are an estimate and not guaranteed to be accurate. Please see a qualified health care provider for personalized diet advice and make sure that each of the ingredients is allowed in your diet.