This raspberry hot chocolate is rich and incredibly satisfying. And the best part about this recipe is that it's made with only real food ingredients.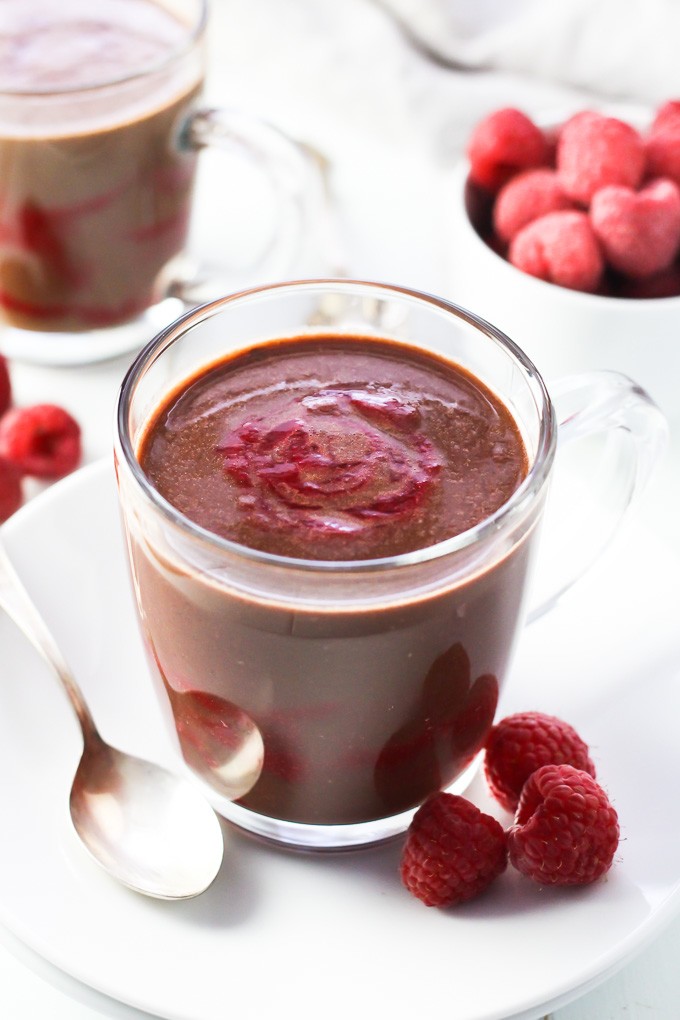 I have a serious foodie crush on the chocolate and raspberry flavor combination. There is something about it that makes my taste buds sing.
But after I had published quite a few chocolate and raspberry recipes here on the blog, I thought I was done.
Seriously, all these recipes should satisfy the chocolate and raspberry craving. Only the Chocolate and Raspberry Chia Pudding has four recipe variations. In addition, there are the Chocolate Ice Cream and Chocolate Waffles recipes both served with a raspberry sauce. And there is also a separate raspberry sauce recipe that you can add to pretty much anything.
But then I discovered that the raspberry hot chocolate was a thing! Whaaaat? I had no idea! Dear raspberry hot chocolate, where have you been all my life?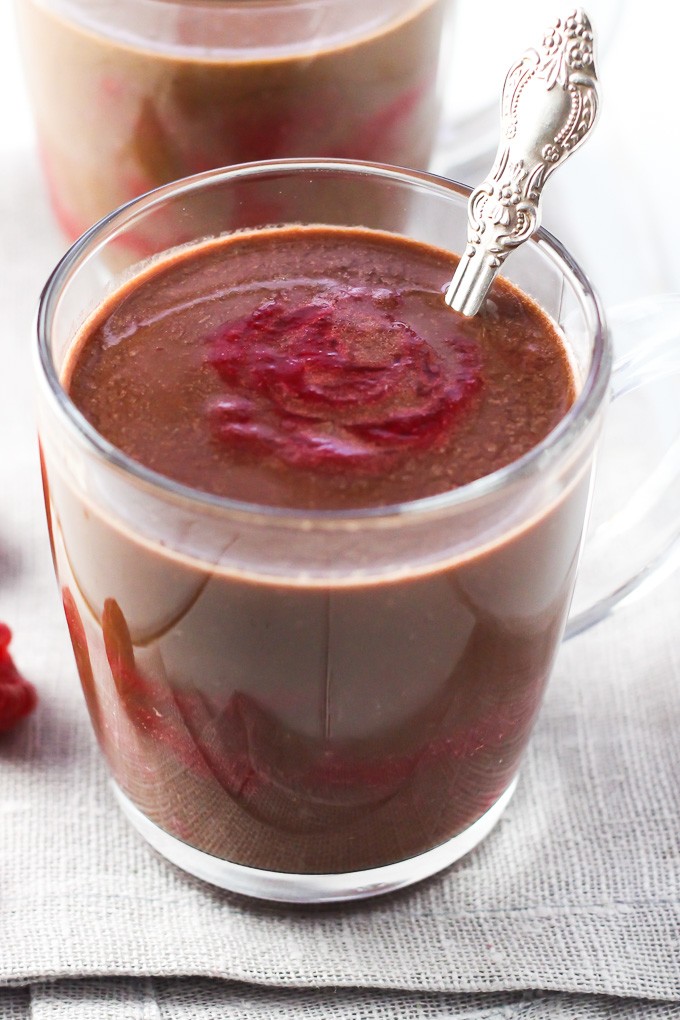 5 Reasons to Make This Raspberry Hot Chocolate:
It's super-rich, creamy, comforting, and satisfying and will warm you up on a cold winter evening;
It's made with real food ingredients such as milk, cocoa powder, dark chocolate, vanilla extract, maple syrup, and raspberries;
This raspberry hot chocolate is very easy to make;
The recipe is very versatile and you can adjust it to suit your taste and dietary preferences: use dairy or non-dairy milk and add your favorite natural sweetener or skip it altogether;
The ingredient quantities are for one serving so you can just multiply them to make as much as you need.
When I make hot chocolate with non-dairy milk, I usually like to simmer it first for about 10 minutes to make it creamier. I also prefer to make my vegan hot chocolate with cashew milk because it's creamier than the other non-dairy milk types.
Enjoy!
Raspberry Hot Chocolate
This raspberry hot chocolate recipe is very easy to make. This winter drink is so rich, creamy, and comforting that you won't believe it's healthy. You can use regular whole milk or make it vegan with non-dairy milk. Made with cocoa powder and high-quality dark chocolate. Refined sugar free.
Ingredients
1 1/2 cup non-dairy milk or 1 1/4 cup cow's milk
3/4 cup raspberries, thawed if using frozen raspberries
1 Tbsp cocoa powder
pinch of salt
0.35 oz / 10 g dark 70% chocolate
1/2 tsp vanilla extract
1 tsp maple syrup or to taste
Instructions
For the non-dairy option:
Pour the non-dairy milk into a small saucepan. Bring to a simmer and cook for 10 minutes. Do not cover as some liquid should evaporate to make the non-dairy milk creamier. (You can skip this step if you like your hot chocolate less creamy, in this case, use 1 1/4 cup of milk and just bring it to a simmer. )
For the dairy option:
Pour the milk into a small saucepan. Bring the milk to a simmer and turn off the heat.
For the hot chocolate:
In the meantime, place the cocoa powder into a small bowl. Add about 1 1/2 tablespoon of milk and mix to create a smooth paste. Set aside.
Place the raspberries in a food processor or blender and pulse a few times until smooth.
Place a mesh colander over a bowl. Pour the puree into the colander.
Using a rubber spatula, push the puree through the colander. Discard the seeds. (Check this Raspberry Sauce recipefor more instructions and step-by-step pictures).
Add the raspberry puree, cocoa paste, salt, dark chocolate, and vanilla extract to the milk. Whisk to combine.
Bring the hot chocolate to a gentle boil and take off the heat. Sweeten to taste.
Notes
1. The recipe is for one serving. Just multiply the ingredients to make more.
2. Nutrition information is a rough estimate for 1 serving of the raspberry hot chocolate made with cashew milk.
Recommended Products
As an Amazon Associate, I earn from qualifying purchases.
Nutrition Information
Yield

1 portion
Serving Size

full recipe
Amount Per Serving
Calories

164.8
Total Fat

8.4g
Saturated Fat

3.5g
Trans Fat

0g
Unsaturated Fat

2g
Cholesterol

0.3mg
Sodium

399.8mg
Carbohydrates

21.2g
Fiber

7.1g
Sugar

9.5g
Protein

4.1g
Nutrition facts provided on this website are an estimate and not guaranteed to be accurate. Please see a qualified health care provider for personalized diet advice and make sure that each of the ingredients is allowed in your diet.