Are you ready to cozy up on your couch with a cup of hot chocolate and a movie? You can enjoy this Healthy Cinnamon Hot Chocolate absolutely guilt-free. It's delicious, creamy, and comforting and perfect for long and dark fall and winter evenings.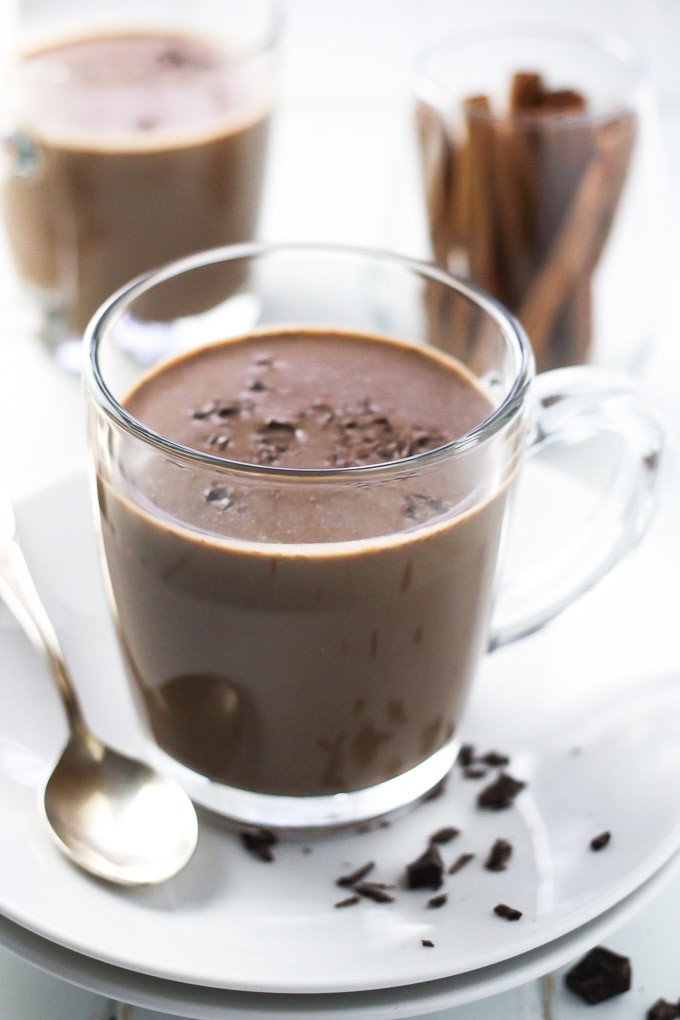 This healthy cinnamon hot chocolate can be made using non-dairy or cow's milk.
When I first started experimenting with non-dairy milk, I found that store-bought non-dairy milk such as almond, cashew, coconut milk, and others were quite watery and when used to make a hot chocolate didn't satisfy the craving for a rich and creamy drink.
I know many people add a little bit of coconut milk from a can, but I don't want to open a whole can just to use one tablespoon.
One day I thought that maybe boiling non-dairy milk for a few minutes will make it creamier as some liquid would evaporate. So, I tried it with cashew milk, and the result was amazing!
Cashew milk is usually pretty creamy as is, but evaporating some of the liquid out of it made it much thicker. I am sure that it will work with other types of non-dairy milk as well. Please let me know if you try it.
If you prefer to use regular milk, this is absolutely fine too. The recipe works just fine, and you don't need to boil the milk, just bring it to a simmer and then let the cinnamon steep for a few minutes to allow the flavors to blend.
When making hot chocolate using regular unsweetened cocoa powder, first mix the powder in a small bowl with a small amount of liquid to make a smooth paste and then add the paste to your milk. Otherwise, the powder will just swim on top of the milk, and you will end up with a mess instead of a cinnamon hot chocolate.
Love hot chocolate? Then check out this Raspberry Hot Chocolate and this Hot Chocolate Oatmeal.
Healthy Cinnamon Hot Chocolate
This healthy cinnamon hot chocolate is super rich and creamy. The recipe is very easy to make and you can use regular milk or make it vegan with non-dairy milk.
Ingredients
2 cups non-dairy milk or 1 1/2 cups cow's milk
1 cinnamon stick
1 whole clove
1 1/2 Tbsp unsweetened cocoa powder
pinch of salt
0.35 oz / 10 g good quality 70% dark chocolate
1/2 Tbsp maple syrup or to taste
Instructions
For the non-dairy option:
Pour the non-dairy milk into a small saucepan. Add the cinnamon stick and clove. Bring to a simmer and let it cook for 10 minutes. Do not cover as some liquid should evaporate to make the non-dairy milk creamier.
For the dairy option:
Pour the milk into a small saucepan. Add the cinnamon stick and clove. Bring the milk to a simmer. Turn off the heat, cover, and let it sit for 10 minutes.
For the hot chocolate:
In the meantime, place the cocoa powder into a small bowl and add about 1 1/2 tablespoon of milk. Mix to create a smooth paste.
Once the milk is ready, add the cocoa paste, salt, and dark chocolate and mix with a whisk until the cocoa paste is dissolved.
Bring the mixture to a light simmer to heat it through.
Remove the cinnamon stick and clove.
Sweeten to taste and serve hot.
Notes
Nutrition information is a rough estimate for 1 serving of the cinnamon hot chocolate made with cashew milk.
Recommended Products
As an Amazon Associate, I earn from qualifying purchases.
Nutrition Information
Yield

1
Serving Size

full recipe
Amount Per Serving
Calories

229.4
Total Fat

10.5g
Saturated Fat

3.1g
Trans Fat

0g
Unsaturated Fat

4.9g
Cholesterol

0.3mg
Sodium

501.6mg
Carbohydrates

35.5g
Fiber

5.1g
Sugar

22.6g
Protein

4.5g
Nutrition facts provided on this website are an estimate and not guaranteed to be accurate. Please see a qualified health care provider for personalized diet advice and make sure that each of the ingredients is allowed in your diet.