This healthy Canned Black Bean Soup is delicious, filling, and comforting. It's chock full of vegetables and high in fiber. You can also garnish this soup with your favorite toppings to make it even more enjoyable for the whole family.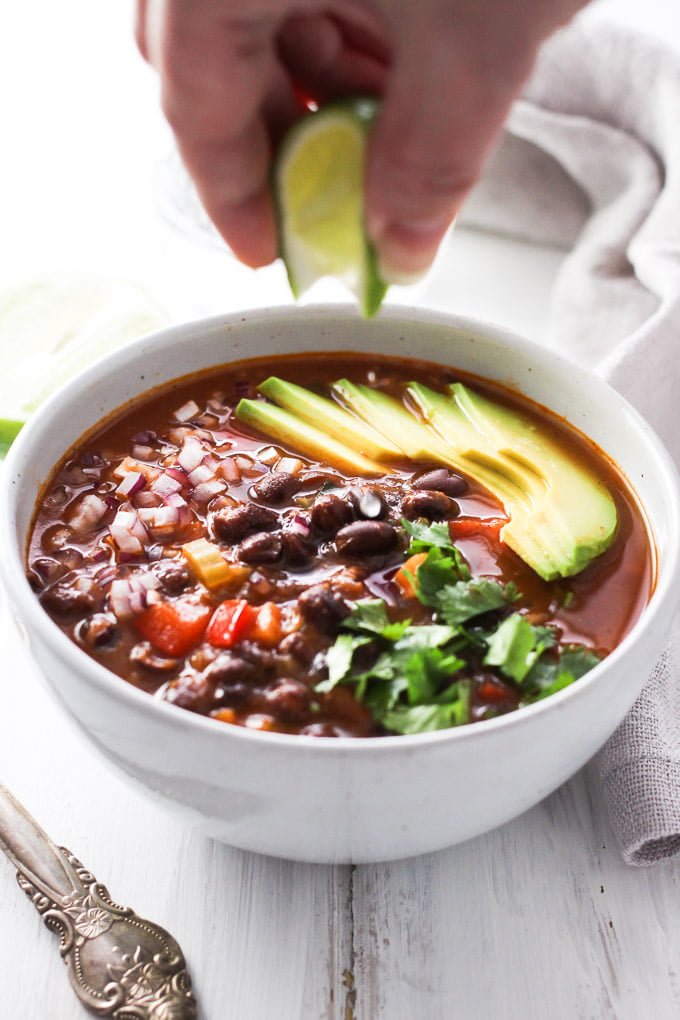 Why I Like This Canned Black Bean Soup Recipe
This soup is smooth and chunky at the same time. It's also very filling and will keep you full for hours.
Chili powder and cumin are warming spices, so this soup is perfect for fall and winter.
If you like spicy foods, you can also add a pinch of Cayan pepper to the soup or garnish it with crushed red pepper flakes.
I also love to garnish this soup with some avocado, fresh cilantro, chopped red onion, and some fresh lime juice. These fresh toppings add even more important nutrients to the soup.
A Few Other Reasons to Make This Soup:
It's made from pantry staples.
This recipe is very budget-friendly.
This soup is easy and quick to make.
It's great for meal-prep.
This soup keeps well in the fridge.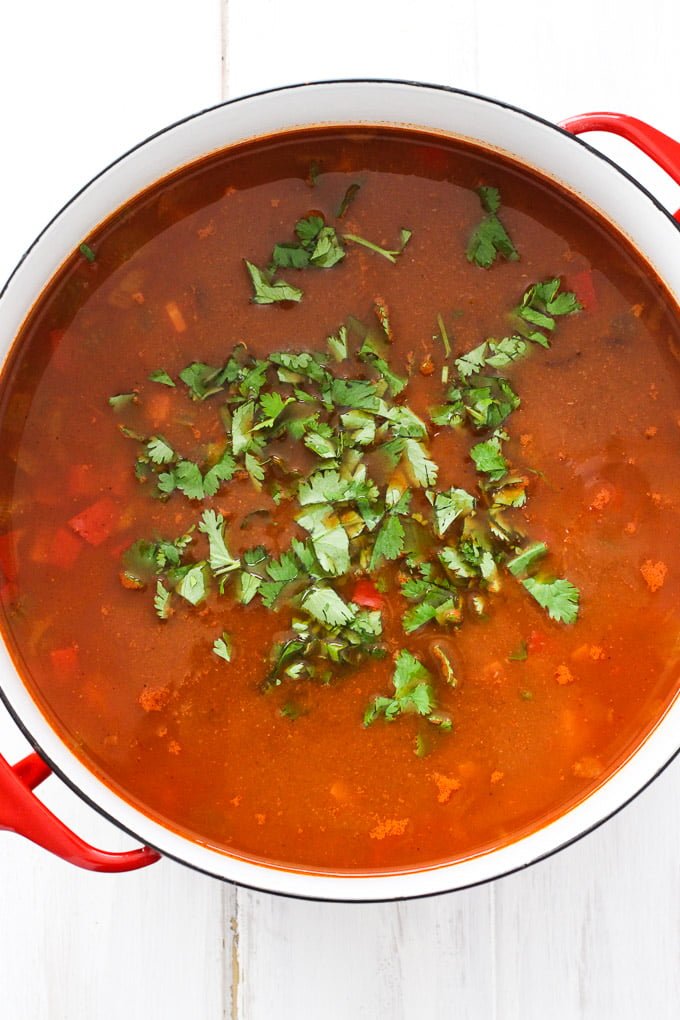 Soup Toppings For More Flavor and Nutrition
The best part about this easy soup is that you can customize it by adding toppings.
Here are a few topping ideas for you to try:
sliced green onions
diced avocado
guacamole
salsa
crushed red pepper
diced red onion
chopped cilantro
sour cream
shredded cheese
lime wedges
sliced radishes
and more!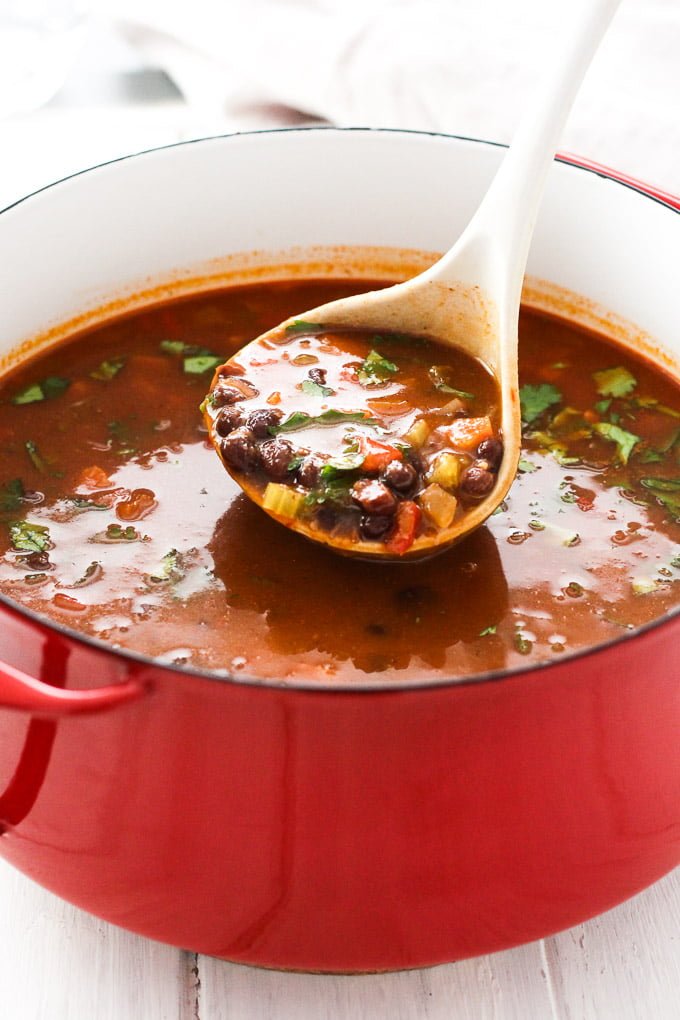 A Few Notes about Canned Black Beans
I love black beans when they are made from scratch. But I find that canned beans can be a real lifesaver for busy families.
When you have so much on your plate, there is sometimes just not enough time in a day to spend on prepping and cooking beans from scratch.
Of course, beans can be prepared in a pressure cooker, but there are times when I don't want to deal with it. So, this is when canned beans come to the rescue.
To avoid the high sodium content, I buy low sodium canned goods whenever possible. You can also buy BPA free beans to skip other unwanted chemicals.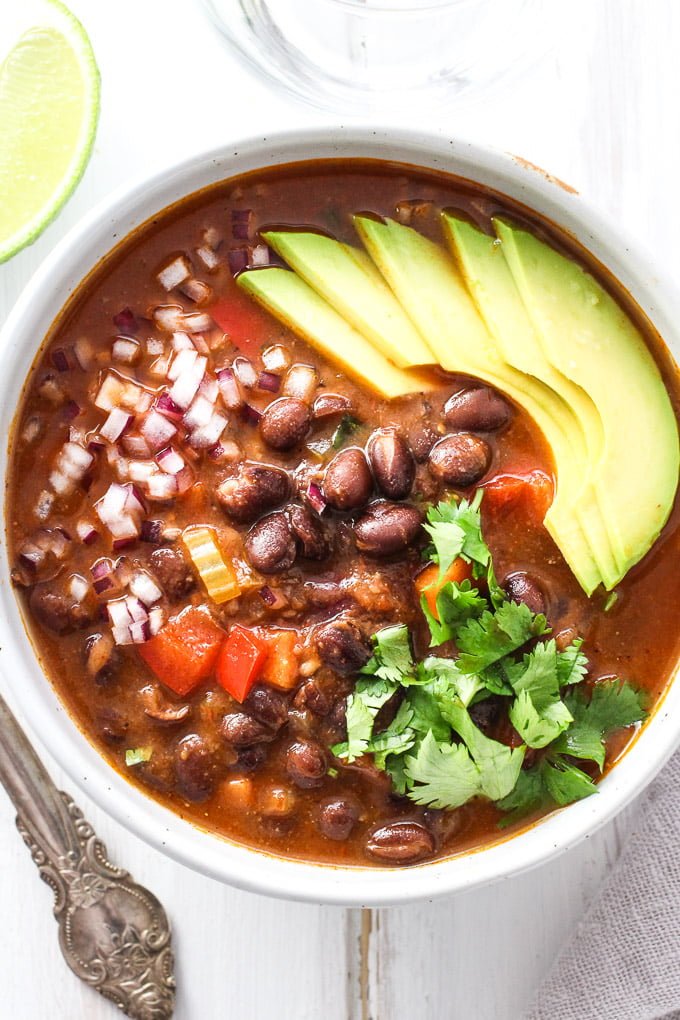 How to Prep Canned Black Beans for Cooking
To use canned black beans to make soup, they should be rinsed and drained first.
This helps to further reduce the sodium content of canned beans because a lot of salt is concentrated in the can liquid.
Here is how to prep the beans:
Open the can and transfer the beans into a fine-mesh strainer.
Rinse the beans under cool running water until the water runs clear.
Shake a few times to get rid of the excess liquid.
How to Thicken the Soup
This soup is only partially thickened because it tastes best when it's still quite chunky.
For the best mouthfeel, you need to puree a part of the soup.
Here are three ways you can do it:
Before adding the beans to the soup, mash the beans from one can with a fork or a potato masher until all beans are broken.
If you have an immersion blender, you can slightly puree the soup to the desired consistency at the end of cooking.
If you have a regular blender, wait until the soup is cool enough to handle. Then transfer half of the soup into the blender and pulse a few times to puree the soup. Transfer the pureed soup back into the soup pot.
How to Store and Reheat This Soup
Store this soup in the refrigerator for up to 3 days. You can also freeze it for up to 2 months.
The soup can be easily reheated on the stovetop or in a microwave.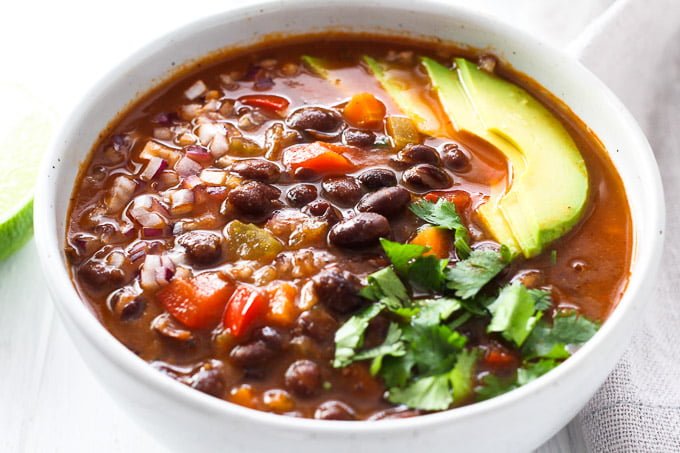 If you love cooking with beans and are looking for more clean eating recipes, check out this Red Bean Salad, this Beetroot Soup with Beans, and this Hearty Chicken and White Bean Soup.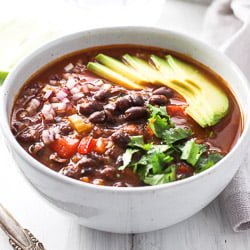 Canned Black Bean Soup
This healthy canned Black Bean Soup is very easy to make. It's perfect for a meal-prep because you can cook it once and eat it a few times. Add your favorite toppings and you have a perfect bowl of soup.
Ingredients
2 Tbsp olive oil
1 medium onion, thinly sliced
1 carrot, thinly sliced or grated
1 celery stalk, chopped
1/2 red bell pepper, julienned
1 tsp chili powder
1 tsp cumin
1 tsp garlic powder
4 cups low sodium vegetable stock
2 cups water
1 small can (14 oz/398 ml) crushed tomatoes
2 cans (19 oz/540 ml) low sodium black beans, drained and rinsed
a handful of fresh cilantro, chopped
salt and pepper to taste
For Garnish (Optional):
avocado
fresh cilantro
chopped red onion
lime
Instructions
In a medium pot, heat the olive oil. Add the sliced onions and cook stirring occasionally until the onion starts to caramelize for about 4 to 6 minutes.
Add the carrot, celery, and red bell pepper. Cook stirring occasionally until the vegetables start to soften for about 4 to 5 minutes.
Sprinkle the chili powder and cumin over the vegetables. Stir and wait until the spices become fragrant. This usually takes about one minute. Then add the garlic powder.
Add the vegetable stock, water, and crushed tomatoes.
Place half of the black beans (one can) into a bowl and mash them with a potato masher until almost all beans are broken. (See the notes *).
Add all the beans (both cans) to the soup. Season with salt a pepper.
Bring to the boil. Reduce heat, cover and cook for about 25 to 30 minutes or until the vegetables are cooked through.
Turn off the heat and the cilantro.
To serve, garnish with avocado, fresh cilantro, and chopped red onion.
Notes
* Instead of mashing the beans you can puree the soup with an immersion blender or transfer half of the soup into a regular blender and puree it by pulsing a few times. Make sure the soup is cool enough to handle before proceeding. Don't over-process the soup because it tastes best when it's still chunky.
Nutrition information is a rough estimate for 1 out of 6 servings calculated for the canned black bean soup without any toppings using low sodium canned black beans and low sodium vegetable broth.
Recommended Products
As an Amazon Associate, I earn from qualifying purchases.
Nutrition Information
Yield

6 portions
Serving Size

1/6 of recipe
Amount Per Serving
Calories

318.7
Total Fat

6g
Saturated Fat

0.9g
Trans Fat

0g
Unsaturated Fat

5.1g
Cholesterol

0mg
Sodium

360.6mg
Carbohydrates

53.5g
Fiber

19.2g
Sugar

5.9g
Protein

15.4g
Nutrition facts provided on this website are an estimate and not guaranteed to be accurate. Please see a qualified health care provider for personalized diet advice and make sure that each of the ingredients is allowed in your diet.