I am so excited to share with your this recipe because these Vegan Chocolate Cupcakes are so good you won't believe they are healthy.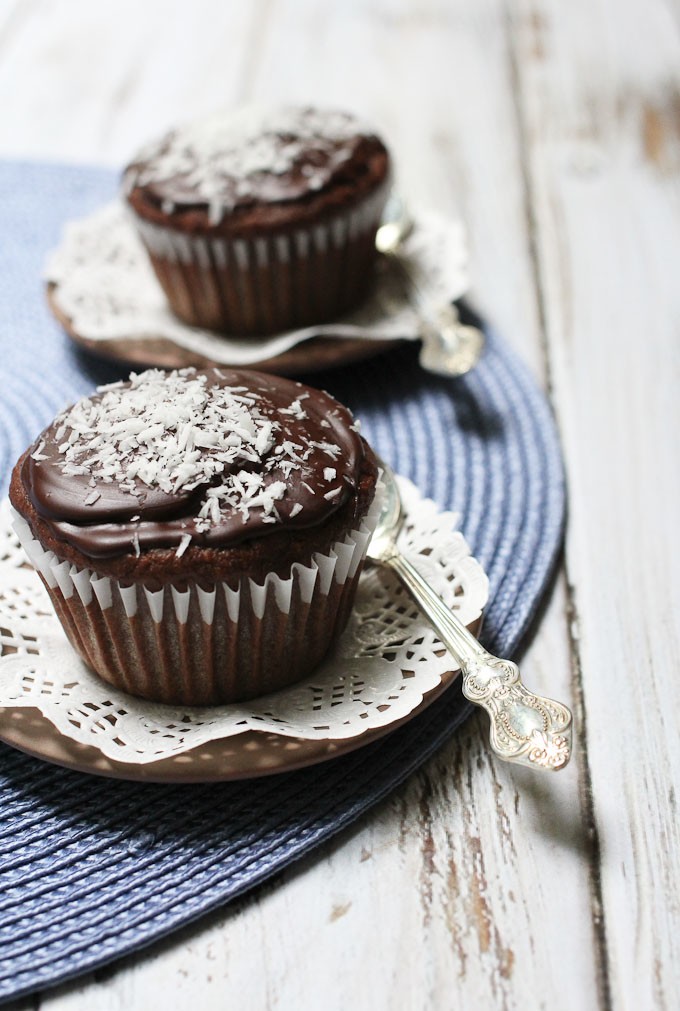 The cupcakes are made with a healthy flour mix that includes whole-spelt, brown rice, and chickpea flour. They are also dairy and egg-free which makes them perfect for people with allergies.
Do you eat dairy and eggs and don't care about your dessert being vegan? Don't worry, this is not a recipe that was re-worked to remove these foods from the ingredient list.
These cupcakes just don't need any dairy or eggs.
They rise perfectly in the oven; stay nice and moist, and look absolutely stunning.
I am not very much into baking and especially don't have the patience for decorating baked goods. That's why I decided to decorate these vegan chocolate cupcakes with a chocolate glaze and some shredded coconut. It was super easy and I was very pleased with the results.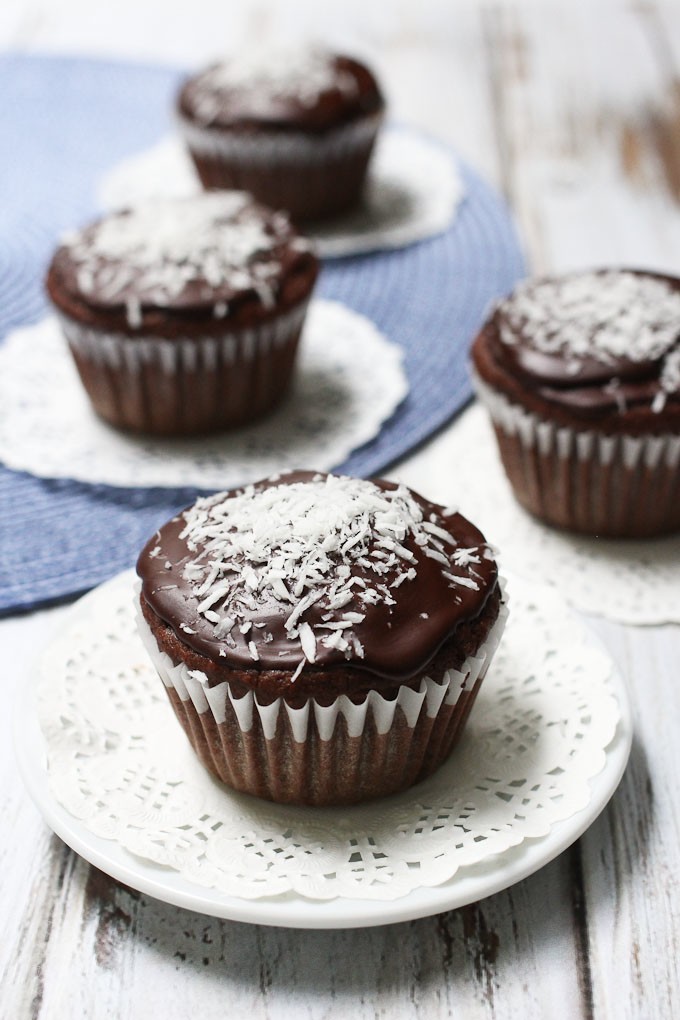 I think these cupcakes could be a good conversation starter for your non-healthy eating friends.
Imagine having a party and everyone is like "Oh man, I'll have to go on a diet after eating these". And you are like "No, they are totally healthy if you don't eat all of them at once. They are also dairy and egg-free." And they are like "No way! Well, they are probably a calorie bomb for sure". And you are like: "Did you know that calories don't really matter if you use good quality healthy ingredients?"
All right, I think am getting carried away here. So, I am just leaving you here to enjoy the cupcakes…
If you love chocolate as much as I do, check out this Hot Chocolate Oatmeal and this Raspberry Hot Chocolate.
Vegan Chocolate Cupcakes
These dairy-free, egg-free, and vegan chocolate cupcakes are made with a healthy flour mix that includes whole spelt, brown rice and chickpea flour.
Ingredients
1/2 cup cocoa powder, *See the Notes
1/2 cup shredded coconut
1/3 cup coconut sugar
1/2 cup whole spelt flour
1/2 cup brown rice flour
1/2 cup chickpea flour
1 Tbsp aluminum free baking powder
1 can (398 ml) regular coconut milk
2 Tbsp coconut oil, melted
1 tsp vanilla extract
For the chocolate glaze:
100 gr / 3.5 oz dark chocolate, **See the Notes
1/2 Tbsp coconut oil
Instructions
Preheat the oven to 350 degrees.
Put the chocolate powder, shredded coconut, coconut sugar, spelt flour, rice flour, chickpea flour and baking powder into a bowl. Mix well to combine.
In another bowl, mix the coconut milk, coconut oil and vanilla extract.
Pour the wet ingredients into the dry ingredients and stir to combine.
Place the baking cups into a muffin pan. Spoon the batter into the baking cups making sure it's divided evenly. Bake in the preheated oven for 25 minutes.
Take the muffin pan out of the oven and leave the cupcakes in the muffin pan for about 15 to 20 minutes. When cool enough to handle, carefully transfer the cupcakes to a cookie rack to cool completely.
To make the chocolate glaze, place the dark chocolate and coconut oil into a small pot. Carefully warm it up over the medium-low heat making sure to constantly stir the chocolate. It really takes just over 1 minute so please don't leave the chocolate unattended.
Once the chocolate is melted, take the pot off the heat and let the glaze cool to room temperature.
Decorate the cupcakes with the chocolate glaze and some shredded coconut.
Place the decorated cupcakes into the fridge for 10 to 15 minutes to allow the glaze to set.
You can keep the cupcakes in the fridge overnight, however, they taste best when they are room temperature.
Notes
1. Although the cupcake ingredients don't contain dairy, dark chocolate or cocoa powder may contain traces of dairy products. Make sure to check the ingredient lists.
Recommended Products
As an Amazon Associate, I earn from qualifying purchases.
Nutrition Information
Yield

12
Serving Size

1 cupcake
Amount Per Serving
Calories

243
Total Fat

15.5g
Saturated Fat

12.3g
Trans Fat

0g
Unsaturated Fat

2.2g
Cholesterol

0mg
Sodium

104.1mg
Carbohydrates

27g
Fiber

3.9g
Sugar

11.1g
Protein

4.3g
Nutrition facts provided on this website are an estimate and not guaranteed to be accurate. Please see a qualified health care provider for personalized diet advice and make sure that each of the ingredients is allowed in your diet.