These almond flour chocolate cookies are made without any grains. They are also dairy-free because they are made using 100% pure dark chocolate (always check the ingredient list to make sure!).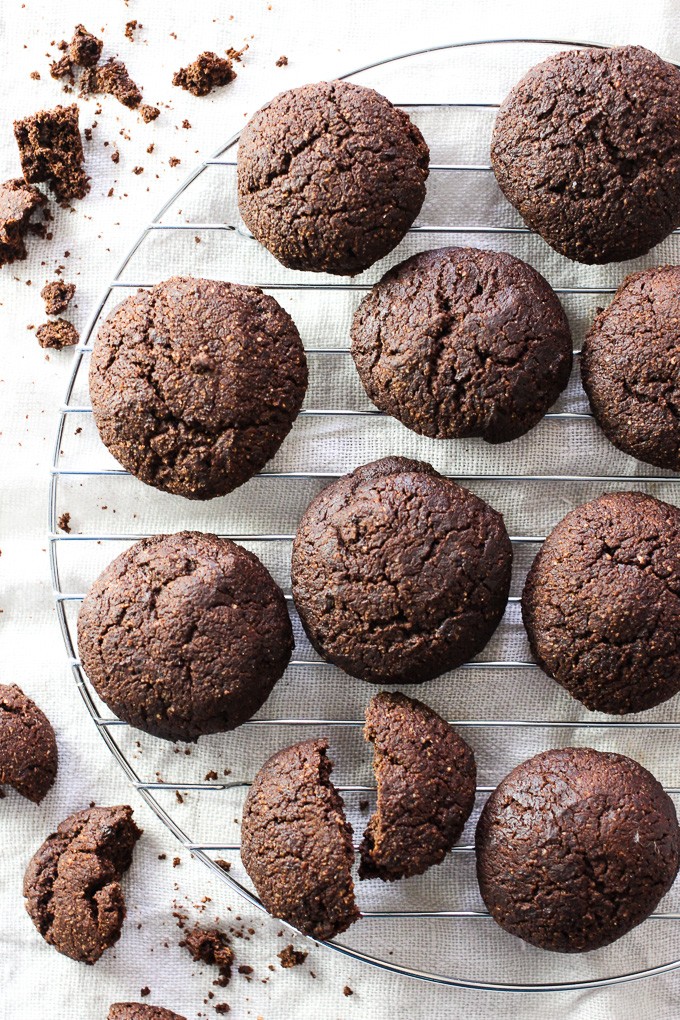 These almond flour chocolate cookies are very easy to make. The only time-consuming and messy part is shaping the cookies.
Keep in mind that when you take the cookies out of the oven, they will appear undercooked and will also be quite soft so resist the urge to touch them. They will firm up once they are cooler. If you store them in the fridge, they will become fudgy.
The cookies taste very much like dark chocolate because they are made with pure unsweetened chocolate. But I've also made them using 70% dark chocolate and they turned out really nice too, just a little bit sweeter.
Enjoy!
Love chocolate? Check out this Raspberry Hot Chocolate and this Hot Chocolate Oatmeal.
Yield: 25-30 cookies
Almond Flour Chocolate Cookies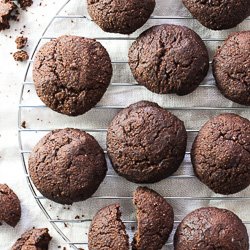 These almond flour chocolate cookies are grain and dairy free and made using 100% unsweetened dark chocolate. Super easy and fun to make.
Ingredients
1 cup almond flour
1 cup cocoa powder
2 tsp aluminum-free baking powder
¼ tsp salt
½ cup coconut oil
1 oz/28g 100% pure unsweetened dark chocolate
1 tsp vanilla extract
1/2 cup maple syrup
2 eggs, beaten
Instructions
In a bowl, combine the almond flour, cocoa powder, baking powder, and salt.
Melt the coconut oil together with chocolate in a microwave or on the stove top.
Add the maple syrup and vanilla extract to the chocolate and mix to combine. The mixture should be slightly above the room temperature to keep the coconut oil liquid but not too warm.
Add the chocolate mixture and beaten eggs to the dry ingredients and mix until smooth.
Cover the bowl and place in the freezer until the dough is firm, for about 30-40 minutes. The time needed will depend on the temperature of the dough.
Preheat the oven to 350F. Line a baking sheet with a parchment paper.
Once the dough is firm, measure even amounts of dough about one tablespoon in size and roll it in your hands to form balls. Place on a baking sheet 1.5 inches apart.
Bake in the oven for 15 to 20 minutes or until the cookies slightly crack on top. Remove the baking sheet to a rack. At this point, cookies might look undercooked. Just leave them on the baking sheet until they firm up a bit, for about 30 minutes, then transfer the cookies to a rack.
Gently remove cookies from the parchment paper. Store in an airtight container in the fridge for about 1 week.
Recommended Products
As an Amazon Associate, I earn from qualifying purchases.
Nutrition Information
Yield
25
Serving Size
1 cookie
Amount Per Serving
Calories

94
Total Fat

7.4g
Saturated Fat

4.4g
Trans Fat

0g
Unsaturated Fat

0.6g
Cholesterol

0mg
Sodium

54mg
Carbohydrates

7.9g
Fiber

1.8g
Sugar

4.7g
Protein

1.7g
Nutrition facts provided on this website are an estimate and not guaranteed to be accurate. Please see a qualified health care provider for personalized diet advice and make sure that each of the ingredients is allowed in your diet.