This beetroot soup is very light and perfect for the time of year when we are transitioning from hearty soups and stews to lighter meals.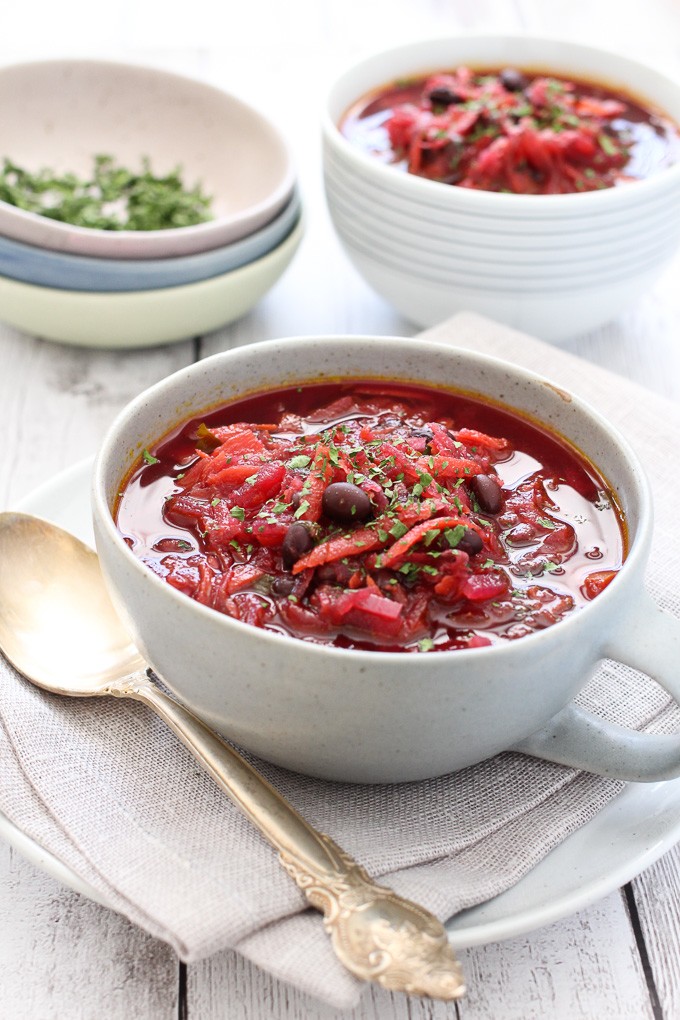 There is a common misconception about beets being high glycemic.
Beets indeed have a medium glycemic index of 64. However, the glycemic index only shows us how fast the carbohydrate in any given food raises blood sugar. It doesn't take into consideration the amount of carbohydrates in the food.
Beets, for example, contain a very small amount of carbohydrates and, therefore, have a low glycemic load of 2.
Beets are full of minerals, vitamins, and phytochemicals. They have a detoxifying effect and are also beneficial for people with anemia because they help build red blood cells.
Beets are very inexpensive and keep well in a dark, cool place, which makes them perfect for winter and early spring.
This Beetroot Soup with Beans is quite easy to make. Although, I have to warn you that grating the beets requires some effort.
Beets will also stain your hands, so wear gloves if this is an issue for you. If you have a food processor with a shredding disk, this will make your job much easier.
Grated vegetables cook quite fast, so make sure not to overcook them.
If you love beets, check out these Healthy Beet Recipes, or Learn How to Cook Beets for salads and side dishes.
Enjoy!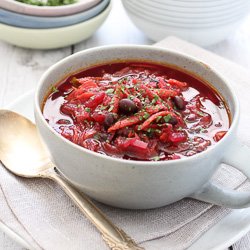 Beetroot Soup with Beans
Beetroot Soup with Beans Recipe. This healthy and easy to make soup is full of wonderful nutrients and fiber. Make a big pot and enjoy all week long.
Ingredients
2 Tbsp olive oil
1 medium onion, thinly sliced
3 medium beets, grated
3 medium carrots, grated
1 yellow bell pepper, cored and chopped
4 medium tomatoes, chopped
1 L / 4 cups vegetable stock
5 cups water
1 can black beans, drained and rinsed
1 tsp garlic powder
sea salt and pepper to taste
1/4 lemon
2 handfuls chopped parsley
Instructions
In a large pot, heat the olive oil over medium heat. Add the onion and cook, stirring occasionally, until the onion is translucent, for about 4 minutes. Add the beets, carrots, bell pepper and tomatoes. Cover and cook stirring, occasionally, until the vegetables start to soften, for about 5 to 7 minutes.
Add the vegetable stock, water, black beans and garlic powder. Season with salt and pepper and bring to a boil. Reduce the heat. Cover and cook for about 10 minutes.
Squeeze the lemon juice into the soup and drop the squeezed lemon piece into the soup too. Add the parsley. Cook the soup for another 2 to 3 minutes and turn off the heat.
Serve with 1 to 2 tablespoons of Greek yogurt or sour cream, or a vegan substitute for dairy-free and/or vegan option.
Nutrition Information
Yield

6
Serving Size

1/6 of recipe
Amount Per Serving
Calories

168
Total Fat

5.2g
Saturated Fat

0.8g
Trans Fat

0g
Unsaturated Fat

4.4g
Cholesterol

0mg
Sodium

183.6mg
Carbohydrates

26.1g
Fiber

8.5g
Sugar

8.5g
Protein

6.7g
Nutrition facts provided on this website are an estimate and not guaranteed to be accurate. Please see a qualified health care provider for personalized diet advice and make sure that each of the ingredients is allowed in your diet.