This strawberry salsa tastes awesome with fish or chicken and you can also serve it as a salad on a weeknight or as a salsa at the weekend BBQ party.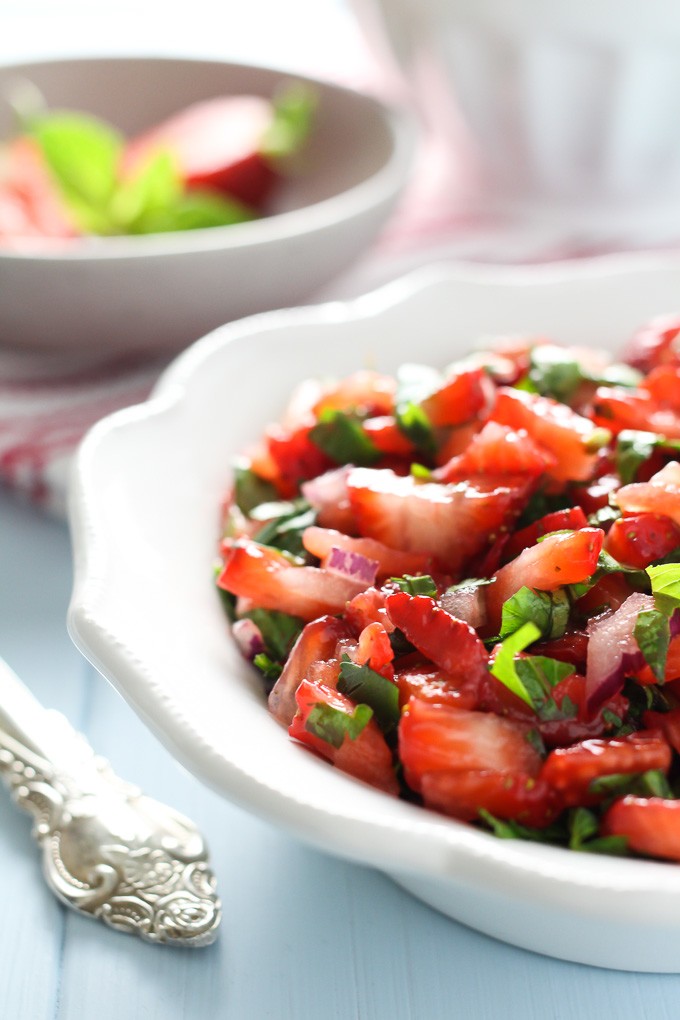 It's summer and this means the perfect time to enjoy fresh produce. I try to incorporate fresh berries, fruits, veggies, and herbs into our meals every day. The good thing is that you don't even have to put too much effort into making delicious salads and salsas. Just chop all the ingredients, toss them together and you are done.
What can be better than all the fresh and healthy ingredients mixed together to create this beautiful strawberry salsa?
Unfortunately, this strawberry salsa doesn't keep well in the fridge because strawberries release a lot of moisture and the salsa becomes quite soggy. So, make it not more than one hour before you are planning to serve it and just eat the leftovers because it's just so good!
Enjoy!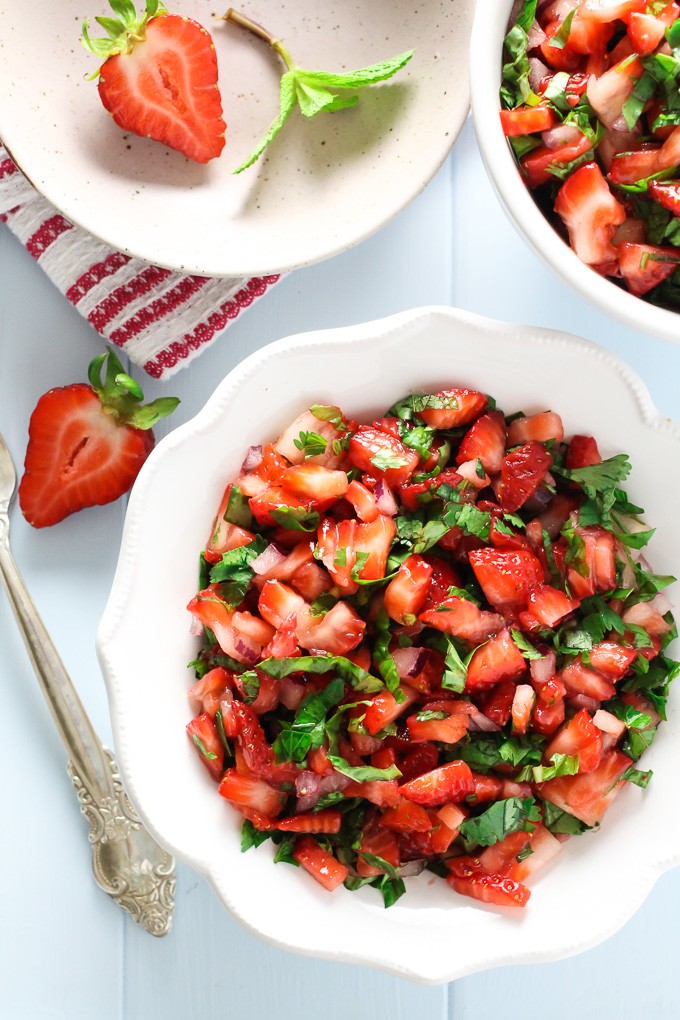 And if you have some leftover strawberries, consider making this Homemade Strawberry Soda. If you are looking for more healthy appetizers, check out this Peach Salsa, this Roasted Eggplant Dip, and these Vegetarian Stuffed Tomatoes.
Strawberry Salsa
This refreshing Strawberry Salsa is made with fresh herbs and ginger. It's slightly sweet and minty. Perfect for a summer dinner party.
Ingredients
1 pound fresh strawberries, hulled and sliced
1/3 medium red onion, thinly sliced
1/2 cup chopped cilantro
1/2 cup chopped parsley
1/2 cup chopped basil
1/4 cup chopped mint
1 Tbsp grated fresh ginger
1 1/2 Tbsp balsamic vinegar
1 Tbsp olive oil
salt to taste
Instructions
Place the strawberries, onion, cilantro, parsley, and mint into a salad bowl. Add the grated ginger, balsamic vinegar, and olive oil. Toss to combine and season with salt.
Chill for about 30 minutes before serving.
Notes
1. This salsa doesn't keep well because the strawberries release a lot of water making the salsa quite soggy. For this reason, serve this salsa within 1 to 2 hours after making it.
Recommended Products
As an Amazon Associate, I earn from qualifying purchases.
Nutrition Information
Yield

6 portions
Serving Size

1/6 of recipe
Amount Per Serving
Calories

55
Total Fat

2.6g
Saturated Fat

0.3g
Trans Fat

0g
Unsaturated Fat

2.3g
Cholesterol

0mg
Sodium

7.3mg
Carbohydrates

8g
Fiber

2.1g
Sugar

4.7g
Protein

1g
Nutrition facts provided on this website are an estimate and not guaranteed to be accurate. Please see a qualified health care provider for personalized diet advice and make sure that each of the ingredients is allowed in your diet.