If you like to experiment with new flavor combinations, you will appreciate this Orange Hummus Recipe.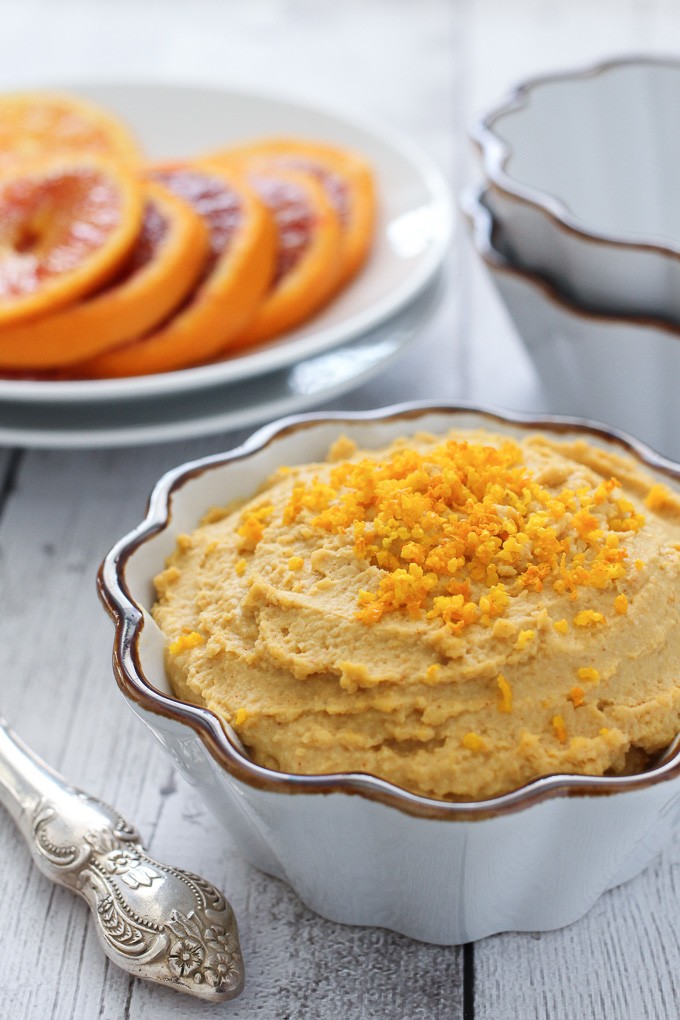 As you might know, hummus is really easy to make. All you have to do is place all ingredients into a food processor and blend everything to combine. You can also use 1 can (540ml/19 oz) of chickpeas if you don't want to soak and cook them.
Traditionally, hummus is prepared with tahini (sesame seeds paste). I didn't use it but if you like it, just add 2 to 3 tablespoons.
Orange gives a really fresh unexpected flavor to this dish. I served it with roasted cauliflower that I prepared using this recipe and it was amazing!
This hummus also goes well with green leafy salads or in wraps.
Hummus also makes a great low glycemic snack when combined with some raw, steamed, or roasted veggies. Chickpeas are packed with healthy nutrients including protein, fiber, calcium, iron, magnesium and more. Olive oil gives you some healthy fat. And vegetables come with a whole package of vitamins and antioxidants.
In addition, this Orange Hummus looks very pretty thanks to the bright yellow color. It's almost like a small sun, isn't it?
Enjoy!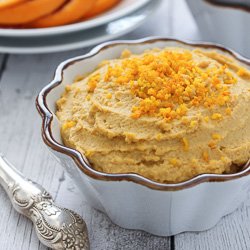 Orange Hummus Recipe
Yield: 6 portions

Prep Time: 10 minutes

Cook Time: 1 hour

Total Time: 1 hour 10 minutes

Orange Hummus Recipe. This creamy dip has a fresh orange flavor. Tastes great served with raw, steamed or roasted veggies as well as in wraps and salads.
Ingredients
1 cup chickpeas
1 orange (orange zest and juice) *See the notes
1/4 cup olive oil
3 Tbsp water
1 tsp red paprika
salt to taste
Instructions
Place the chickpeas in a bowl and cover them with 4 cups of water. Let them soak overnight or for at least 6 to 8 hours. Drain the water, rinse the chickpeas and place them into a pot. Add about 4 cups of water and bring to a boil. Reduce the heat and simmer the chickpeas for about 50 minutes to 1 hour. Drain the water and rinse the chickpeas.
Prepare the orange zest using the fine side of your grater. Make sure to only take off the rind of the orange skin and not the white part which tastes bitter. Once you are finished with the zest, press out the juice from the orange.
Place the chickpeas, orange juice, half of the orange zest (reserve the other half for garnishing the hummus), olive oil, 3 tablespoons of water, red paprika and salt into a food processor. Pulse a few times until everything is well combined into a smooth paste. If the hummus is too thick, add one more tablespoon of water.
Transfer into a bowl and decorate with the remaining orange zest. Store in the fridge in a glass container with a tight lead for up to 3 days.
Notes
1. Since you will be using the outer skin of an orange, it's better to buy an organic orange or wash and dry it really well before using.

2. Nutrition information is a rough estimate for 1 of 6 servings.
Nutrition Information
Serving Size 1/6 of recipe
Amount Per Serving Calories 221Total Fat 11.1gSaturated Fat 1.5gTrans Fat 0gUnsaturated Fat 9.6gCholesterol 0mgSodium 396.3mgCarbohydrates 24.8gFiber 4.9gSugar 6.5gProtein 7.2g

Nutrition facts provided on this website are an estimate and not guaranteed to be accurate. Please see a qualified health care provider for personalized diet advice and make sure that each of the ingredients is allowed in your diet.