This Mediterranean beet salad is very easy to make. It's made with cooked beets, garlic, olive oil, sea salt, and cilantro. And if you don't like cilantro, you can also use parsley or skip the fresh herbs altogether. The Mediterranean beets can be served hot or cold and taste great as a side dish or salad.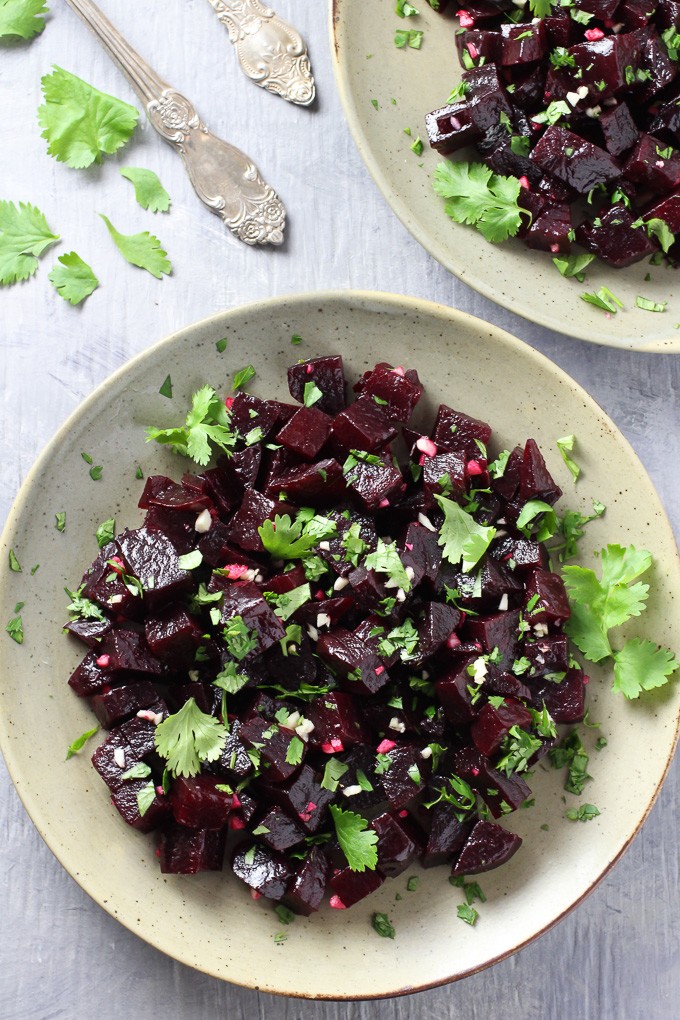 Beets are one of my favorite vegetables. I know many people say that they don't like beets but I am convinced that they just haven't tried beets that were prepared properly.
Beetroot has a medium glycemic index of 64 but is super low on the glycemic load scale with the GL of 4.
Beets are usually very inexpensive and keep well in the fridge.
You can buy beets with greens still attached or just the bulbs. If you buy a bunch of beets with greens, make sure to remove the greens because they go bad fast.
Beet greens can be used in soups or cooked the way you would cook other greens such as collard greens or kale. Raw beetroot and beet greens make a great addition to fresh-pressed juices.
You will need cooked beets for this Mediterranean beet salad. There are five ways to cook beetroots. You can roast, boil, steam, steam-roast them, or cook them in the microwave.
There are brief instructions in the recipe section below. For the detailed cooking techniques as well as tips and tricks on how to buy, prep, and store beets, check out my post How to Cook Beets: 5 Easy Methods + Tips and Tricks.
To make sure that the beets are fully cooked insert a fork into the beetroot. You should be able to easily pierce them, and the fork should very easily slide back out.
Beets take a long time to cook. That's why it's better to choose medium-sized beets and make sure all the beets you are cooking are similar in size. This way they will be done all at the same time.
I usually leave them to cool in the oven because beets are very hard to handle when they are hot. Also, make sure to wear gloves if you don't want any stains on your hands.
There are so many ways to serve cooked beets that I probably could write a cookbook just with beet recipes.
To start, try this Mediterranean Beets with Garlic and Olive Oil. It's very easy to make and so good for you! Also, make sure to check out other Healthy Beet Recipes available on my blog.
Enjoy!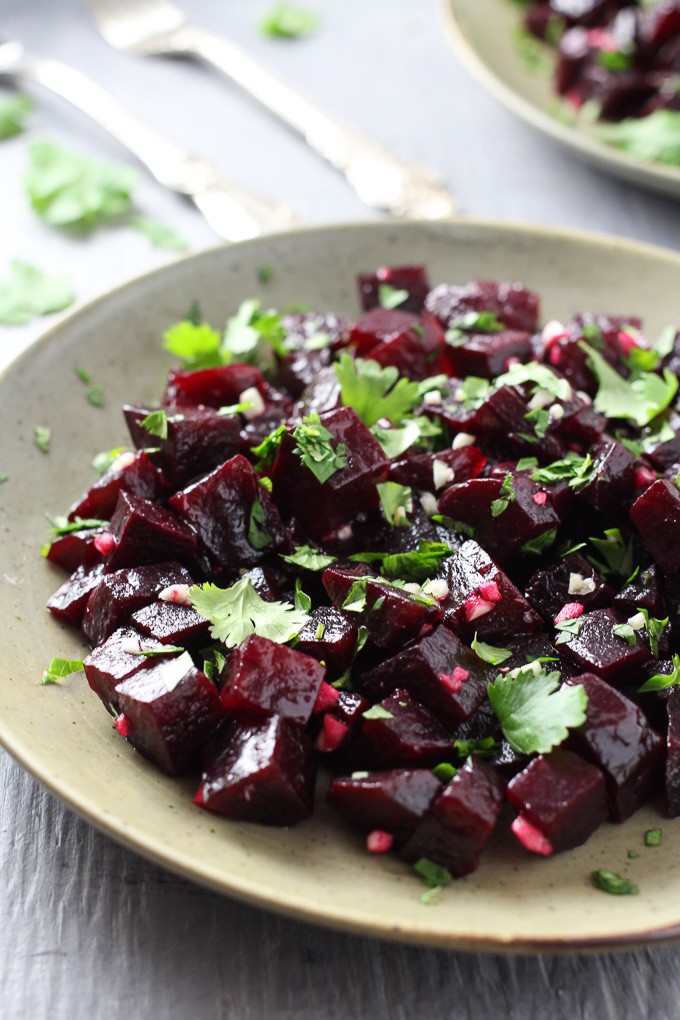 Mediterranean Beets with Garlic and Olive Oil
Yield: 4 portions

Prep Time: 10 minutes

Cook Time: 1 hour

Total Time: 1 hour 10 minutes

These Mediterranean Beets with Garlic and Olive Oil are really easy to make. They are full of flavor and very healthy. Serve as a salad or side dish.
Ingredients
2 pounds red beets, washed
2 garlic cloves, chopped
2 Tbsp olive oil
a pinch of sea salt
a handful of cilantro, chopped
Instructions
How to cook beets:
To roast the beets, place them on a baking sheet and roast in the oven at 400 F for one hour or until you can easily pierce them with a fork.
To boil the beets, place them in a pot. Add water ( make sure the beets are fully covered with water). Bring the water to a boil and cook the beets until you can easily pierce them with a fork. It may take over one hour depending on the size of the beets. Note that the beets might stain the pot.
To steam-roast the beets, place them in a baking dish. Add about 1/4 to 1/2 inch of water. Cover the baking dish with aluminum foil making sure the foil doesn't touch the beets. Place in the oven and roast at 425F for about 50 minutes to 1 hour or until you can easily pierce them with a fork.
Important!. Always cool the beets before handling as they get extremely hot. Also, note that red beets will stain your hands and might also stain your dishes
To make the Mediterranean Beets with Garlic and Olive Oil:
Peel and chop the beets. Place them in a bowl. Add chopped garlic, olive oil, and chopped cilantro. Sprinkle with sea salt.
Recommended Products
As an Amazon Associate, I earn from qualifying purchases.
Nutrition Information
Yield 4 portions Serving Size 1/4 of recipe
Amount Per Serving Calories 159Total Fat 7.1gSaturated Fat 1gTrans Fat 0gUnsaturated Fat 5.9gCholesterol 0mgSodium 297mgCarbohydrates 22.2gFiber 6.4gSugar 15.4gProtein 3.8g

Nutrition facts provided on this website are an estimate and not guaranteed to be accurate. Please see a qualified health care provider for personalized diet advice and make sure that each of the ingredients is allowed in your diet.