This tabbouleh with apples and walnuts recipe is a new and delicious twist on the traditional Middle Eastern bulgur salad. It's very easy to make and chock-full of awesome nutrients.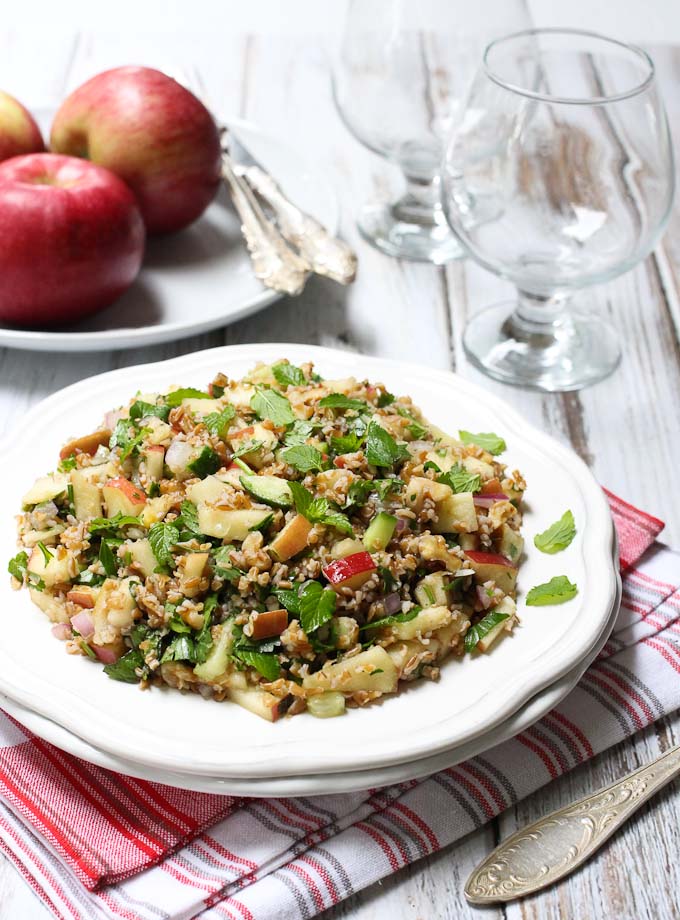 Tabbouleh salad is a very popular Middle Eastern dish traditionally made with olive oil, tomatoes, onion, and herbs. Bulgur is also often added making this salad more filling.
This salad is a wonderful way to include more fresh herbs in your diet. Herbs are incredibly good for you, but it can be hard to incorporate them into your daily meals because they might not work very well with some dishes due to their strong flavor.
Try tabbouleh salad and you won't even know that you ate so much of fresh herbs.
I decided to add some apples to the dish. First of all, it's apple season and we are swimming in apples here. Apples also add a bit of sweetness to the salad which works perfectly.
To make this dish even more balanced and to give it some crunch, I added chopped walnuts.
Here we go, another healthy low glycemic dish full of flavor and awesome nutrients!
Enjoy!
Looking for more healthy salad recipes, check out this Mediterranean Quinoa Salad and this Zucchini Tabbouleh.
Tabbouleh with Apples and Walnuts
This Tabbouleh with Apples and Walnuts recipe is a new twist on the traditional Middle Eastern bulgur salad made with olive oil, tomatoes, and herbs. Full of flavor and awesome nutrients!
Ingredients
1 cup bulgur
2 apples (semi-sweet variety such as Fiji), diced
juice of 1 lime
1/3 English cucumber, chopped
1/2 cup chopped fresh mint
1/4 red onion, thinly sliced
1 cup chopped fresh parsley
1 cup chopped fresh cilantro
3/4 cup walnuts, chopped
1 Tbsp balsamic vinegar
2 Tbsp olive oil
salt to taste (optional)
Instructions
Put the bulgur in a medium bowl and generously cover with boiling water. Cover and leave for 30 minutes.
In the meantime, chop the cucumber, onion, herbs and walnuts. Dice the apples last and immediately pour lime juice over the apples making sure all apple pieces are covered in lime juice. This will prevent the apples from turning brown. Place everything in a large salad bowl and set aside.
Drain off any excess water from the bulgur and add to the veggies. Add the balsamic vinegar and olive oil and toss to combine.
Chill for 30 minutes before serving. This salad will keep well in the fridge for up to 24 hours.
Nutrition Information
Yield

6
Serving Size

1/6 of recipe
Amount Per Serving
Calories

261
Total Fat

14.6g
Saturated Fat

1.6g
Trans Fat

0g
Unsaturated Fat

12.3g
Cholesterol

0mg
Sodium

63.7mg
Carbohydrates

31g
Fiber

6.4g
Sugar

7.8g
Protein

6g
Nutrition facts provided on this website are an estimate and not guaranteed to be accurate. Please see a qualified health care provider for personalized diet advice and make sure that each of the ingredients is allowed in your diet.