To continue the fall recipe madness here on the blog, I decided to share with you this Vanilla Apple Flan recipe.
I remembered this recipe when my husband and I were on a day trip to see a pretty small town about 2-hour drive East of Toronto.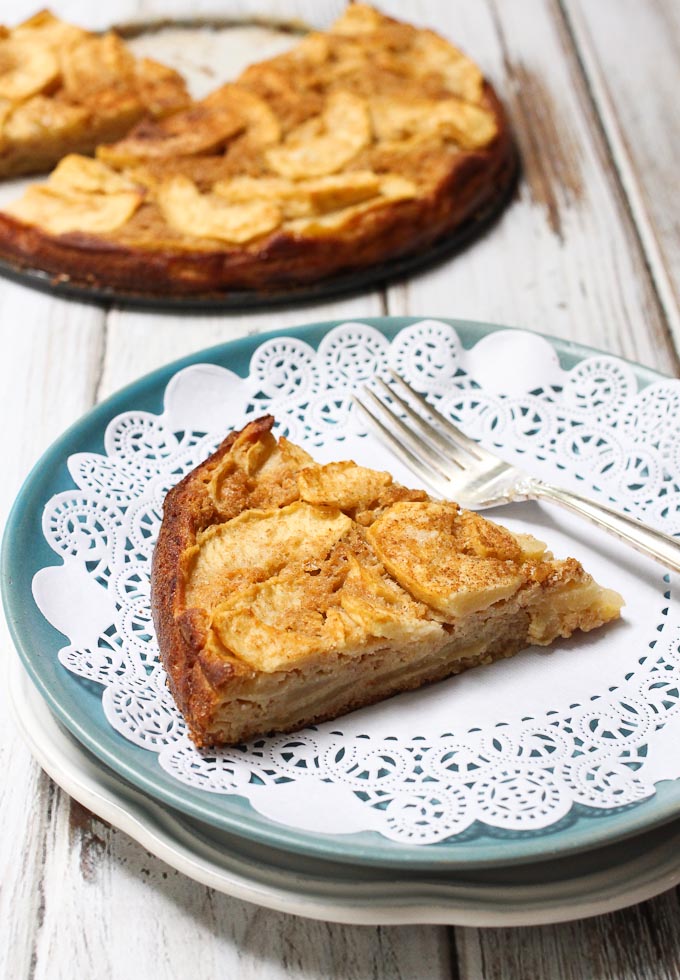 On our way there, we stopped at the Big Apple.
No, not that Big Apple.
The Big Apple in Colborne, Ontario.


The Big Apple is a fun tourist attraction for those who are traveling from Toronto to Ottawa or Quebec and back. It includes a restaurant, a store and a bakery where they bake apple pies right in front of you.

Very cool!
So, when we were there I remembered that my Grandma would bake a very simple Apple Flan and we all liked it so much. How could I forget about it?
I changed the recipe a little bit because I like to bake with whole spelt flour and make my recipes dairy free whenever possible. (And of course, my Grandma didn't bake with coconut sugar).
The result was fantastic!
I got a ton of compliments from my recipe tasting team which includes my husband, his friend and my lovely neighbour Carole.
My husband even requested that I make it again because he thought he got the smallest piece the first time around.
This flan is very easy to make. It's moist and soft and is a perfect apple dessert.
Enjoy!
Print
Vanilla Apple Flan
This Vanilla Apple Flan is delicious and very easy to make. It's a great alternative to an apple pie or an apple tart. This recipe is dairy-free and made with whole spelt flour.
Prep Time:

15 mins

Cook Time:

40 mins

Total Time:

55 mins

Yield:

5 to 6 slices
Ingredients
1/3 cup spelt flour
1 1/2 tsp aluminum free baking powder
1/4 cup coconut sugar
1/8 tsp salt
2 free-range eggs, beaten
1/2 cup coconut milk, See the Notes
2 Tbsp coconut oil, melted
1 tsp vanilla extract
5 medium apples, cored, peeled and thinly sliced
Instructions
Preheat the oven to 375F.
Place the flour, baking powder, coconut sugar and salt into a bowl and mix well.
In a large bowl, mix the eggs, milk, coconut oil and vanilla extract.
Add the dry ingredients to the wet ingredients and mix well until the batter is smooth.
Add the apple slices and carefully combine with the batter making sure all apples slices are evenly covered.
Carefully transfer the apples into a spring form pan or baking dish ( I use 9-inch spring form pan or 8 by 8-inch baking dish). Arrange the apples evenly so that there are no gaps between slices.
Bake in the preheated oven for about 40 minutes.
Let the flan cool completely before cutting.
Notes
Any dairy-free or cow's milk would work too.