This hot apple cider is the ultimate comfort drink for dark and cold evenings. It has the perfect flavor balance of apples and mulling spices and is slightly sweetened with raisins.
This spiced hot drink makes a perfect addition to your Thanksgiving and Christmas parties and is sure to impress your guests. It's also a fun DIY project for a cold-weather weekend.
Different Ways You Can Make Hot Apple Cider at Home
There are quite a few ways you can make hot mulled apple cider yourself.
You can buy fresh unfiltered apple cider or even apple juice at a grocery store and simmer it with some mulling spices. Although, I prefer unsweetened apple cider because apple juice might contain added sugar and is also more processed.
You can also juice apples using a juicer and then use the juice to prepare homemade hot spiced cider.
I think these are all great options that produce delicious hot apple drinks. Making homemade hot apple cider from apples is just one way of preparing this popular fall and winter beverage.
This method of making hot apple cider is very useful if you happen to have lots of apples from an apple tree or if you can buy very inexpensive local apples at a grocery store or farmer's market.
For example, we usually enjoy an abundance of local apples here in Ontario during fall and early winter which is a perfect time to cozy up on the couch with a cup of this hot mulled cider.
Is making hot apple cider from scratch cheaper than preparing it from store-bought apple cider?
The answer to this question is – it depends. If you have an apple tree in your garden then it's definitely cheaper making your own.
Also, you can use apples that are not in a super great condition so making hot apple cider from scratch is a great way of using them up and reducing food waste.
I can often buy bruised or slightly damaged apples at my grocery store at very low prices. These apples are great for making hot apple cider from scratch on a budget.
Is making hot mulled apple cider from scratch time-consuming?
In my opinion, it's not very time-consuming. The apples simmer for 2 hours but most of this time is pretty much hands-off. You only have to check on it a few times to make sure everything looks good.
What Ingredients Do You Need to Make Hot Apple Cider From Scratch?
1. Apples
You can use any apples to make hot apple cider. You can use apples of the same variety or mix different types of apples. The best part about this recipe is that you don't need perfect apples to make it. Apples that are bruised or starting to dry out are perfectly fine.
It's better to use apples that are not covered with wax because you really don't want to have any wax in your drink. If your apples are covered in wax make sure to wash them thoroughly under hot running water and scrub them with a vegetable brush.
2. Sweetener
Traditionally, hot apple cider is made with white or brown sugar. Maple syrup is also used very often to make the drink a little healthier.
Inspired by Scandinavian Christmas drinks, I decided to sweeten this hot apple cider with raisins. They add a subtle fruity flavor and are a healthy way to sweeten this drink.
3. Orange
Orange is another main ingredient in hot mulled apple cider. It adds a wonderful aroma to the drink which makes it quite festive.
Some people just cut up an orange and add it to the pot. It might work out just fine when you are making hot apple cider from apple juice or unfiltered apple cider. However, when you cook an orange with skin on for a long time it can totally ruin your hot apple cider batch because it might become bitter. That's why I prefer to zest the orange and then juice it to make sure I fully avoid the white pith.
4. Spices
Spices used for homemade hot apple cider are called mulling spices and include the popular fall and winter warming spices such as cinnamon, cloves, nutmeg, allspice, cardamom, and anise.
The best part is that you can totally adjust the amount of mulling spices you add to the drink to make sure it tastes just the way you like it.
5. My Secret Ingredients
My secret ingredients (which are not so secret anymore!) are apple cider vinegar and molasses.
Apple cider vinegar adds just a touch of acidity to balance out the sweetness of the drink. And molasses makes the flavor deeper and richer.
I add them at the very end when the hot apple cider is already strained. I add the apple cider vinegar first and then I taste the cider and add molasses if needed. If you watch out for sugar, keep in mind that molasses adds more sugar to the drink.
6. Garnish
The most popular garnishes for hot apple cider are sliced apple, orange, lime and/or lemon. You can also add more spices such as cinnamon sticks, anise stars, or whole cloves.
Garnish not only makes the drink look very pretty but also adds another dimension to the flavor of this drink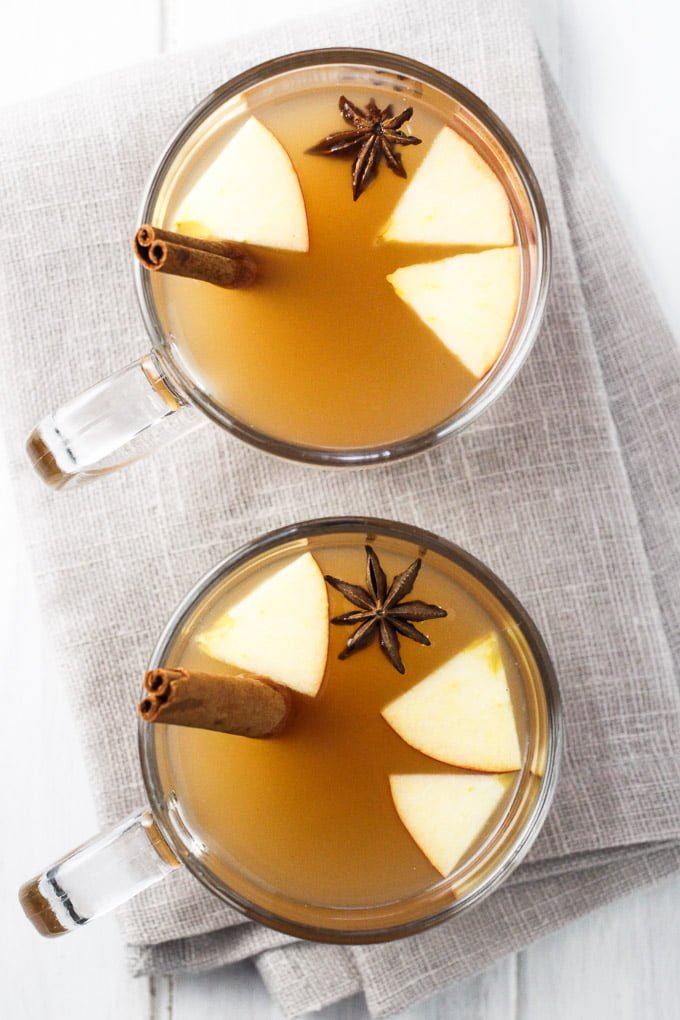 How to Make Hot Mulled Apple Cider From Apples: Step-by-Step Instructions
Step 1.
Fill up a big pot with 12 cups of water. Put the pot on the stove and turn on the heat.
To prepare the apples for cooking, thoroughly wash them under hot running water. Apples from grocery stores are often covered with wax. We don't really want any wax in the hot apple cider so it's better to remove it as much as possible before starting to cook them.
Once the apples are washed, cut them into quarters or, if your apples are very large, cut each apple into 5 or 6 pieces.
Make sure to remove the core as the apples are going to be cooked for a long time and the apple seeds might add some bitterness to the drink.
Step 2.
Place the cut and cored apple pieces into the pot.
Add the raisins, whole cloves, anise star, cinnamon stick, allspice, and ground nutmeg. Bring to a boil. Reduce heat, cover and cook for one hour at a low boil.
Also, make sure to keep the lid on at all times otherwise a lot of liquid will evaporate.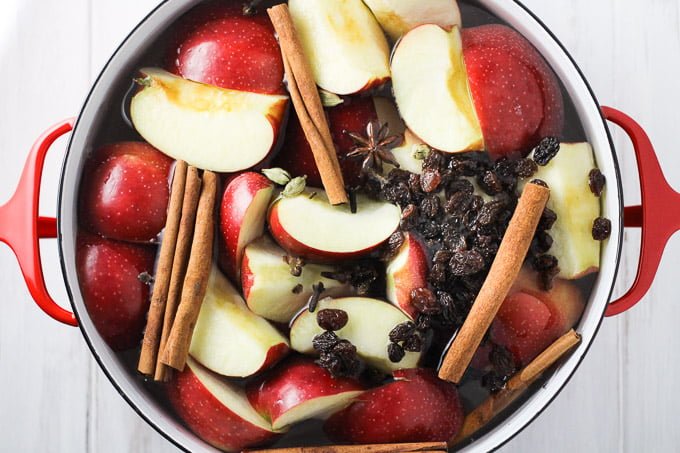 Step 3.
Prepare the orange by thoroughly washing it under hot running water. If you bought a non-organic orange, it's most likely also covered in wax. Since you are going to use the skin of the orange, you have to wash it very well and possibly scrab it to remove as much wax as possible.
Zest the orange using a microplane zester. Make sure to avoid any of the white pith because it can make your hot apple cider bitter.
Once you are done zesting the orange, press out the orange juice.
Step 4.
After one hour of cooking, open the lid and slightly mash the apples with a potato masher. No need to make apple puree, just make sure that the apples are slightly broken apart.
Add the orange juice and zest. Bring the apple cider to the boil. Reduce heat, cover and continue simmering for one more hour.
Step 5.
After two hours of cooking the cider, turn off the heat and let it cool.
You can leave it either until it's cool enough to handle or until it's completely cold. You can even leave it overnight.
Step 6.
Although it takes about 2 hours to cook the hot apple cider from scratch, it's mostly hands-off. The cider will slowly simmer in the background while you are doing other things. Straining the cider, on the other hand, might become a bit messy and time-consuming.
However, if you follow these 4 easy steps, it will take you only about 5 minutes to strain it:
What You Need to Strain the Hot Apple Cider:
a slotted spoon;
2 mesh strainers (you can also do it with one strainer but it will take longer) one of the strainers should be medium or large in diameter;
2 bowls or pots;
cheesecloth.
How You Can Quickly Strain the Cider:
Prepare the mesh strainers by placing them over bowls or pots.
Cover the bigger strainer with cheesecloth. With a slotted spoon, remove the apples, raisins, and spices from the pot and place them into the strainer. Remove as much as you can and leave it to drain a bit.
Then press the cheesecloth to squeeze out as much of the liquid as possible.
Cover the second strainer with cheesecloth. Pour the apple cider through the strainer to filter out the little bits. Press the cheesecloth to squeeze out the liquid. Combine the liquid from both bowls.
Step 7.
Once you have strained the cider, add the apple cider vinegar. This is my secret ingredient that adds just the right amount of acidity to the drink.
Taste the cider and add the molasses if desired.
When you are ready to serve the hot spiced apple cider, reheat it on the stove and serve it as is or add your favorite garnishes such as sliced apple, lime, orange, lemon, whole cloves, cinnamon, sticks, or star anise.
If you need to store the cider, you can keep it in the fridge for up to 3 days.
Other Healthy Drinks for Cold Weather You Might Like:
How to Make Hot Apple Cider From Scratch
Total Time:
2 hours
15 minutes
Make hot spiced apple cider from scratch! This mulled apple drink makes a perfect addition to your Thanksgiving and Christmas parties and is sure to impress your guests. It's also a fun DIY project for a cold weather weekend. Cooked on the stove and you can also make it in a slow cooker.
Ingredients
12 cups water
2 pounds of apples
1 cup raisins
6 whole cloves
1 anise star
6 cinnamon sticks (about 3 or 4 inches long)
4 cardamom pods (or 1/2 tsp ground cardamom)
1/2 tsp allspice
1/4 tsp ground nutmeg
1 orange
1 Tbsp apple cider vinegar
1/2 - 1 Tbsp molasses (optional)
Garnish (optional):
1 or 2 apples, sliced
2 cinnamon sticks
2 anise stars
4 whole cloves
1 orange, sliced
1 lime, sliced
1/2 lemon, sliced
Instructions
Pour water into a large pot. Put it on the stove and turn on the heat. Wash the apples and cut each apple into 4 to 6 pieces.
Place the apples, raisins, cloves, anise star, cinnamon sticks, allspice, and nutmeg into the pot with water. Bring to a boil. Reduce heat, cover and cook for about 1 hour keeping the liquid at a very low boil.
In the meantime prepare the orange by scraping off a thin layer of the orange peel (a microplane grater works best but you can use a regular grater too) and then pressing out the juice from the orange.
After about one hour, open the lid and slightly mash the apples using a potato masher. No need to create apple puree, just make sure the apples are slightly broken apart. Add the orange zest and orange juice.
Close the lid and continue cooking the hot apple cider for another hour. Once it finished cooking, turn off the heat and let it cool.
Strain the hot apple cider. Please refer to the blog post for the step-by-step instructions on how to quickly strain it.
Add the apple cider vinegar. Taste and add molasses if desired. When ready to serve, heat it up and add garnishes.
Notes
1. The drink keeps well in the fridge for up to 3 days.
2. If you keep it in the fridge, you can add a cinnamon stick to further infuse it with spices.
3. This recipe makes about 10 to 11 cups of hot spiced apple cider. Make sure to keep a lid on the pot at all times when cooking to ensure the liquid doesn't evaporate too much. Also, a lot of the liquid will be in the cooked apples so make sure to squeeze them well once you remove them from the pot.
4. Nutrition information is a rough estimate for 1 of 6 portions.
Recommended Products
As an Amazon Associate, I earn from qualifying purchases.
Nutrition Information
Yield

6 portions
Serving Size

1.5 cup
Amount Per Serving
Calories

161.5
Total Fat

5g
Saturated Fat

0.1g
Trans Fat

0g
Unsaturated Fat

0.4g
Cholesterol

0mg
Sodium

18.1mg
Carbohydrates

39.4g
Fiber

1.5g
Sugar

32.6g
Protein

0.8g
Nutrition facts provided on this website are an estimate and not guaranteed to be accurate. Please see a qualified health care provider for personalized diet advice and make sure that each of the ingredients is allowed in your diet.