This Healthy Cabbage Salad is crunchy and delicious. With each forkful, you get a bite of nutritious vegetables, apple, and a burst of zesty dill.
It's made with budget-friendly ingredients and is a great make-ahead salad as it stores well in the fridge.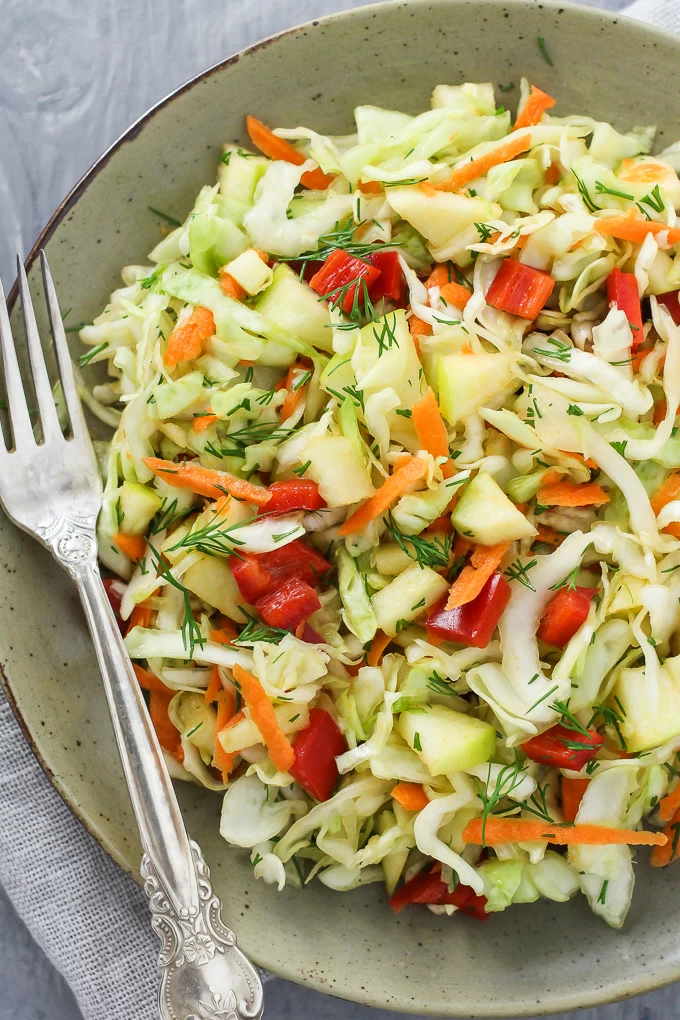 Unlike a classic coleslaw, this is a no-mayo cabbage salad, so you can make it in advance, and it'll hold up better in warm weather.
Cabbage salad also pairs well with various grilled meats, so this refreshing salad is the perfect side dish to make for your next backyard BBQ or potluck!
Why You'll Love This Recipe
Here are four reasons why this recipe is a keeper:
As the name suggests, this cabbage salad is healthy. Made with a blend of colorful veggies, apples, fresh dill, and a low-fat dressing, this salad is loaded with nutrients, vitamins, and minerals.
It's also naturally gluten-free and dairy-free.
This easy salad makes for a great make-ahead side dish. The firm, crunchy vegetables will hold their textures even when stored in the fridge for a few days (and the flavors will only get better).
It's customizable. The options are endless when it comes to customizing a cabbage salad.
Ingredient Notes
Here is a brief overview of the ingredients you'll neet to make healthy cabbage salad:
Green Cabbage – I like using green cabbage to make this salad, but you are more than welcome to use a blend of purple and green.
Green Apple – A diced apple adds sweet and tangy flavor to balance the slightly bitter flavor of cabbage.
Carrot – Grated carrot provides a pop of contrasting color while giving this healthy salad a boost of fiber and beta-carotene.
Red Bell Pepper – Diced red bell pepper adds crisp, sweet flavor and a boost of vitamin C.
Fresh Dill – Chopped dill adds a fresh, distinct flavor and lots of nutrients.
White Vinegar – This popular vinegar adds a pleasant tang to the salad.
Extra Virgin Olive Oil – This rich oil lightly dresses the salad and adds healthy fats to the dish.
Sugar – White sugar softens the cabbage by breaking down tough fibers and helps to ferment the cabbage.
Salt – Salt enhances the flavor of the salad.
Lemon Juice – Freshly squeezed lemon juice adds a punch of fresh citrus flavor and keeps the apples from browning.
How To Make Healthy Cabbage Salad
Here are the step-by-step instructions on how to make this cabbage salad recipe:
Step 1. Prepare the Salad Ingredients.
With a sharp knife, carefully remove any core or stem from the cabbage. Slice the cabbage into thin strips.
Place the shredded cabbage in a large mixing bowl. Dice the green apple into 1/4″ pieces and toss with the lemon juice. Grate OR finely julienne the carrot. Dice the red bell pepper into 1/4″ pieces. Chop the dill.
Step 2. Massage the Cabbage.
In the bowl with the shredded cabbage, add sugar and massage the cabbage with your hands for about 30 seconds or until the cabbage softens slightly.
Step 3. Add the Remaining Ingredients.
Add the apple, carrot, red bell pepper, dill, vinegar, and oil to the bowl with the shredded cabbage. Season with salt and toss until all vegetables are coated, and everything is well-combined. Serve cold.
Recipe Tips
Here are a few tips to help you make the best cabbage salad:
Do your best to slice or shred the cabbage the same size and cut the remaining ingredients in the same size and shape so you get an equal amount of each flavor and texture in each bite.
To make the shredded cabbage softer and easier to chew and digest, place it in a large bowl, sprinkle with sugar, and massage for about 30 seconds or until the cabbage begins releasing moisture.
Massaging cabbage with sugar for coleslaw and cabbage salad also helps preserve and ferment the cabbage, so it stores well in the fridge for a couple of days.
To make a sugar-free cabbage salad, simply omit the sugar and use a bit of salt to massage the cabbage. If you use salt, you'll want to rinse the shredded cabbage after massaging it so your salad isn't too salty.
Toss the apple in lemon juice before adding it to the salad to prevent the apple from turning brown. Lemon juice is high in vitamin C, which is a powerful antioxidant.
Don't be afraid to add a generous amount of dill. Dill is very nutritious and adds incredible garden-fresh flavor.
For the best flavor, store the salad in the fridge for 2 to 3 hours before serving. This will make all of the natural flavors pop. Toss gently before serving.
This healthy cabbage salad is perfect for parties and potlucks because it stores well, and the ingredient amounts can easily be adjusted to make as big of a batch as necessary.
Flavor Variations
Make this salad with shredded Napa cabbage with a simple Asian-inspired dressing. Just sub white vinegar for rice wine vinegar and add a splash of soy sauce, sesame oil, and freshly minced ginger.
This simple cabbage salad would taste great with a bit of added heat, like a tablespoon of Sriracha and minced jalapenos.
You can also add broccoli florets, shaved Brussels sprouts, nuts, and seeds (like slivered almonds, pumpkin seeds, sunflower seeds, etc.), and fresh herbs (parsley, cilantro, etc.).
Storing
If properly stored in an airtight container, coleslaw and cabbage salad will last in the refrigerator for 2 to 3 days. Freezing is not recommended.
Frequently Asked Questions
Is cabbage salad the same as coleslaw?
The terms are used interchangeably within recipe writing, but commonly "coleslaw" recipes are mayonnaise-based while "cabbage salad " recipes are vinegar-based.
Can you eat red cabbage raw in a salad?
Red cabbage can be eaten raw or cooked just like green cabbage.
Can I use red cabbage to make this salad?
Yes, absolutely!
Can I eat purple cabbage raw?
Yes. Red cabbage and purple cabbage are the same things.
More Healthy Raw Salad Recipes
If you love raw salads, check out these recipes:
Healthy Cabbage Salad
This simple cabbage salad is easy and budget-friendly. The salad is delicious, and chock-full of healthy nutrients. Perfect to make a big batch and enjoy for a couple of days.
Ingredients
1/3 green cabbage, shredded
1 green apple such as Granny Smith
1 carrot, grated
1 red pepper, diced
½ cup dill, chopped
3 Tbsp white vinegar
1 Tbsp olive oil
1/2 Tbsp sugar
salt to taste
1 Tbsp lemon juice
Instructions
Place the shredded cabbage into a large mixing bowl. Sprinkle with sugar and massage the cabbage with your hands for about 30 seconds. This will help to break down the fibers and make the cabbage softer.
Chop the apple and toss it in the lemon juice.
Add the apple, carrot, red pepper, dill, white vinegar, and oil. Season with salt and toss to combine.
Notes
1. Keeping the salad in the fridge for 2 to 3 hours before serving makes it even better.
2. This salad is great for a party, just double the recipe if you are expecting a big crowd.
Recommended Products
As an Amazon Associate, I earn from qualifying purchases.
Nutrition Information
Yield

5
Serving Size

1/5 of recipe
Amount Per Serving
Calories

64
Total Fat

2.9g
Saturated Fat

0.4g
Trans Fat

0g
Unsaturated Fat

2.3g
Cholesterol

0mg
Sodium

39.8mg
Carbohydrates

8.9g
Fiber

1.9g
Sugar

6.3g
Protein

0.6g
Nutrition facts provided on this website are an estimate and not guaranteed to be accurate. Please see a qualified health care provider for personalized diet advice and make sure that each of the ingredients is allowed in your diet.