Learn how to thicken soups and stews without flour or cornstarch using this comprehensive list of fuss-free thickening agents – many of which you may already have in your kitchen! Gluten-free, dairy-free, and grain-free options are included.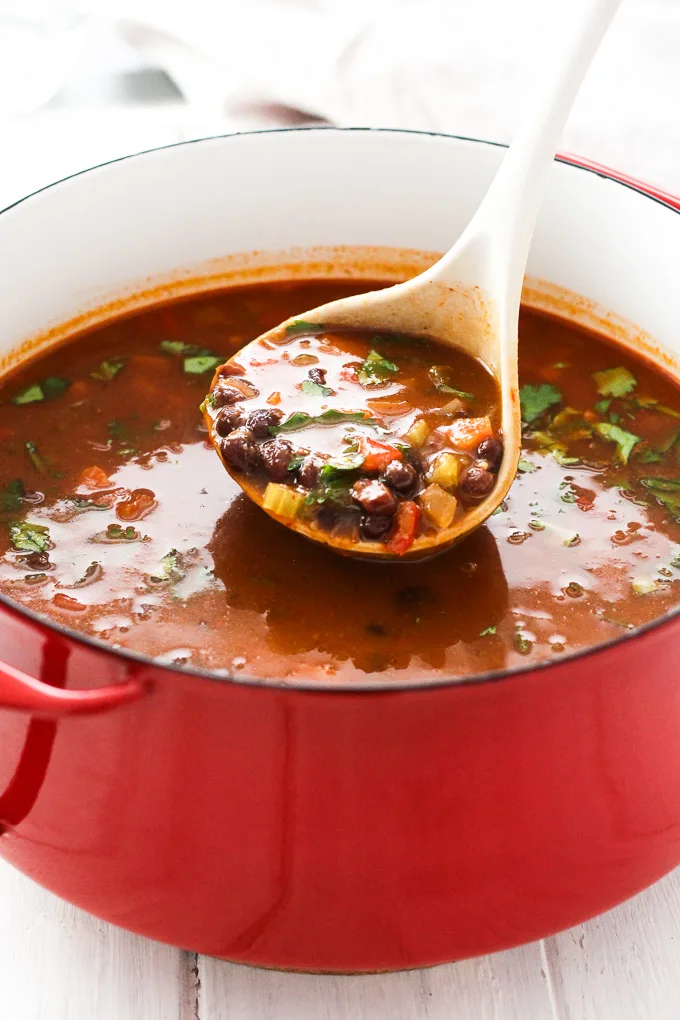 In soups like chicken soup and vegetable soup, a thin, brothy base is a good thing.
But when you're craving something thick and creamy, having some tricks up your sleeve to adjust the soup's consistency precisely to your preference certainly comes in handy.
There are many ways to thicken soups and stews – cornstarch and white flour roux being the standard. But in this post, we're focusing on methods that achieve the same delicious results without the need for white flour or modified cornstarch.
As for which method to go with, you know best what texture you're going for and the ingredients you can use.
So keep reading, and by the end, you'll be an expert on thickening soups without cornstarch or flour and which option is the best for your soup!
Why Thicken Soups with no Cornstarch or Flour
There are several reasons you may want to skip the cornstarch or flour roux as a thickening agent.
Here are a few of them:
Fix thin, brothy soup. If you've made a soup that isn't as thick and creamy as you'd like, this list most likely includes an ingredient you already have to use as a thickening agent.
Make soup more filling. Sometimes all a soup needs to hold its own as a hearty meal is a thicker, more full-bodied broth made with healthier ingredients.
Accommodate food sensitivities. If you're making soup for anyone with wheat, dairy, or grain intolerances, this guide has gluten-free, dairy-free, and grain-free options.
Keep it healthy and clean. Overall, these techniques result in nourishing and comforting soups with rich flavor and creamy texture.
Without further ado, let's dig deeper into how you can thicken a soup without cornstarch or flour.
Reduce to Thicken
Reducing means letting liquids boil until the excess liquid cooks off.
Remember, some soups are more susceptible to burning when cooked past a certain temperature, specifically dairy and cream-based soups. So instead of boiling to reduce cream-based soups, gently simmer the liquid to thicken it properly.
This method is best for thickening clear soups, stocks, and broths. It improves the viscosity while concentrating the savory flavor.
Puree to Thicken
This works best with soups made with purely vegetables (or beans) rather than pasta and grains.
It's as simple as pureeing a portion of the soup to replace some (or all) of the liquid. I used this technique to thicken this black bean soup.
If you intend to puree a part or all of your soup, here are a few quick notes about equipment:
Immersion blender – An immersion blender makes the pureeing process a cinch, as you can puree the soup directly in the pot until the desired thickness is reached.
Potato masher – If you do not have an immersion blender, a potato masher will do the trick, but be careful when mashing the vegetables directly in the pot, as they will be hot!
Blender (or food processor) – Once cool enough to handle, transfer a portion (or all) of the vegetables (or beans) from the soup pot to the blender and blend until smooth. You can push it through a mesh sieve to make it even smoother. Finally, return the pureed veggies to the pot and mix to combine.
Creamy Thickening Agents
Coconut milk – A can of full-fat canned coconut milk or coconut cream is perfect for creamy soups. For a smooth, velvety finish and richer flavor, stir a generous amount into your soup when it's almost ready.
Heavy cream – If there are no milk sensitivities and dairy isn't a concern, full-fat heavy cream can also be used as a great thickening agent. For the best results, add cream when the soup is almost done cooking.
Potatoes & Other Vegetables
Potatoes – All different types of potatoes are great for thickening soups, especially chowders and baked potato soup. When your soup is nearly finished, and the potatoes are fork-tender, you can puree as much or as little as you like.
Cauliflower – Like potatoes, cauliflower is a mild-flavored vegetable you can puree in soup to make it thicker; plus, cauliflower has a lower glycemic index. Not to mention, this is a great way to sneak nutrient-dense cauliflower into your children's diet!
Other starchy vegetables – Another quick way to bulk up soup without flour or cornstarch is with high-starch vegetables. Pureeing veggies as a thick soup base is an option, but you can leave the pieces whole. The veggies release just the right amount of starch during cooking to thicken the soup.
Here are a few other vegetables to try:
Acorn squash
Butternut squash
Carrots
Green peas
Parsnips
Pumpkin
Sweet potato
Yams
Beans & Lentils
A neutral-flavored bean, like chickpeas, white cannellini beans, and great northern beans, tends to work best as a thickening agent.
If you want to use them for thickening your soup, you have a couple of options.
The most straightforward way is by cooking beans with your soup and pureeing them directly in the pot once it's finished.
Alternatively, you can make a "bean slurry" by blending the beans with equal parts hot soup broth. Add the mixture to the pot of soup and stir until smooth.
Lentils, the smallest member of the bean family, is also an option.
You can use green, brown, or red lentils. I like red lentils the best because they fall apart as they are cooked! Check out my spicy red lentil soup for an example.
Grains & Pasta
Cooking whole grains and pasta in soup thickens the broth and boosts the fiber content.
Brown rice is lovely in soups. If there aren't any gluten sensitivities, whole wheat pasta, bulgur, and barley are fantastic whole-grain options.
The perfect ratio is ½ cup of uncooked rice, grains, or pasta per 4 cups of broth.
Be sure to add it to the soup at just the right time, so it finishes cooking at the same as the soup. If you add these rice, grains, & pasta to the pot too early, they will absorb too much liquid and ultimately overcook and become mushy.
Nuts & Seeds
Ground nuts and seeds enhance creamy soup bases with slightly sweet, nutty undertones and high-quality protein.
Simply soak raw, unsalted almonds, walnuts, pecans, cashews, chia seeds, flaxseeds, etc., in water to soften slightly, then drain and blend into a paste using a high-speed blender.
Fold the paste into the hot soup until smooth.
Eggs
This thickening method may seem odd, but egg yolks add density, flavor, and extra grams of protein to brothy soups.
To use eggs instead of a roux, whisk one egg with a small amount of your soup base, stir the mixture into the hot soup, and let stand until thickened.
Other Flours and Starches
Lastly, you can substitute white flour and cornstarch with other flour and starches that align with your dietary needs.
For example, chickpea, arrowroot, tapioca, and rice flour are excellent gluten-free alternatives for silky smooth soup broths and stocks.
Mix 1 tablespoon of the alternate flour or starch with two tablespoons of cool water. Then, add the mixture to the pot of simmering soup and let it cook until the soup base magically thickens!
Combination of Methods and Ingredients
You can always use two or more of these methods if it works best for your soup.
For example, I used a combination of starchy ingredients to thicken this barley vegetable soup.
Final Thoughts
As you can see, there are quite a few healthy ways to thicken soups without flour or cornstarch.
Ready to test out these techniques? The recipes below and my collection of easy healthy soup recipes is a great place to start.
Just be sure to keep an eye on the pot, as the time it takes to thicken a soup to the right consistency will vary depending on the methods and ingredients you decide to use.