These vegetarian stuffed tomatoes can be served as an appetizer, side dish, or main dish. The tomatoes are generously stuffed with mushrooms, feta, spinach, and garlic and then gently baked to perfection.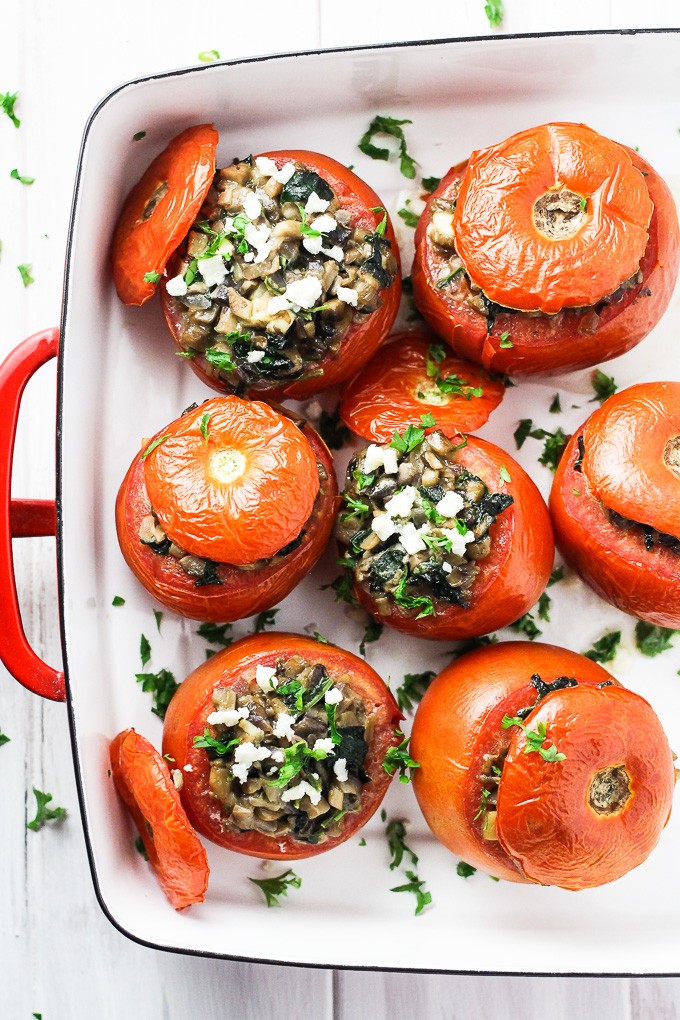 Usually, tomatoes play a side role in our meals. We mostly use them in salads, sauces, or soups to show-case other ingredients. This time of year when tomatoes are in abundance let's make them a star of the show!
These vegetarian stuffed tomatoes will make an impressive appetizer for your dinner party. They can also be eaten as a light but a quite filling meal.
I find that these baked stuffed tomatoes taste best just out of the oven. But they can also be reheated the next day to eat for lunch.
If the tomatoes you are using have round bottoms and wouldn't stand in a baking dish, you can also bake them in ramekins.
Also, make sure not to overbake them because tomatoes will collapse if they are too soft.
If you like meatless dishes that can be served as a main or side-dish, check out this Vegan Mushroom Goulash, these Savory Steel Cut Oats, or this Vegetarian Quinoa Bake. And for more appetizer ideas, check out this extensive list of Healthy Party Appetizers.
Enjoy!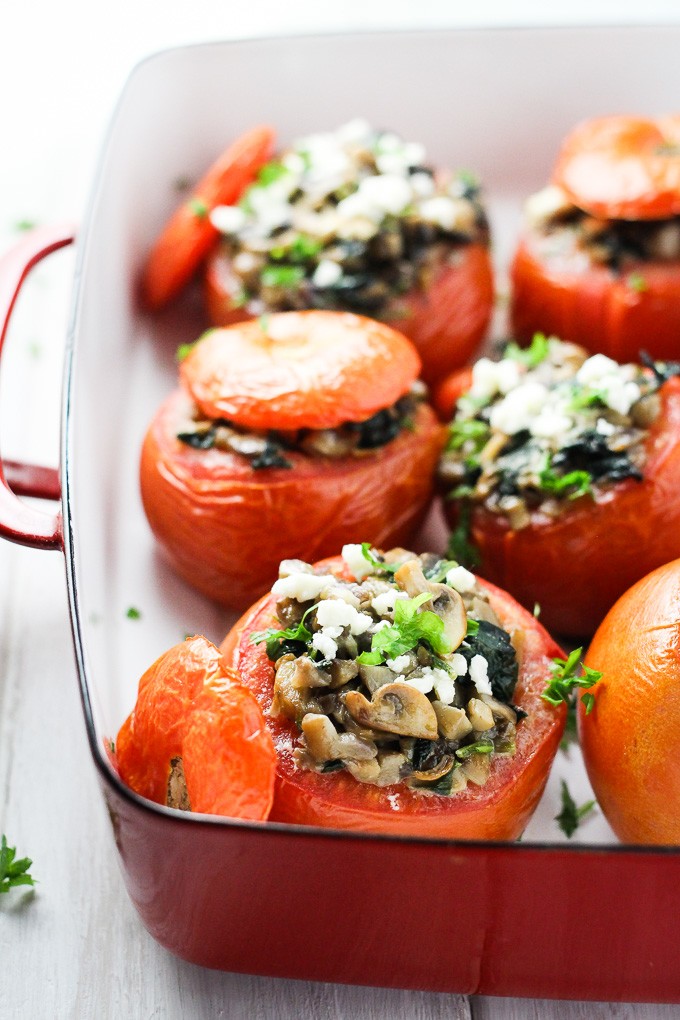 Yield: 6 stuffed tomatoes
Vegetarian Stuffed Tomatoes with Feta and Mushrooms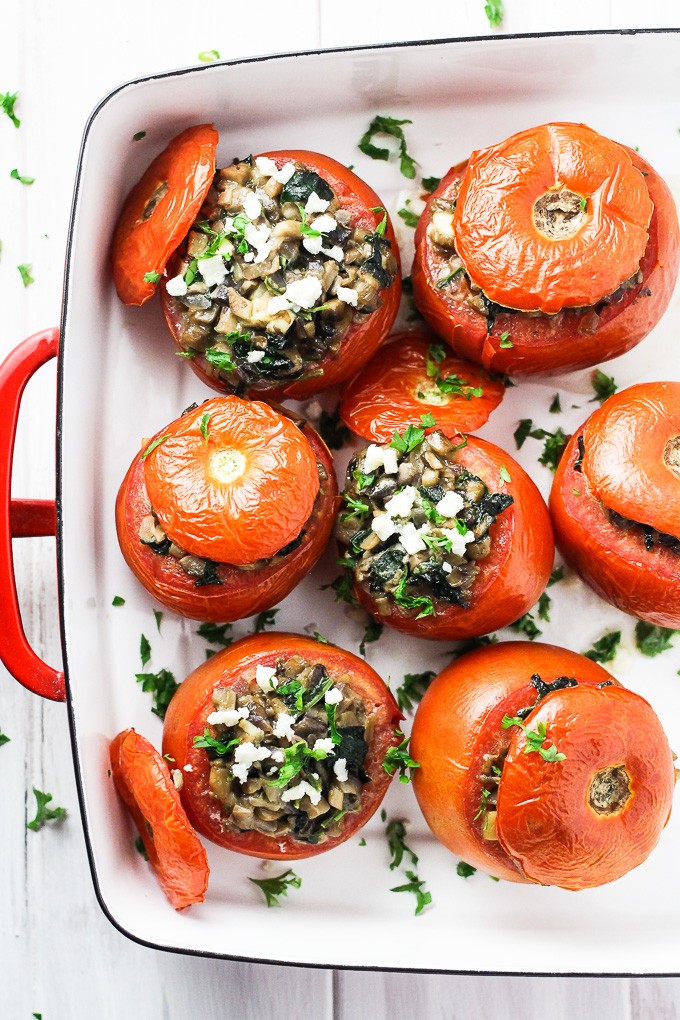 These baked tomatoes are stuffed with mushrooms, garlic, spinach, and feta. They can be served as an appetizer, side dish, or main dish. Very easy to make.
Ingredients
6 tomatoes
2 Tbsp olive oil
3/4 pound white or brown mushrooms, chopped into very small pieces
1/2 medium onion, thinly sliced
2 garlic cloves, chopped
2-3 generous handfuls of spinach, washed, stems removed, the leaves chopped
1/2 cup crumbled feta
Instructions
To prep the tomatoes, cut the tops off. With a paring knife, cut out the middle, then scoop the flesh and seeds out with a spoon. Lightly salt the inside of the tomatoes and place them on a plate upside down (this helps to get rid of excess water).
In a large skillet, heat 1 1/2 Tbsp of olive oil over medium-high heat. Add the mushrooms and cook stirring occasionally until the mushroom liquid has evaporated.
Push the mushrooms to one side of the skillet. Add 1/2 Tbsp olive oil and the onions to the other side of the skillet and cook the onions stirring occasionally until the onions are translucent. Keep an eye on the mushrooms too. Add the garlic to the onions and cook for another 30 seconds then mix the onions, garlic, and mushrooms. ( Alternatively, you can also cook the onions and garlic first, set them aside and then cook the mushrooms. I prefer to cook them together to save time).
Once the mushrooms start to brown, add the spinach and cook, stirring constantly, until the spinach is wilted.
Add the feta cheese and cook until feta starts to melt.
Preheat the oven to 400F.
Using a spoon, stuff the mushroom mixture into the tomatoes. Place the tomato tops on top of the tomatoes.
Place the tomatoes in a baking dish. If the tomatoes have round bottoms, you can also bake them in ramekins.
Place the baking dish or ramekins into the oven and bake the tomatoes for about 15 minutes or until the tomatoes are soft. Do not overbake as the tomatoes will collapse if they are too soft.
Nutrition Information
Yield
6 portions
Serving Size
1 tomato
Amount Per Serving
Calories

112
Total Fat

7.5g
Saturated Fat

2.5g
Trans Fat

0g
Unsaturated Fat

4.6g
Cholesterol

11.1mg
Sodium

125.8mg
Carbohydrates

9g
Fiber

2g
Sugar

5.1g
Protein

4.5g
Nutrition facts provided on this website are an estimate and not guaranteed to be accurate. Please see a qualified health care provider for personalized diet advice and make sure that each of the ingredients is allowed in your diet.