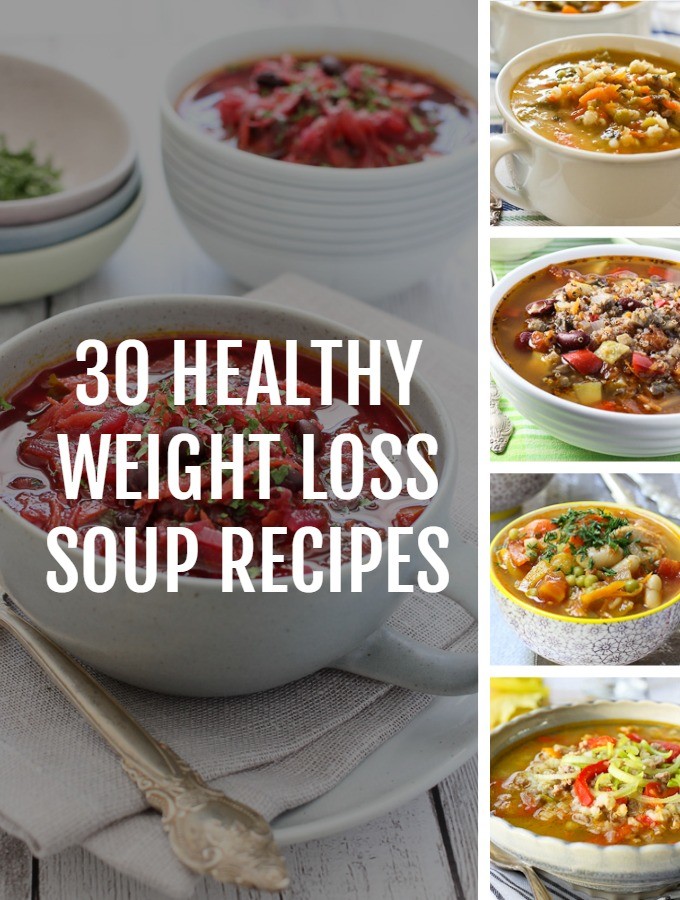 In January, most of us decide to eat healthier and exercise more hoping to loose a few extra pounds along the way. But New Year's resolutions usually work only for a few weeks because they are not specific enough. Although very helpful, good intentions alone are not going to get you very far. If you really want to improve your eating habits, the best way is to learn to cook a few healthy dishes.
Cooking healthy soups is a great way to stay on track with your healthy eating because you can cook a pot of soup on the weekend and then eat it a few times a week. Soups are also filling enough to be served for lunch or dinner. A bowl of a warm hearty soup is very comforting and satisfying and is perfect for winter.

I've chosen thirty healthy weight loss soup recipes from my favorite food bloggers and put them on this list so that you can go over the list and pick three to four (or more!) new recipes that you think you and your family would like. Try these new recipes and adapt them to your taste preferences. This way your will have a few new healthy recipes to add to your weekly rotation.
The recipes on this list are in an alphabetical order.
Beetroot Soup with Beans by Maria Ushakova
Chicken Avocado Lime Soup by House of Nash Eats
Creamy Chicken and Broccoli Soup by My Life Cookbook
Creamy Chicken and Mushroom Soup by Delicious Meets Healthy
Creamy Vegan Cauliflower Soup by Real+Vibrant
Curried Black Lentil Soup by Vegetarian Gastronomy
Easy Curried Lentils by I Heart Vegetables
Greek Lentil Soup Faki by Maria Ushakova
Hamburger Soup Recipe by A Fork's Tale
Hearty Butternut Squash Barley Soup by Maria Ushakova
Hearty Chicken and White Bean Soup by Maria Ushakova
Hearty Ground Turkey Soup by Maria Ushakova
Lentil and Vegetable Soup by TaylorLife
Lentil Spicy Sausage and Spinach Soup by Craving Something Healthy
Middle Eastern Chick Peas Soup by My Cooking Journey
Mushroom and Quinoa Minestrone by Maria Ushakova
Mushroom Medley Chicken and Parsnip Noodle Soup by Meg is Well
Organic Thai Detox Lentil Soup by La Petit Chef
Paleo Italian Wedding Soup by The Kitcheneer
Quick and Easy Black Bean Soup by I Heart Vegetables
Quinoa Vegetable Soup by Veggie Inspired
Salmon Corn Chowder with Coconut Milk by Maria Ushakova
Sausage and Peppers Soup by My Life Cookbook
Slimming Detox Soup by The View from Great Island
Slow Cooker Italian Meatball Soup by Food Done Light
Spring Green Minestrone with Basil-Cilantro Pistou by Caligirl Cooking
Thai Pea Soup by Running to the Kitchen
Vegan Hot and Sour Soup by Cilantro and Citronella
Vegan Mediterranian Three Bean Soup by TaylorLife
Vegan No Stock Minestrone by The Lazy Broccoli
Vegetable Soup with Bulgur by Maria Ushakova
Warming Minestrone Soup by Caligirl Cooking
White Bean and Sausage Soup by Simple Nourished Living