This chicken and white bean soup is delicious, filling, and comforting. Imagine coming home from work to a nice big pot of soup. No need to worry about making your dinner in a hurry, just warm up a bowl of this Hearty Chicken and White Bean Soup and enjoy.
Soup is probably the easiest low glycemic meal you can make. It can be eaten for lunch and dinner and is very easy to make.
Last fall, I wrote a post about How to Make a Perfect Low Glycemic Soup where I shared all my secrets on cooking a hearty healthy soup. If you follow the simple rules I shared in that post, you will become a real pro at cooking soup.
I usually cook a pot of soup once or twice per week. I always cook a big batch so that we have enough leftovers to last us a few days. You can also freeze it in glass containers to use later.
Another great way to get more variety in your diet is to partner with a healthy eating buddy and exchange dishes you prepare at home.
This is how it works: you and your buddy cook different dishes in big batches and then exchange half of the prepared food. This way you only cook once but get twice the variety. This works really well with soups – you only cook one kind of soup (for example, this chicken and white bean soup) but get to eat 2 different kinds of soup. How fun is that?
This buddy system works really well for people who have similar tastes and nutrition preferences. However, it's not a good fit for people with allergies.
So, as we are getting closer to the weekend, why not try this chicken and white bean soup?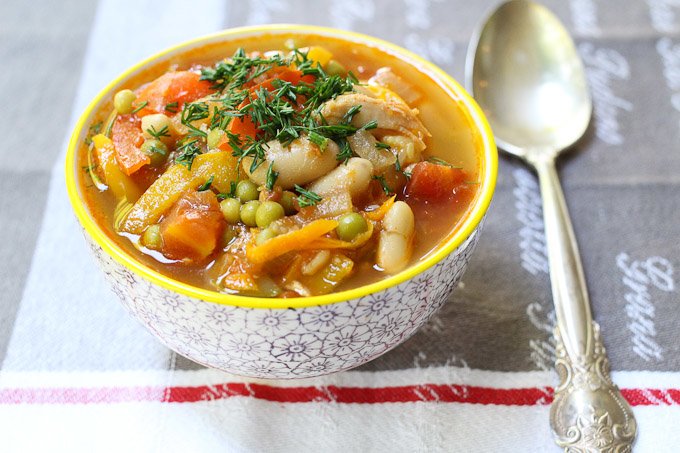 Hearty Chicken and White Beans Soup
This Hearty Chicken and White Bean Soup is really easy to prepare, healthy, filling and comforting. Make a big batch and you are set for the whole week.
Ingredients
2 Tbsp olive oil
1 onion, chopped
1 medium carrot, grated
1 zucchini, chopped
1 red bell pepper, julienned
1 yellow bell pepper, julienned
4 cups low sodium chicken stock
1 can (796 ml/28 oz) diced tomatoes, low sodium or no salt added
4 skinless boneless skinless chicken thighs, cooked and cut into small pieces, See the notes
1 can (19 oz/540 ml) white kidney beans, low sodium or no salt added
1/2 Tbsp red paprika
1/2 Tbsp garlic powder
1/2 tsp cayenne pepper
salt to taste
2 cups frozen green peas
Instructions
In a large pot, heat the olive oil over medium heat. Add the onion and cook, stirring occasionally until the onion is translucent for about 2 to 4 minutes. Add the carrot and cook until the vegetables start to caramelize, for about 4 more minutes.
Add the zucchini and red and yellow bell pepper. Stir and saute the vegetables until they start to soften for about 2 to 3 minutes.
Add the chicken stock, diced tomatoes, chicken, beans, red paprika, garlic powder, cayenne pepper and salt. Bring to a boil. Cover and cook for 8 more minutes.
Add the green peas. Bring to a simmer and cook for 1 more minute.
Notes
1. If you don't have ready-cooked chicken, cook raw chicken meat in water or chicken broth. It takes about 15 minutes. You can cook it while prepping the veggies.
Recommended Products
As an Amazon Associate, I earn from qualifying purchases.
Nutrition Information
Yield

6
Serving Size

1/6 of recipe
Amount Per Serving
Calories

291.2
Total Fat

8.7g
Saturated Fat

1.6g
Trans Fat

0g
Unsaturated Fat

7.1g
Cholesterol

61.4mg
Sodium

635.4mg
Carbohydrates

31.5g
Fiber

8.7g
Sugar

10.2g
Protein

23.1g
Nutrition facts provided on this website are an estimate and not guaranteed to be accurate. Please see a qualified health care provider for personalized diet advice and make sure that each of the ingredients is allowed in your diet.