These Roasted Coriander Carrots with Caramelized Onions make a very filling side dish that can be prepared all year round. Carrots and onions are always available in all grocery stores and are very inexpensive. They also keep very well in the fridge. In fact, you probably already have on hand everything you need to prepare this dish.
My favorite way of cooking vegetables is roasting them in the oven. I love this method because it's easy and doesn't involve any complicated techniques – just clean and cut the veggies, put them in the oven, toss once or twice and you have a delicious dish.
I also find that roasted vegetables taste much better than veggies prepared any other way and often tell people who say that they don't like a particular vegetable to try it roasted.
Make sure to spread the carrots on the baking sheet in a thin layer and toss them at least once during cooking to ensure that they roast evenly and don't burn.
I added a generous amount of olive oil to these roasted coriander carrots. Not only does it make the carrots and onions taste better, but it also helps with the absorption of beta-carotene.
Enjoy!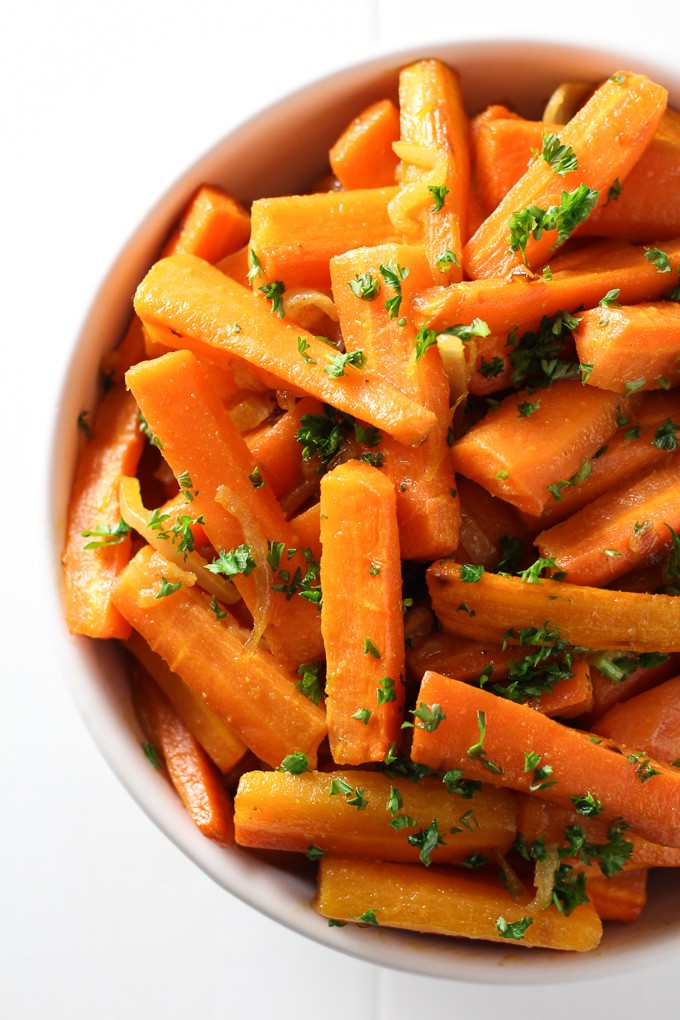 If you like plain vegetable-based side-dishes, check out this German Red Cabbage, this Oven Roasted Cauliflower, or this Spiced Roasted Butternut Squash.
Roasted Coriander Carrots with Caramelized Onions
Roasted Coriander Carrots with Caramelized Onions Recipe. This budget-friendly side dish is very easy to make, delicious and healthy.
Ingredients
3 pounds carrots
2 Tbsp + 2 Tbsp olive oil
1 tsp ground coriander
1 Tbsp maple syrup
salt to taste
1/2 Tbsp apple cider vinegar
1 large yellow onion, thinly sliced
a handful of parsley or cilantro, chopped
Instructions
Preheat the oven to 400F.
Wash and peel the carrots. Cut each carrot into 2 to 4 equal-sized pieces that are about 2 inches long. Then cut each piece into 2 to 4 sticks.
Spread the carrots over a baking dish. Add 2 tablespoons of olive oil, coriander, maple syrup and season with salt. Toss to combine.
Place in the oven and roast for about 30 minutes or until the carrots are tender and start to caramelize. Make sure to turn the carrots with a spatula after about 15 minutes.
To prepare the onion, heat 2 tablespoons of olive oil in a pan over medium heat. Add the sliced onion and cook until the onion is caramelized for about 8 to 10 minutes.
Once the carrots are done, sprinkle them with the apple cider vinegar. Add the caramelized onion and toss.
Sprinkle with the chopped parsley or cilantro before serving.
Recommended Products
As an Amazon Associate, I earn from qualifying purchases.
Nutrition Information
Yield

4 portion
Serving Size

1/4 of recipe
Amount Per Serving
Calories

290
Total Fat

14.5g
Saturated Fat

2g
Trans Fat

0g
Unsaturated Fat

12.5g
Cholesterol

0mg
Sodium

312.1mg
Carbohydrates

39.9g
Fiber

10.5g
Sugar

20.8g
Protein

3.7g
Nutrition facts provided on this website are an estimate and not guaranteed to be accurate. Please see a qualified health care provider for personalized diet advice and make sure that each of the ingredients is allowed in your diet.