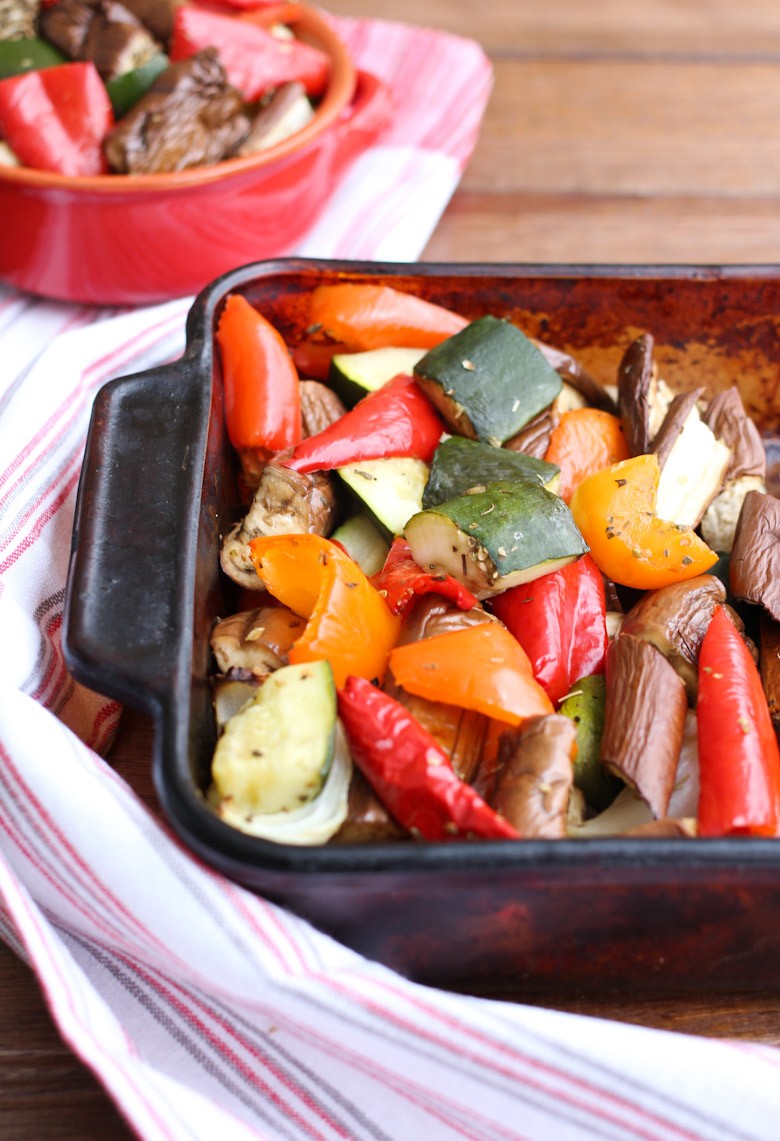 Every time I make roasted veggies I can't help but think how something so easy to prepare can be so delicious and full of flavor. Just one more proof that cooking healthy doesn't have to be difficult or time-consuming.
I usually make a big batch of roasted veggies and keep them in glass containers in the fridge. You can keep them in the fridge for up to 4 days.
Roasted veggies taste wonderful warm or cold and can be used in a variety of ways:
As a side dish served with your favorite source of protein;
In wraps and burritos – cut the veggies and ½ avocado into bite-size pieces, add ¼ cup black beans; place everything in a center of a tortilla and wrap;
In soups – cut the veggies into bite-size pieces and add to your soup. You can also puree the veggies in a blender and add them to the vegetable broth to make a vegetable soup;
In a veggie omelet – use your favorite omelet recipe and add the roasted veggies to it;
In a lasagna – my favorite lasagna recipe: one layer roasted veggies, one layer spinach, one layer sauteed mushrooms, one layer goat cheese;

Make them into a salad

– cut the veggies into bite-size pieces and top them up with feta cheese; also great when served over baby spinach.
Preparing the veggies:
Choose veggies that have similar cooking times. I prefer to roast together onions, bell peppers, zucchini, and eggplants. You can also roast together sweet potatoes, beets, carrots and winter squashes.
Wash the veggies.
Make sure the veggies are dry. Dry veggies will be crispier and will caramelize more evenly.
Peel the veggies if needed.
Cut the veggies into even-sized big chunks; for example, cut a bell pepper into 4 pieces; a medium size zucchini into 4 to 5 pieces; a large onion into 4 to 5 pieces etc. I find that bigger chunks are better for roasting. You can cut the veggies up into smaller pieces once they are cooked.
I don't usually oil the veggies and just add salt, dried oregano, and dried basil. I find that the veggies turn out perfectly and oiling them is not really needed.
How to Make Roasted Veggies
Yield: 6 to 8 servings

Prep Time: 15 minutes

Cook Time: 30 minutes

Total Time: 45 minutes

Learn how to make roasted veggies. It's really easy and you can use them to make a variety of dishes.
Ingredients
2 red bell peppers, core and seeds removed, cut into chunks
2 yellow bell peppers, core and seeds removed, cut into chunks
2 medium zucchini, cut into chunks
3 Chinese eggplants, cut into chunks
1 large onion, cut into 5 pieces
1 tsp sea salt
1 Tbsp dried oregano
1 Tbsp dried basil
oil for the baking dish
Instructions
Preheat the oven to 400F. Oil a baking dish with a little bit of oil.
Place the veggies in a large bowl. Sprinkle with the dried oregano, dried basil and sea salt and toss to cover evenly.
Spread the veggies evenly on the baking dish. Make sure the veggies are spread in a single layer and are not too jammed.
Place the baking dish into the oven and roast the veggies for about 30 minutes or until cooked through. It is a good idea to stir the veggies about halfway through the baking time.
Notes
Line your baking dish with parchment paper for easier transfer and clean up.

Do you like roasted veggies? Do you have your favorite way to use them? Share it with us, by leaving a comment below.