This Instant Pot Mushroom Barley Soup is full of umami flavor. It's comforting and satisfying without being too heavy. This recipe is also very easy to make. This is a non-dairy vegan option of the popular classic plus a major kick of fresh thyme.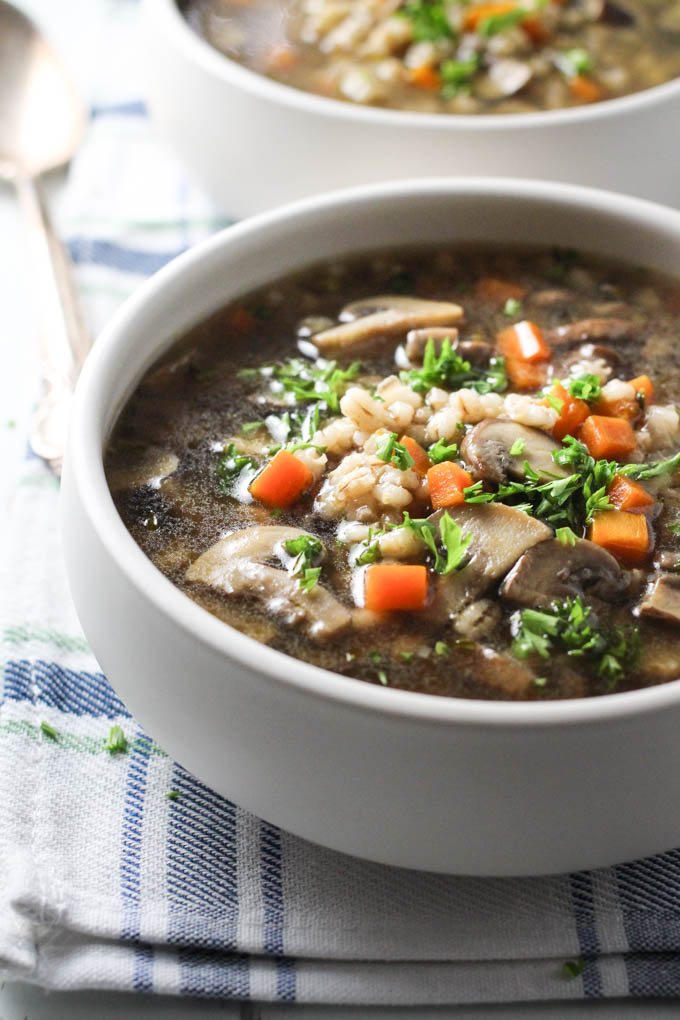 I am so happy to share with you that I finally overcame my fear of pressure cookers.
I bought my Instant Pot almost a year ago but had been really afraid to use it. I think it's because when I was little, I wasn't allowed to go into the kitchen when my Grandma was using her stove-top pressure cooker.
Even though I fully understand that the technology has evolved since then and the Instant Pot is about as much different from my Grandma's pressure cooker as my phone is from the phone we used back then, I was still hesitant.
But a few weeks ago I used it to cook barley, and to my surprise I really liked it! I think I can see now why it has become so popular. So, watch this space for more Instant Pot recipes!
So, the weather got a bit cooler this week and I decided to experiment with my Instant Pot some more and make this Mushroom Barley Soup.
If you are anything like me and have your Instant Pot stored somewhere on the shelf because you are not sure how it works, I highly recommend trying this soup. It's very easy to make, and you will end up with a delicious Mushroom Barley Soup you made from scratch without much effort.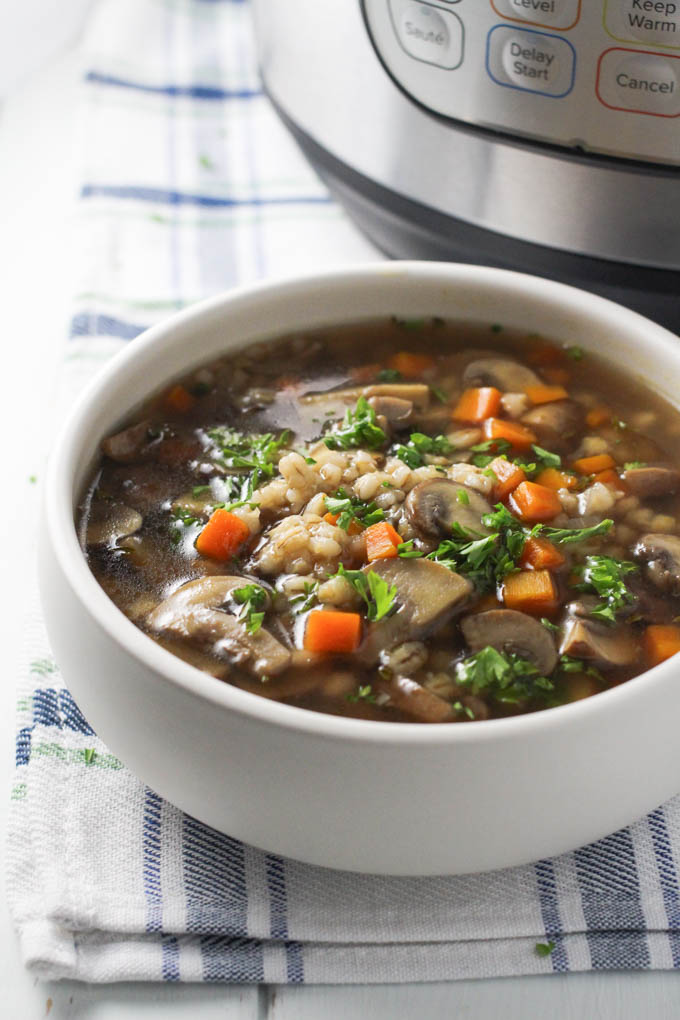 What I like about this soup is that it's easy to cook on a weeknight. You could speed up the things even more by pre-chopping the onions, carrots, and mushrooms in advance so that you just quickly sautee them, add the rest of the ingredients and then set up the Instant Pot to do its magic.
But what do you do if you don't have an Instant Pot? No worries! You still can cook this soup on the stovetop.
To cook this Mushroom and Barley Soup on the stovetop, first sautee the onions, carrots, garlic, and mushrooms. Then add the liquids and all other ingredients. Bring to a boil. Reduce heat, cover, and cook for about 40 minutes until barley is soft and chewy.
Store this soup in the fridge in a glass container with a tight lid for about 2 to 3 days. This soup can also be frozen to use later.
And if you love mushrooms, check out this Vegan Mushroom Goulash, this Mushroom and Quinoa Minestrone Soup, and these Savory Steel Cut Oats.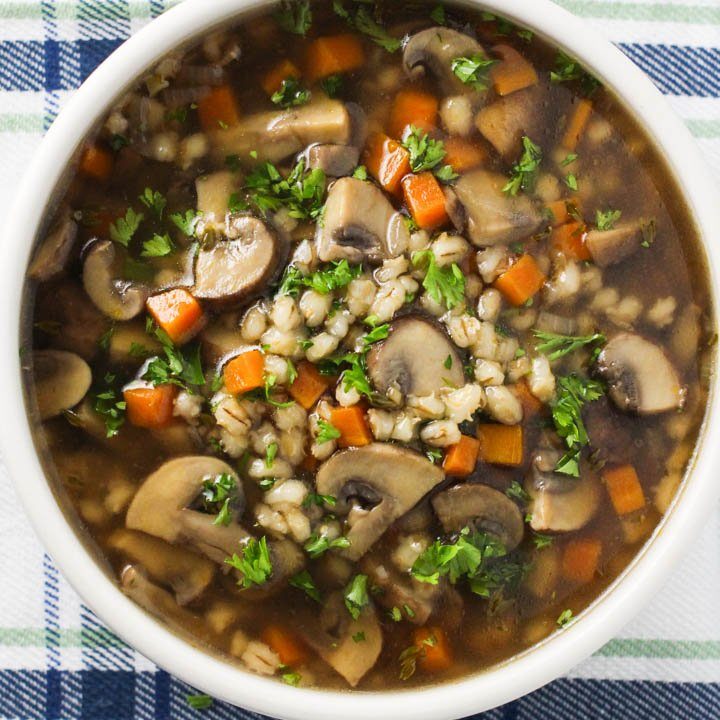 Instant Pot Mushroom Barley Soup
Additional Time:
10 minutes
This Instant Pot Mushroom Barley Soup is delicious and comforting. It's so easy to make that you can cook it from scratch on a weeknight. This healthy recipe is vegan and non-dairy
Ingredients
1 Tbsp olive oil
1 carrot, diced
1/2 medium onion, thinly sliced
2 to 3 garlic cloves, minced
1 pound brown mushrooms, thinly sliced
4 cups low sodium vegetable broth
3 cups water
6 fresh thyme sprigs
1 Tbsp low sodium soy sauce
1/2 cup pot barley
salt and pepper to taste
fresh dill, parsley or thyme for garnish (optional)
Instructions
Add the olive oil to the Instant Pot and select Saute function. (Temperature setting is set to Normal). Preheat the oil.
Add the onion and carrots and cook stirring occasionally until onions are translucent, for about 4 minutes.
Add the garlic and cook until fragrant for about 30 seconds.
Add the mushrooms and cook stirring occasionally until the mushrooms have released their liquid and reduced in volume, for about 4 minutes.
Add the vegetable stock, water, thyme sprigs, soy sauce, and barley. Season with salt and pepper.
Close and lock the lid of the Instant Pot. Make sure the steam release handle is in the Sealing position. Select Pressure Cook and set 18 minutes of pressure cooking time. Select Keep Warm function.
To release pressure, let the Instant Pot go into Keep Warm mode and wait for 10 minutes. Then, press Cancel and carefully position the steam release valve on the lid to the Venting position.
Garnish the soup with fresh herbs before serving.
Notes
You can also use pearl barley instead of pot barley to make this soup.
Recommended Products
As an Amazon Associate, I earn from qualifying purchases.
Nutrition Information
Yield

5
Serving Size

1/5 of recipe
Amount Per Serving
Calories

129.5
Total Fat

3g
Saturated Fat

0.5g
Trans Fat

0g
Unsaturated Fat

2.5g
Cholesterol

0mg
Sodium

241.6mg
Carbohydrates

23g
Fiber

4.4g
Sugar

3.5g
Protein

4.4g
Nutrition facts provided on this website are an estimate and not guaranteed to be accurate. Please see a qualified health care provider for personalized diet advice and make sure that each of the ingredients is allowed in your diet.