This healthy peach crisp is the ultimate summer dessert! It's made with juicy peaches and a few other simple ingredients. This fruit crisp can be served warm or cold, on its own, or with vanilla ice cream.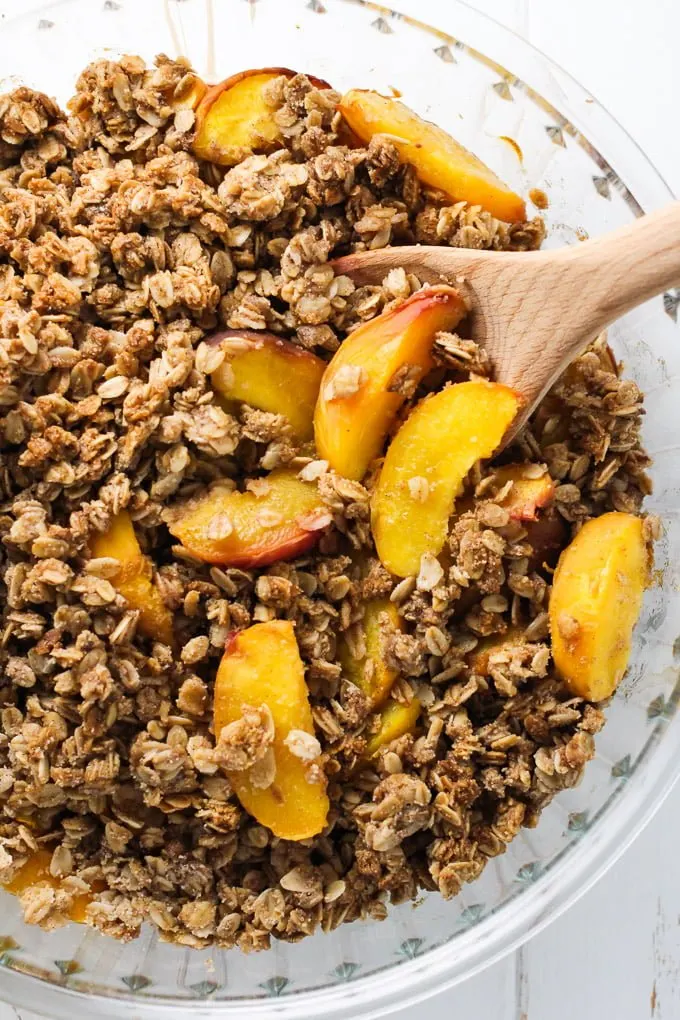 Why You'll Love This Recipe
Here are five reasons why this recipe is a keeper:
This homemade peach crisp is made without flour or cornstarch and is refined sugar free.
It comes together incredibly fast. You only need about ten minutes for the prep.
This is a perfect recipe to use up ripe peaches during the peach season because they don't store well.
This peach crisp is not very sweet and can be eaten as a dessert, breakfast, or snack.
It's a great recipe to make with kids. They can help you make the crumble topping, and you can teach them that no flour or refined sugar is needed to make a delicious dessert.
Ingredient Notes
Here is an overview of the ingredients you'll need to make this healthy peach crisp recipe:
Ingredients for the Peach Filling:
Fresh peaches – Make sure to use ripe peaches. This recipe is made without sugar, so you really want the peaches to be sweet and juicy for the peach crisp to taste good. If the peaches are still hard, they shouldn't be used for this recipe.
Ingredients for the Crisp Topping:
Rolled oats – The base of the crumble topping. For the perfect texture, use 5-minute oats or slow cooking rolled oats. For a gluten-free peach crisp, use gluten-free oats.
Almond meal or almond flour – Acts as the flour in this peach crisp. It adds a pleasant nutty flavor to the streusel-topping.
Coconut oil – Extra virgin coconut oil moistens the crumble topping making it soft and spreadable. It also helps achieve a gorgeous golden-crisp color of the topping.
Maple syrup – This natural sweetener adds mild caramel flavor to the peach crisp. You can also use honey or coconut sugar for a slightly different flavor.
Ground cinnamon – This popular warming spice adds flavor to the peaches and crumble topping. You can also add allspice, nutmeg, cardamom, or ginger.
Salt – You will need just a pinch to enhance the flavor.
How to Make Healthy Peach Chrisp
Here are the step-by-step instructions on how to make this peach crisp recipe:
Preheat the oven to 350F. Wash the peaches and pat them dry. You can peel the peaches if you'd like. Below, you will find the instructions on how to do it. I usually leave the skin on.
Slice the peaches into thin slices and arrange them in a baking dish in an even layer.
To make the oat topping, mix the rolled oats, almond meal, coconut oil, maple syrup, cinnamon, and salt.
Spread the topping evenly over the sliced peaches.
Place the baking dish into the oven and bake for 35-40 until golden brown.
Storing and Reheating
You can store this peach crisp in the fridge for up to 2-3 days. Make sure to cover the baking dish or store it in a glass container with a tight lid.
The crisp can be reheated in the oven or microwave.
Frequently Asked Questions
Should I Peel the Peaches for This Recipe?
You don't have to peel the peaches to make this peach crisp. Peach skins contain a lot of fiber, so it is better to leave them on.
But some people find peach skins to be tough, so you can also remove the skin if you don't like it.
If peaches are overripe, sometimes the skin comes off very easily by itself. If not, here is how you can peel peaches:
Fill a large bowl with cold water and add about one or two cups of ice cubes.
In a large pot, bring water to a boil.
Using a slotted spoon, place the peaches into the boiling water for about 30 seconds.
Carefully remove the peaches from the boiling water and place them into the ice water bath.
Remove each peach from the ice water and pat them dry with a paper towel.
Peel with a paring knife by pulling the skin off.
Can Nectarines be Used Instead of Peaches?
You can use either peaches or nectarines for this recipe, or you can also use some of each.
Can the Oat Topping be Used for Other Recipes?
Absolutely! For example, you can use it to make this Healthy Apple Crisp or this Pear Cranberry Crisp.
More Light Summer Recipes
Here are a few other healthy summer recipes you might like:
Healthy Peach Crisp - No Flour, No Cornstarch
This healthy peach dessert is delicious and very easy to make. It contains no flour and no cornstarch and is naturally sweetened with maple syrup. You can also make it gluten-free if needed.
Ingredients
1 1/2 pound ripe peaches
1 1/4 cup rolled oats (choose gluten-free if needed)
1/2 cup almond meal
1/4 cup melted coconut oil
1/4 cup maple syrup
1 tsp cinnamon
pinch of salt
Instructions
Preheat the oven to 350F.
Wash the peaches and pat them dry. You can peel them if you think that the skin is too thick. I usually don't do that.
Slice the peaches and arrange them in a baking dish in an even layer. You can first oil the baking dish with a little bit of coconut oil. I don't do that because the fruits are moist and don't stick to my baking dish.
To make the crumble topping, mix together the rolled oats, almond meal, coconut oil, maple syrup, cinnamon, and salt.
Spread the topping evenly over the peaches.
Place the peach crisp into the oven and bake for about 35-40 minutes until the crumble topping is golden brown.
Recommended Products
As an Amazon Associate, I earn from qualifying purchases.
Nutrition Information
Yield

6 portions
Serving Size

1/6 of recipe
Amount Per Serving
Calories

286.2
Total Fat

14.6g
Saturated Fat

8.1g
Trans Fat

0g
Unsaturated Fat

6.5g
Cholesterol

0mg
Sodium

31.8mg
Carbohydrates

37g
Fiber

5.2g
Sugar

21.2g
Protein

5.6g
Nutrition facts provided on this website are an estimate and not guaranteed to be accurate. Please see a qualified health care provider for personalized diet advice and make sure that each of the ingredients is allowed in your diet.