This Greek lentil soup is very filling and comforting. It's a hearty soup that you can cook on the weekend and then enjoy all week long.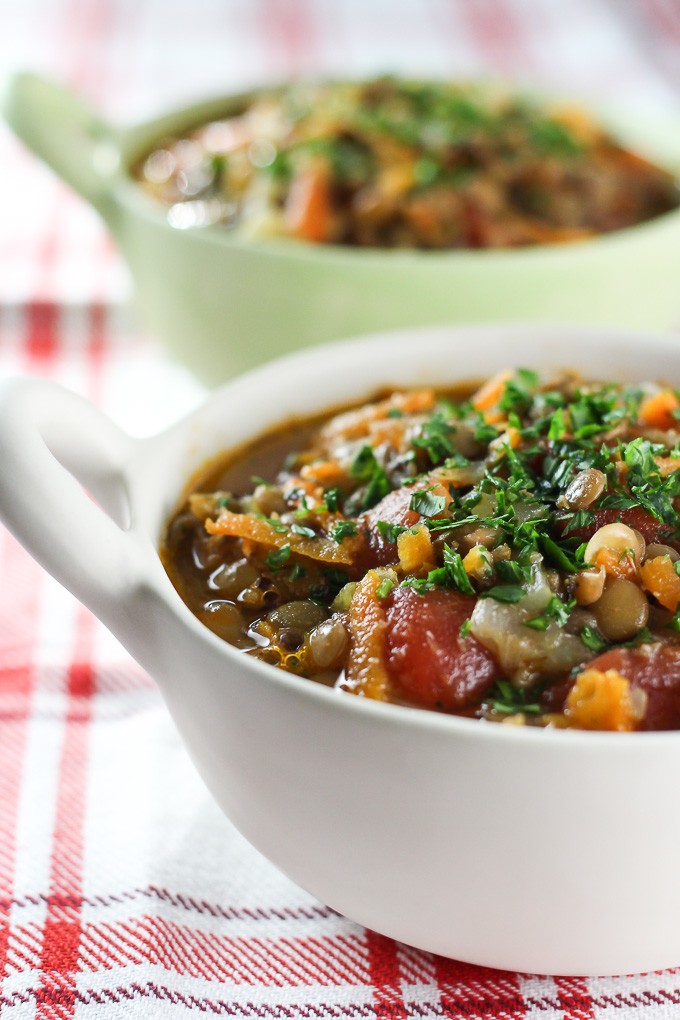 Even though this Greek lentil soup is meatless, I promise that you won't miss the meat because this soup is full of protein and fiber from lentils and vegetables. The combination of protein and fiber makes this Greek lentil soup very filling so that it can be eaten as a meal. In addition, this lentil soup is also naturally gluten-free.
And as a bonus, this Greek Lentil Soup Faki is super budget-friendly. All you need are some green lentils which are on the list of my favorite inexpensive low glycemic foods, carrots, celery, onion, some spices and green herbs and you have a big pot of soup to keep you happy all week long.
This Greek lentils soup is also quite easy to make and is perfect for beginner home cooks.
If you like lentil soups, make sure to check out this Red Lentil Soup with Coconut Milk and this Spicy Red Lentil Soup.
Enjoy!
Greek Lentil Soup - Faki
Yield: 4 to 6 portions

Prep Time: 15 minutes

Cook Time: 30 minutes

Total Time: 45 minutes

This Greek Lentil Soup Faki is full of veggies and protein. It's healthy, filling, and comforting. A budget friendly recipe that is super easy to make.
Ingredients
1 L / 4 cups low sodium vegetable broth
5 cups water
1 1/2 cup green lentils, rinsed
2 Tbsp olive oil
2 medium carrots, chopped
2 celery stalks, chopped
1 medium onion, chopped
1 can (28 oz./796 ml) diced tomatoes (low sodium or no salt added)
1 Tbsp garlic powder
1 Tbsp dried oregano
salt and pepper to taste
fresh parsley or cilantro to serve
Instructions
Add the vegetable stock, water and lentils to a large pot. Bring to a boil. Reduce heat. Cover and cook for about 30 minutes until the lentils start to soften.
In the meantime, heat 2 tablespoons of olive oil in a skillet over medium heat. Add the carrots, celery and onions. Cook stirring occasionally for about 6 to 8 minutes or until the vegetables start to soften.
Add the tomatoes, vegetables, garlic powder and dried oregano to the lentils. Season with salt and pepper. Bring to a boil. Reduce heat. Cover and cook for about 25 to 30 minutes until the lentils and veggies are cooked through.
Serve with fresh herbs such as cilantro or parsley.
Recommended Products
As an Amazon Associate, I earn from qualifying purchases.
Nutrition Information
Yield 5 portions Serving Size 1/5 of recipe
Amount Per Serving Calories 267Total Fat 7gSaturated Fat 1gTrans Fat 0gUnsaturated Fat 6gCholesterol 0mgSodium 178mgCarbohydrates 41gFiber 10gSugar 5gProtein 13g

Nutrition facts provided on this website are an estimate and not guaranteed to be accurate. Please see a qualified health care provider for personalized diet advice and make sure that each of the ingredients is allowed in your diet.