These savory steel cut oats with mushrooms and thyme are a great alternative to risotto. They are easy to make, very filling, and packed with tons of nutrients. They are also high in protein and can be served as a side or main dish. The creamy savory steel cut oats pair perfectly with mushrooms, and the fresh thyme adds a wonderful fresh flavor to the dish.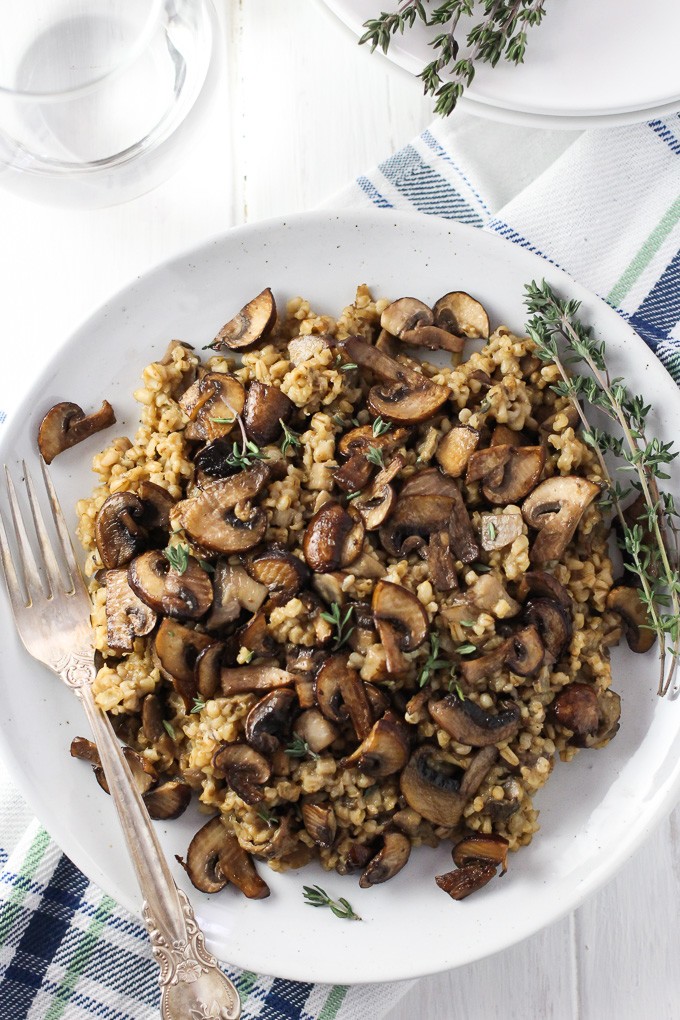 I always have some fresh thyme in my fridge. I love adding it to soups, stews, and salads. My husband is from Armenia and he taught me that in Armenia they make thyme tea. It's so delicious! Just place a few sprigs of thyme into a teacup, pour hot water over it, let it steep for a few minutes, and enjoy.
I usually buy fresh thyme at a grocery store and keep it in the fridge. The great part about thyme is that it stays fresh for a long time. When I see that it starts to dry out, I take it out of the fridge and let it dry completely and then transfer it to a jar. It still tastes wonderful when it's dried.
I am also planning to get a thyme plant for my balcony in spring. I had one a few years ago but it didn't survive when I brought it inside in the fall. I am hoping to have better luck this time.
Although these savory steel cut oats are absolutely delicious, you can't really expect much from them in terms of presentation. So to make it look a little bit better, I sauteed some mushrooms and placed them on top of the oats.
It doesn't affect the taste, so if all you care about is a satisfying meal, you don't need to add more mushrooms. However, if you are cooking it for a crowd and want to make it more appealing, this is an idea to consider. Either way, don't skip the fresh thyme.
If you love mushrooms as much as I do, check out this Vegan Mushroom Goulash, this Mushroom Quinoa Minestrone Soup, this Instant Pot Mushroom Barley Soup or these Goat Cheese and Mushroom Crostini.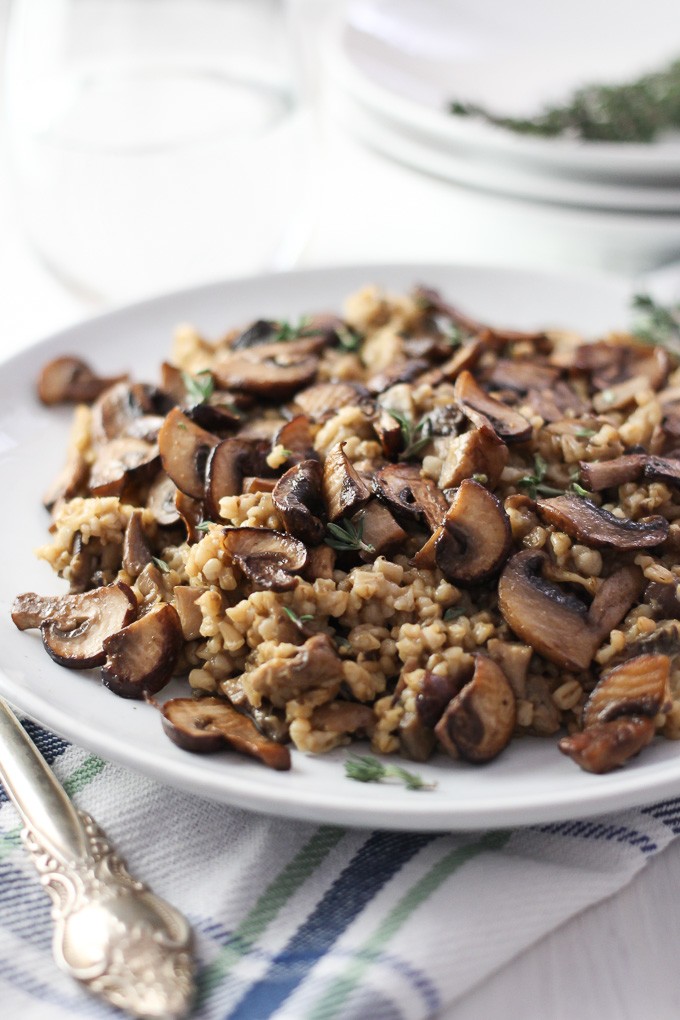 Savory Steel Cut Oats with Mushrooms and Thyme
Yield: 4 portions

Prep Time: 15 minutes

Additional Time: 20 minutes

Cook Time: 30 minutes

Total Time: 1 hour 5 minutes

These savory steel cut oats with mushrooms and thyme are creamy, delicious, filling, and comforting. They can be served as a main or side dish and are very easy to make.
Ingredients
0.5 oz / 14 gr dried porcini mushrooms
1 cup boiling water
2 Tbsp olive oil
1 pound brown mushrooms, sliced
5 to 6 sprigs of fresh thyme, divided
2 garlic cloves, chopped
3 cups low sodium vegetable broth
1 1/2 cup steel cut oats
salt to taste
Instructions
Place the dried porcini mushrooms into a bowl and pour hot water over them. Cover and let them re-hydrate for 15 to 20 minutes.
Strain the mushroom liquid through a cheesecloth and set aside. Rinse the mushrooms in a colander (dried mushrooms can sometimes be sandy). Chop the rehydrated mushrooms.
Heat 2 tablespoons of olive oil in a large pot over medium heat. Add the brown and porcini mushrooms and cook stirring occasionally until almost cooked through.
Remove the leaves from 3 thyme sprigs. This should yield about 1 to 1 1/2 teaspoon of leaves. Chop the leaves and add them to the mushrooms together with the stems (you will remove the stems once the dish is done).
Add the garlic, vegetable broth, mushroom liquid, and the steel cut oats. Stir and season with salt if needed.
Bring to simmer, lower the heat, cover, and cook stirring occasionally for 20 to 25 minutes. Steel cut oats stick easily to the bottom of the pan so make sure to add a little bit of vegetable stock or water 2 to 3 times during cooking and scrape the bits that stick to the bottom of the pan. If the oats are still chewy at the end of cooking or become too thick or dry, add some liquid and leave it to sit on a warm stove for another 10 to 20 minutes to allow the oats to swell.
Remove the thyme stems from the cooked oats.
Before serving, remove the leaves from the fresh thyme sprigs and sprinkle them over the steel cut oats.
Recommended Products
As an Amazon Associate, I earn from qualifying purchases.
Nutrition Information
Yield 4 portions Serving Size 1/4 of recipe
Amount Per Serving Calories 368Total Fat 11.5gSaturated Fat 1.7gTrans Fat 0gUnsaturated Fat 9.8gCholesterol 0mgSodium 146.5mgCarbohydrates 55gFiber 8.1gSugar 4.2gProtein 13.7g

Nutrition facts provided on this website are an estimate and not guaranteed to be accurate. Please see a qualified health care provider for personalized diet advice and make sure that each of the ingredients is allowed in your diet.