This German Cucumber Salad is budget-friendly, easy to make, and perfect for a family dinner, party, or potluck. Cucumber salad (called Gurkensalat in German) is very popular in Germany and is often served as a side dish with meat or fish.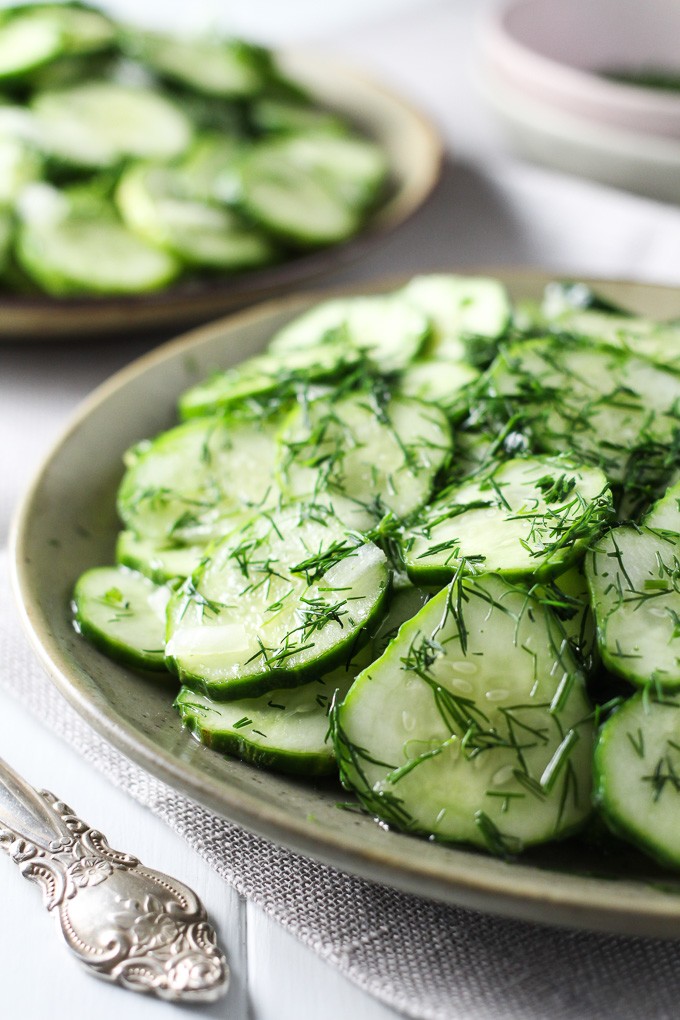 The traditional German cucumber salad is made with a lot of dill and you can also add parsley, tomatoes, and garlic.
There are two types of dressing that are usually used for this salad. You can make it with sour cream or yogurt-based dressing or with oil and vinegar-based dressing.
The secret to making a delicious German cucumber salad is to slice the cucumbers really thin.
I wasn't able to slice them super thin for the pictures because my mandolin slicer isn't adjustable and I don't really mind them to be a bit thicker. But Germans usually slice the cucumbers so thin that the slices are almost translucent.
I prefer to buy small field cucumbers for this salad when they are available in grocery stores here in Toronto.
I love them because they are local, super fresh, crunchy, and slightly sweet. But large field cucumbers or English cucumbers work great too. If you use large field cucumbers, make sure to peel them and remove the seeds.
German Cucumber Salad with Vinegar and Oil
This cucumber salad tastes better when chilled so place it in the fridge for at least one hour before serving. And don't be afraid to make a big batch as it keeps well in the fridge and even tastes better the next day as cucumbers ferment a bit.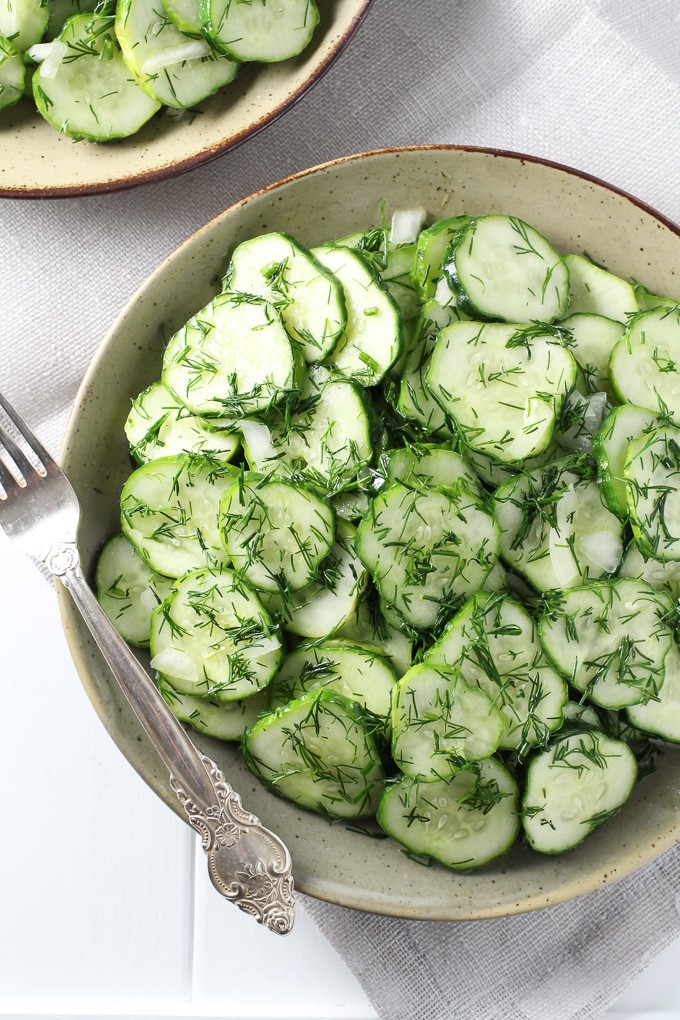 German Cucumber Salad with Sour Cream or Yogurt
This cucumber salad also should be chilled before serving. But keep in mind that it might become watery if it sits in the fridge for a long time so chill it for about 30 minutes and then mix it again before serving.
Although it will still taste fine the next day, you might not enjoy the watery dressing so it's better to consume it the same day.
And don't forget to ask for the Gurkensalat if you go to a German restaurant.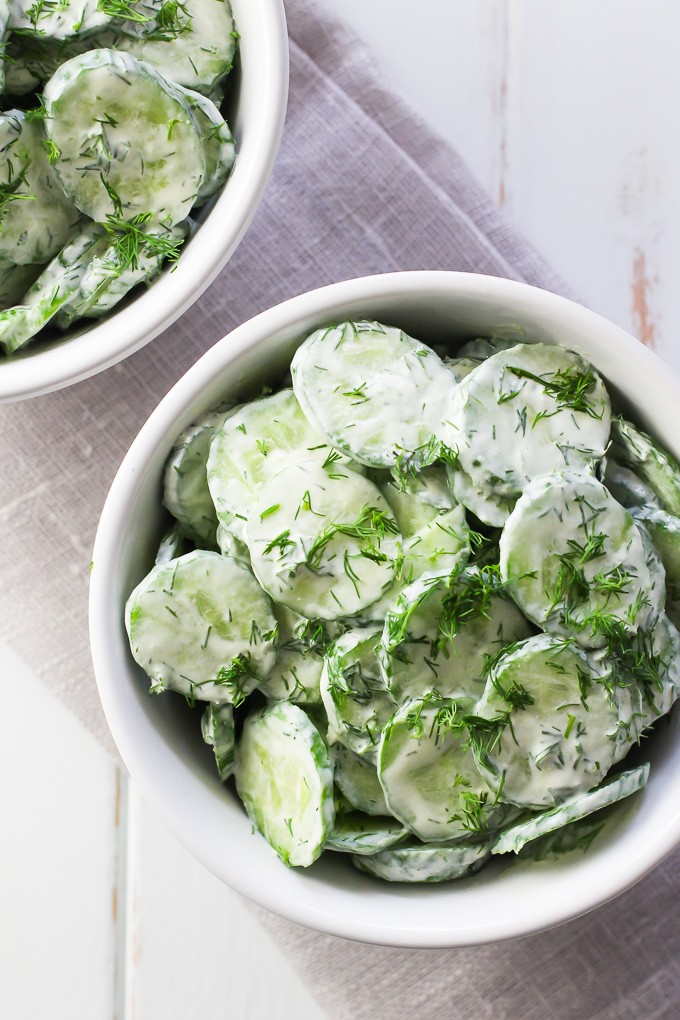 If you like simple salads made with raw vegetables, check out this Raw Turnip Salad, this Red and Green Cabbage Salad, and this Super Healthy Cabbage Salad.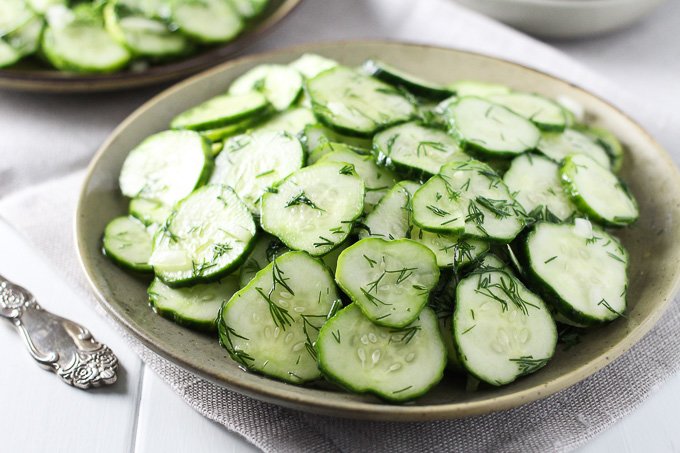 ***Please note*** The nutrition information provided below is for the cucumber salad with vinegar and oil.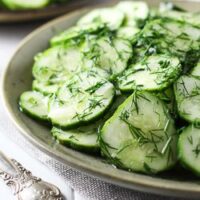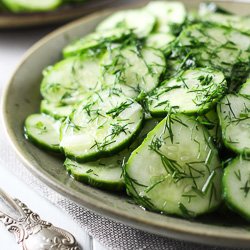 German Cucumber Salad
Total Time:
1 hour
15 minutes
This simple German cucumber salad is crunchy and refreshing. It's perfect for a family dinner or a party and the leftovers taste great too. Two dressing options.
Ingredients
2 pounds small field cucumbers (English cucumbers would also work), thinly sliced
1/2 large onion, thinly sliced
1/2 cup chopped fresh dill, loosely packed
For Vinegar and Oil Dressing:
4 Tbsp white vinegar
3 Tbsp olive oil
1 tsp sugar
salt to taste
For Creamy Dressing:
1/2 cup sour cream or plain yogurt
1/2 Tbsp olive oil
1/2 Tbsp Dijon mustard
1 Tbsp white wine vinegar
1/2 tsp sugar
2 garlic cloves, chopped (optional)
Instructions
Place the cucumbers, onion, and dill into a large bowl.
For Cucumber Salad with Vinegar and Oil:
Add the white vinegar, olive oil, and sugar. Mix well to combine. Season with salt.
Refrigerate for at least 1 hour before serving.
Keeps well in the fridge for up to 24 hours.
For Cucumber Salad with Creamy Dressing:
In a small bowl, add the sour cream, olive oil, mustard, white wine vinegar, sugar, and garlic (if using). Mix to combine.
Add the dressing to the cucumbers and mix well. Season with salt.
Refrigerate for 30 minutes before serving. Better to consume the same day.
Notes
Nutrition information is a rough estimate for 1 of 4 servings calculated for the salad made with vinegar and oil.
Recommended Products
As an Amazon Associate, I earn from qualifying purchases.
Nutrition Information
Yield

4 portions
Serving Size

1/4 of recipe
Amount Per Serving
Calories

142
Total Fat

10.5g
Saturated Fat

1.5g
Trans Fat

0g
Unsaturated Fat

9g
Cholesterol

0mg
Sodium

11.4mg
Carbohydrates

11.7g
Fiber

1.6g
Sugar

5.6g
Protein

2g
Nutrition facts provided on this website are an estimate and not guaranteed to be accurate. Please see a qualified health care provider for personalized diet advice and make sure that each of the ingredients is allowed in your diet.