This fresh vegetable salad is simple and delicious. It's made with crunchy raw vegetables and can be served as a salad or a side dish.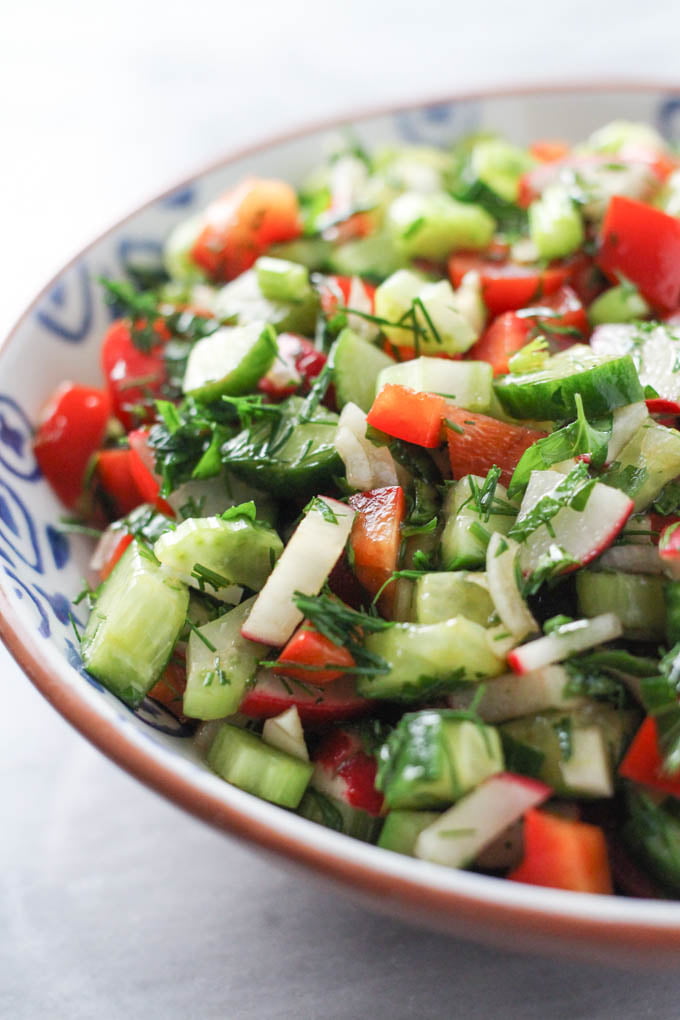 Who said that a side salad has to have lettuce? This chopped vegetable salad is a perfect salad without any leafy greens.
Tips for Making the Best Fresh Vegetable Salad
Vegetable salads are very easy to make. All you have to do is clean and chop the vegetables, mix them with the dressing, and you are done.
But there are still a few tips and tricks that will help you take your salad from good to great:
Use super fresh ingredients. Maybe it goes without saying, but I am going to say it anyway. Only use fresh crispy produce to make a raw salad. Sad looking soft vegetables or vegetables that started to dry out in the refrigerator should go into soups and stews and never into a raw salad;
Chop the vegetables into small pieces. Small pieces are easier to chew and have a better mouthfeel. Instead of getting one large chunk of celery, you will get a mixture of vegetables which improves the texture and flavor of the salad;
Add a variety of fresh herbs. Fresh herbs add flavor and nutrition to any meal. Use fresh parsley, dill, cilantro, basil, chives, rosemary, or oregano to find your favorite.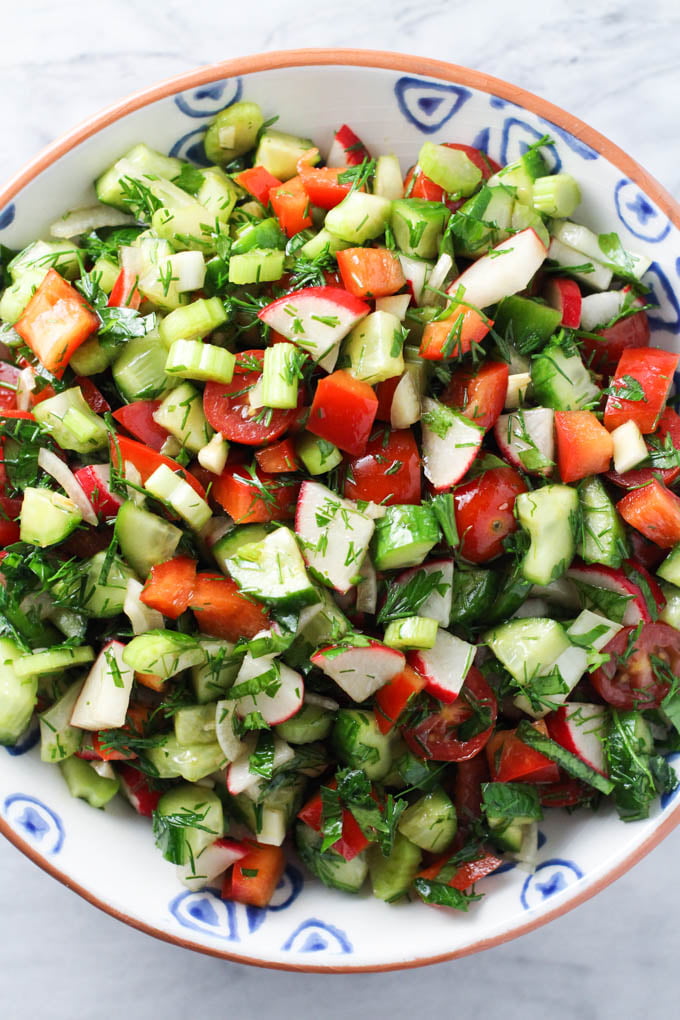 Ingredients for a Crunchy Vegetable Salad Without Lettuce
In the recipe card below, you will find my favorite healthy vegetable salad recipe.
You can follow the recipe as is or you can also adapt it to your taste preferences or just to use up the ingredients you have on hand.
Here are a few ingredients that work well in this recipe:
The Main Ingredients:
I usually use cucumbers, tomatoes, bell peppers, radishes, celery, onion, garlic, parsley, and dill as the main ingredients for this raw salad.
Here are a few other vegetables and herbs you can use:
raw cauliflower
raw broccoli
carrots
jicama
turnip
peas
raw zucchini
basil
cilantro
Ingredients for the Dressing:
I keep the dressing pretty basic and usually just use balsamic vinegar and extra-virgin olive oil.
If you want to make the dressing a bit more fun, here are a few ingredients that will help you kick it up a notch:
flaxseed oil
lemon juice
lime juice
white wine vinegar
apple cider vinegar
dried basil
dried oregano
Add-Ons for Flavour and Nutrition:
Compared to a salad made with leafy greens, this fresh vegetable salad is pretty filling thanks to its high fiber content.
If you want to make it even more filling, try adding one or two of these ingredients:
feta cheese
fresh mozzarella cheese
chickpeas
beans
almonds
sunflower seeds
pumpkin seeds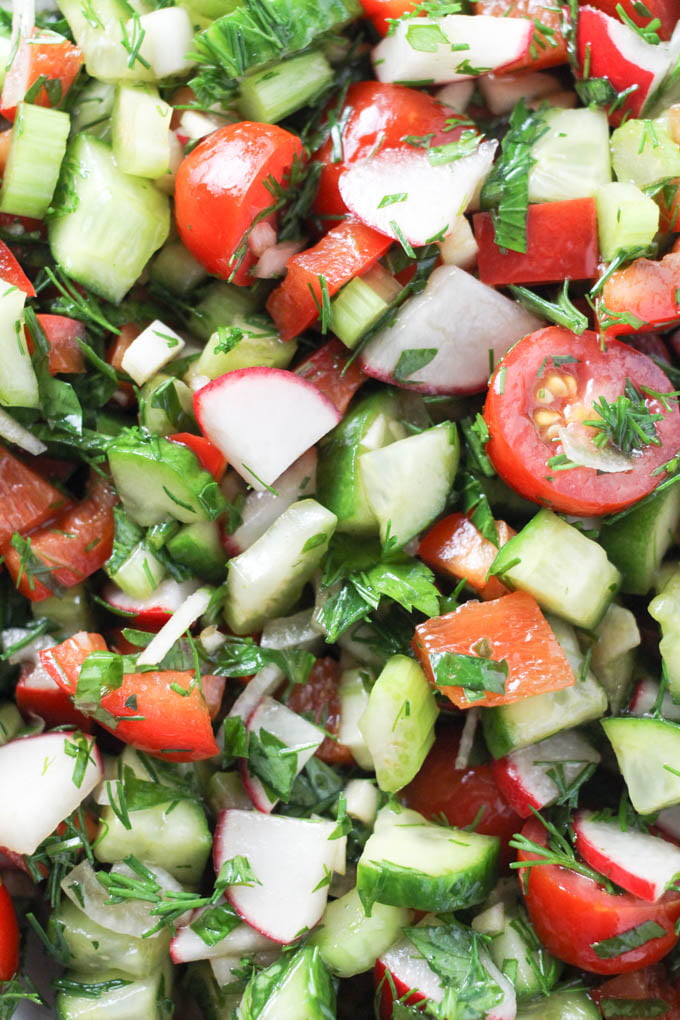 How to Store this Fresh Vegetable Salad
This raw vegetable salad can be stored in the fridge in a glass container with a tight lid for up to 24 hours.
There are two ways to store it:
Store the vegetables and dressing separately and add the dressing to the salad just before serving;
Mix the vegetable with the dressing and store it this way. In this case, the vegetables will marinate a bit.
To make sure the salad doesn't become watery during storage, add salt to the salad just before serving it.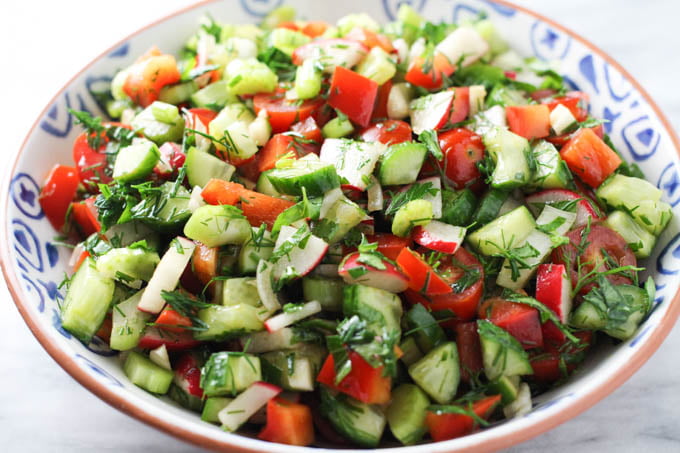 More Healthy Raw Salad Recipes You Might Like: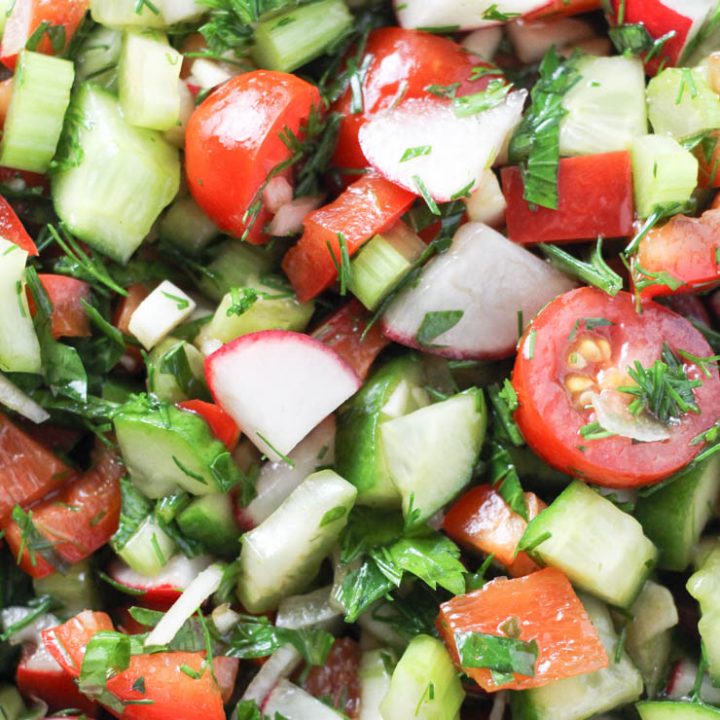 Fresh Vegetable Salad Recipe
This fresh vegetable salad is healthy and refreshing. It's made with crisp and crunchy raw vegetables and is perfect as a salad or side-dish. This recipe is very easy to make and super satisfying. You can even make it ahead as part of a meal-prep. Made without lettuce or any other leafy greens.
Ingredients
3-4 small field cucumbers or 1/3 English cucumber, chopped
1 cup cherry tomatoes. sliced in half
1 red bell pepper, cored and diced
9 radishes, chopped
2-3 celery stalks, diced
1/3 medium onion, thinly sliced
2-3 garlic cloves, minced
1 generous handful fresh parsley, chopped
1 generous handful fresh dill
2 Tbsp balsamic vinegar
3 Tbsp olive oil
salt to taste
Instructions
Chop all the vegetables and herbs and place them into a salad bowl.
In a small bowl, mix the balsamic vinegar with olive oil and pour over the vegetables.
Season with salt and toss to combine. Place in the fridge for 30 minutes to allow the flavors to blend.
Notes
If making ahead, don't add salt to the salad. Just store it in the fridge and season with salt before serving.
Recommended Products
As an Amazon Associate, I earn from qualifying purchases.
Nutrition Information
Yield

4
Serving Size

1/4 of recipe
Amount Per Serving
Calories

162
Total Fat

11g
Saturated Fat

2g
Trans Fat

0g
Unsaturated Fat

9g
Cholesterol

0mg
Sodium

200mg
Carbohydrates

16g
Fiber

3g
Sugar

8g
Protein

3g
Nutrition facts provided on this website are an estimate and not guaranteed to be accurate. Please see a qualified health care provider for personalized diet advice and make sure that each of the ingredients is allowed in your diet.