These healthy spelt raspberry muffins are refined-sugar free and naturally sweetened with maple syrup and berries. They taste great for breakfast and you can also eat them as a snack.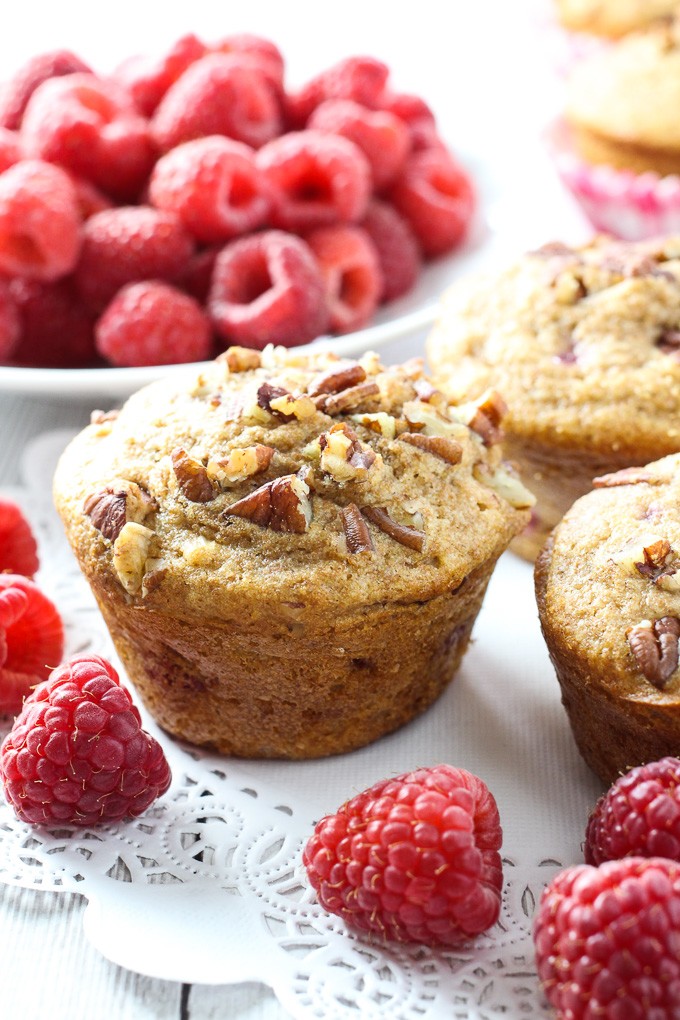 I like baking muffins on a Saturday morning so that we have something to snack on all weekend long. It's also nice to have a house filled with the aroma of muffins and coffee on a weekend morning. These muffins taste great when they are still warm so no need to cool them completely before eating.
This recipe is very easy to make and doesn't require any complicated steps. You can experiment with it by adding different kinds of berries and nuts you have on hand.
I am currently obsessed with baking muffins because I recently bought a new silicon muffin pan and I love it. I absolutely hated it when muffins would stick to my baking pan or to paper liners.
At first, I wasn't sure about buying a silicon pan because I was concerned about harmful chemicals. So, I did my research and decided to buy a very good quality silicone muffin pan made using European-grade materials. It is safe to use up to 450F, but I would never heat it above 400F.
This is not the silicon bakeware found in a dollar store. This muffin pan was quite expensive! But I am glad I bought it because I now also use it to make no-churn ice cream.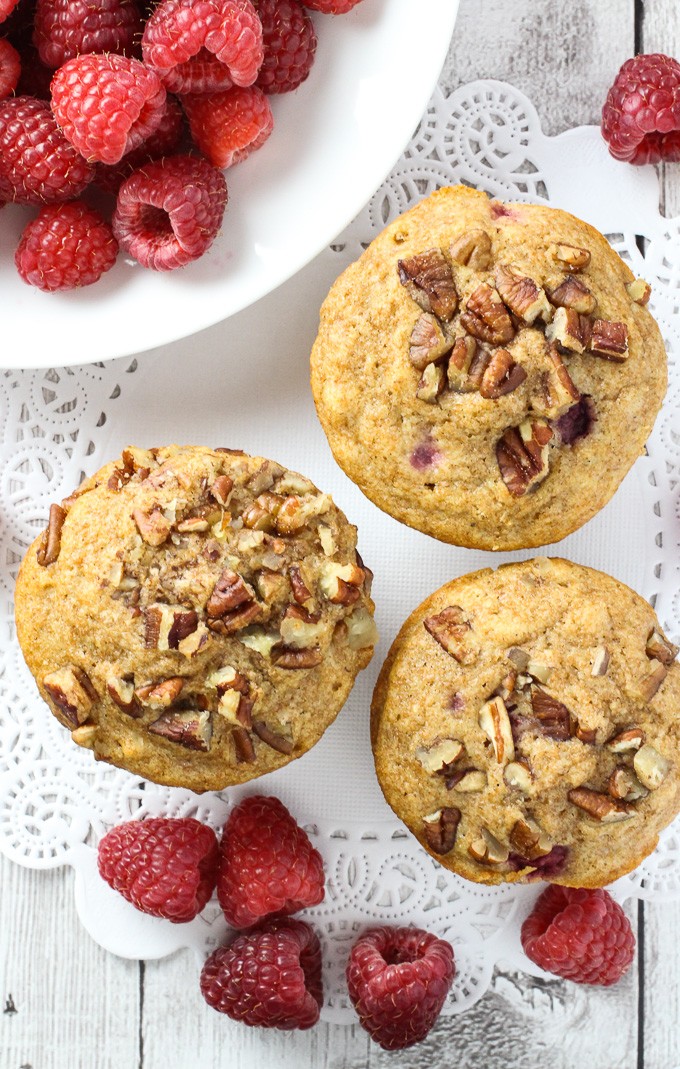 If you like baking with spelt flour, try these Spelt Buttermilk Pancakes, this Clean Eating Mango Bread, or these Spelt Oatmeal Cookies.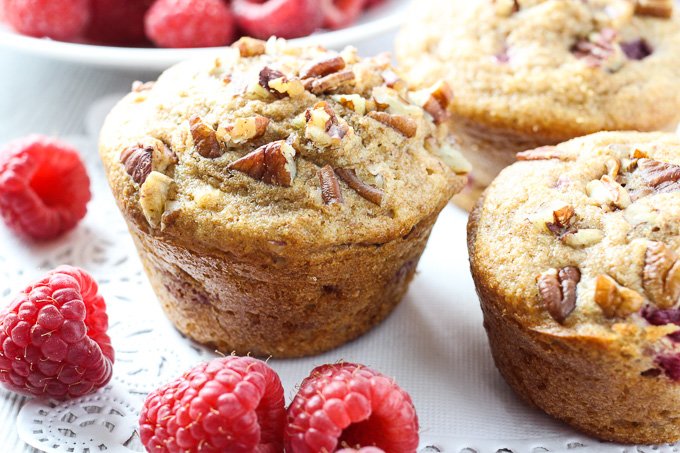 Spelt Raspberry Muffins
Healthy Spelt Raspberry Muffins. These muffins are naturally sweetened with maple syrup and berries. You can experiment with the recipe by adding different kinds of berries and nuts you have on hand.
Ingredients
2 cups whole spelt flour
1 1/2 tsp baking powder
1/2 tsp baking soda
1/2 tsp salt
1 1/4 cup buttermilk
1/3 cup maple syrup
2 Tbsp olive oil
2 eggs, beaten
1 tsp vanilla extract
1 1/2 cup raspberries
3/4 cup chopped pecans
Instructions
If using frozen raspberries, take them out of the freezer before you start mixing the ingredients.
Preheat the oven to 375F.
Put the flour, baking powder, baking soda and salt into a mixing bowl. Stir well to combine.
In another bowl, add the buttermilk, maple syrup, olive oil, eggs and vanilla extract. Whisk to combine.
Add the wet ingredients to the dry ingredients and mix just until smooth. Make sure to not over-mix.
Add the raspberries to the batter and carefully fold in trying not to break them.
Spoon the mixture into the prepared muffin pan, dividing evenly. Sprinkle with the chopped pecans. Bake in the preheated oven for about 25 minutes or until risen and golden.
Take the muffin pan out of the oven and let it cool slightly. When cool enough to handle, transfer the muffins to a cooling rack.
Recommended Products
As an Amazon Associate, I earn from qualifying purchases.
Nutrition Information
Yield

12
Serving Size

1 muffin
Amount Per Serving
Calories

219
Total Fat

9g
Saturated Fat

1.3g
Trans Fat

0g
Unsaturated Fat

7.7g
Cholesterol

32mg
Sodium

258.6mg
Carbohydrates

30.5g
Fiber

4.8g
Sugar

9.5g
Protein

6.9g
Nutrition facts provided on this website are an estimate and not guaranteed to be accurate. Please see a qualified health care provider for personalized diet advice and make sure that each of the ingredients is allowed in your diet.